[?]
Not a member? Sign-up now, it's free!
Login
[?]
These are links to some of the major sections in the mixtape collective.
Lists: Browse various lists that are generated by the loads of data we have collected.
Contests: Check out the latest contests, see previous winners, and find out how you can be a part
Music: Check out our ever-growing database of musical knowledge! Use it to find any artist, album, or track that has been entered since the birth of the site and rate and find detailed usage statistics.
Main
[?]
Tired of looking at the same old pages? Try checking out a random one, you never know what you might find...
Random!
Where The Winds Hit Heavy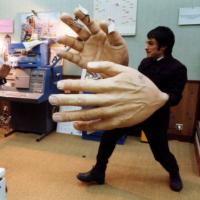 Where The Winds Hit Heavy
Created by:
JoshAwesome
Tracks:
12
Length:
00:47:39
Keywords
1. Safe
2. melancholy
3. Insecure
Created on
12/11/07 07:49pm
Level
5
Points
2417
Total visitors
57
Unique visitors
30
description:
You know that feeling where everything is super ok but you know it will only last a few hours. A tribute to that emotion.
tracklist
1
Paul Simon : Diamonds On The Soles Of Her Shoes
This song feels so warm. Maybe it was because my mother used to play Graceland a lot when I was growing up. Ei [...]

SHOW MORE

Track 5 from Graceland
Length: 00:05:51
Year: 1986
Track Description:
This song feels so warm. Maybe it was because my mother used to play Graceland a lot when I was growing up. Either way it feels like holding onto to something perfect

SHOW LESS

2
Ben Gibbard : You Remind me of Home
I live my whole life for those moments

SHOW MORE

Track 1 from Home Volume V.
Length: 00:02:16
Year: 0000
Track Description:
I live my whole life for those moments

SHOW LESS

3
New Order : Bizarre Love Triangle
The chorus continues the whole sinking into warmth feeling.

SHOW MORE

Track 11 from Substance
Length: 00:06:44
Year: 1987
Track Description:
The chorus continues the whole sinking into warmth feeling.

SHOW LESS

4
Ravens & Chimes : So Long, Marianne.
All the songs by this band have a nostalgic wintery feeling to them. Cohen covers always sound better than the [...]

SHOW MORE

Track 1 from Demo
Length: 00:05:15
Year: 0000
Track Description:
All the songs by this band have a nostalgic wintery feeling to them. Cohen covers always sound better than the original...

SHOW LESS

5
Pavement : Gold Soundz
'I never want to make you feel that your social...'

SHOW MORE

Track 7 from Crooked Rain, Crooked Rain
Length: 00:02:39
Year: 1992
Track Description:
'I never want to make you feel that your social...'

SHOW LESS

6
Leonard Cohen : Suzanne
'You want to travel with her...' The feeling of romantic escape that you cant have.

SHOW MORE

Track 1 from The Songs of Leonard Cohen
Length: 00:03:49
Year: 0000
Track Description:
'You want to travel with her...' The feeling of romantic escape that you cant have.

SHOW LESS

7
Simon & Garfunkel : The Only Living Boy in New York
Naturally

SHOW MORE

Track 8 from Bridge Over Troubled Water
Length: 00:03:57
Year: 1970
Track Description:
Naturally

SHOW LESS

8
Sonic Youth : Candle
'before it burns out'. A noisier manifestation.

SHOW MORE

Track 9 from Daydream Nation
Length: 00:04:59
Year: 1988
Track Description:
'before it burns out'. A noisier manifestation.

SHOW LESS

9
The Postal Service : Brand New Colony
We've all wanted to run away and start a new life with someone. (whats the clicking thing at the beginning?)

SHOW MORE

Track 9 from Give Up
Length: 00:04:12
Year: 2003
Track Description:
We've all wanted to run away and start a new life with someone. (whats the clicking thing at the beginning?)

SHOW LESS

10
Big Star : I'm in Love with a Girl
Simple.

SHOW MORE

Track 24 from #1 Record/Radio City
Length: 00:01:48
Year: 1972
Track Description:
Simple.

SHOW LESS

11
Bob Dylan & Johnny Cash : Girl From The North Country
I wish Dylan used his Nashville voice more often...

SHOW MORE

Track 1 from Nashville Skyline
Length: 00:03:43
Year: 0000
Track Description:
I wish Dylan used his Nashville voice more often...

SHOW LESS

12
The Beatles : In My Life
'These memories loose there meaning when I think of love as something new'

SHOW MORE

Track 11 from Rubber Soul
Length: 00:02:26
Year: 1965
Track Description:
'These memories loose there meaning when I think of love as something new'

SHOW LESS
Tag Board
You must log in to leave a tag
Stuff
Quick Jump
JoshAwesome's other mixes
Related mixes
recent visitors
show all