[?]
Not a member? Sign-up now, it's free!
Login
[?]
These are links to some of the major sections in the mixtape collective.
Lists: Browse various lists that are generated by the loads of data we have collected.
Contests: Check out the latest contests, see previous winners, and find out how you can be a part
Music: Check out our ever-growing database of musical knowledge! Use it to find any artist, album, or track that has been entered since the birth of the site and rate and find detailed usage statistics.
Main
[?]
Tired of looking at the same old pages? Try checking out a random one, you never know what you might find...
Random!
Hush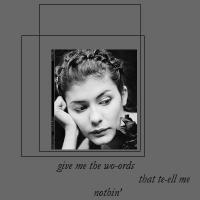 Hush
Created by:
Bea
Tracks:
16
Length:
01:04:14
Keywords
1. hush
2. listen
3. melancholy
Created on
5/14/07 09:37am
Level
5
Points
2482
Total visitors
96
Unique visitors
49
description:
I'm not gonna describe this one. Or... Well. I need this kind of mix in my life. That is why I made it. Er. Just a note: This lacks a serious amount of Radiohead... They're all so good, their songs, I had a difficult time choosing... SORRY. Also: I didn't know whether to go with "Last Night I Dreamt That Somebody Loved Me" or "Asleep" (both by The Smiths, obviously), so I put both on. Plus: I am not sure how to place above-mentioned "Asleep", since I think the place of this track exactly does a lot to the whole mood of this mix tape, adding and making it so much more cryptic. If I open the mix with it, then the rest of the tape would be an after-life thing. If I, on the other hand, close it with "Asleep", the journey ends there. See? I hope you get it. Anyway I put it as the opening track this time, cause I would hate to think that's it over afterwards. And: The closer for this mix was going to be "Uyan" by Turkish band Mor Ve Ötesi. But because this particular song is part of a 27 minute long track that includes some rehearsal stuff and about 10 minutes of absolutely nothing, I couldn't fit it in the mix tape. I was only going to use the first five minutes of the track anyway (where the actual song is to be found), but I guess that's a no-go. Oh well.
tracklist
1
The Smiths : Asleep
I'm still not sure whether to open or close the mix with this song. But I know one thing for sure: This mix is [...]

SHOW MORE

Track 24 from Louder Than Bombs
Length: 00:04:09
Year: 1987
Track Description:
I'm still not sure whether to open or close the mix with this song. But I know one thing for sure: This mix isn't going to be without this one.

SHOW LESS

2
Yann Tiersen : Comptine d'un autre été : L'aprèes-midi
I need a bit of Amélie every day. I love everything about this movie, needless to say its soundtrack.

SHOW MORE

Track 4 from Amélie (Soundtrack from the Motion Picture)
Length: 00:02:20
Year: 0000
Track Description:
I need a bit of Amélie every day. I love everything about this movie, needless to say its soundtrack.

SHOW LESS

3
Zero 7 : In The Waiting Line
Mmm, I love the way they used this in Garden State.

SHOW MORE

Track 8 from Simple Things
Length: 00:04:33
Year: 2001
Track Description:
Mmm, I love the way they used this in Garden State.

SHOW LESS

4
Death Cab for Cutie : I WIll Follow You Into the Dark
I don't think I could explain why this MUST be on this mix. But if you know this song, you will know how it fi [...]

SHOW MORE

Track 5 from Plans
Length: 00:03:09
Year: 2005
Track Description:
I don't think I could explain why this MUST be on this mix. But if you know this song, you will know how it fits with the rest. I also considered "Summer Skin" for this mix, but ended up with this instead.

SHOW LESS

5
Eskobar : Bring The Action
Most people don't even know that Eskobar exist. My friends still believe it's a popsicle. A curse upon those o [...]

SHOW MORE

Track 9 from A thousand last chances
Length: 00:03:47
Year: 2004
Track Description:
Most people don't even know that Eskobar exist. My friends still believe it's a popsicle. A curse upon those of you who thought that as well.

SHOW LESS

6
My Chemical Romance : Cancer
Being my favorite band for nearly three years, I have to include MCR on this list. "Cancer" is a beautiful son [...]

SHOW MORE

Track 8 from The Black Parade
Length: 00:02:22
Year: 2006
Track Description:
Being my favorite band for nearly three years, I have to include MCR on this list. "Cancer" is a beautiful song. I actually cried when they played it at the end of their show here in Copenhagen this April. I love them a lot, yeah.

SHOW LESS

7
The Smiths : Last Night I Dreamt That Somebody Loved Me
Ah, The Smiths. You all know what I'm trying to achieve with this track, yes?

SHOW MORE

Track 6 from Strangeways, Here We Come
Length: 00:05:06
Year: 1987
Track Description:
Ah, The Smiths. You all know what I'm trying to achieve with this track, yes?

SHOW LESS

8
Tori Amos : Playboy Mommy
This brings up memories. They hurt a bit.

SHOW MORE

Track 11 from From the Choirgirl Hotel
Length: 00:04:08
Year: 1998
Track Description:
This brings up memories. They hurt a bit.

SHOW LESS

9
Sneaker Pimps : Waterbaby
"You wash my trace from your skin and you leave again"
Ah, this is just soo good.

SHOW MORE

Track 7 from Becoming X
Length: 00:04:12
Year: 1997
Track Description:
"You wash my trace from your skin and you leave again"
Ah, this is just soo good.

SHOW LESS

10
Portishead : Glory Box
Portishead mean the world to me. And I think they are a perfect follow-up to Sneaker Pimps, if not in reverse [...]

SHOW MORE

Track 11 from Dummy
Length: 00:05:07
Year: 1994
Track Description:
Portishead mean the world to me. And I think they are a perfect follow-up to Sneaker Pimps, if not in reverse order.

SHOW LESS

11
Mogwai : Stanley Kubrick
Uh, this is a quiet piece of lush music. Makes you wonder, no?

SHOW MORE

Track 7 from EP+6
Length: 00:04:19
Year: 2001
Track Description:
Uh, this is a quiet piece of lush music. Makes you wonder, no?

SHOW LESS

12
Fall Out Boy : Golden
Give it a chance. I think it works very well with the rest.

SHOW MORE

Track 6 from Infinity On High
Length: 00:02:32
Year: 2007
Track Description:
Give it a chance. I think it works very well with the rest.

SHOW LESS

13
Smashing Pumpkins : Tear
This song is BEAUTIFUL.

SHOW MORE

Track 6 from Adore
Length: 00:05:53
Year: 1998
Track Description:
This song is BEAUTIFUL.

SHOW LESS

14
Nouvelle Vague : In A Manner Of Speaking (Featuring Camille)
I go to sleep to the sounds of Nouvelle Vague featuring Camille every single night. I love this song. It remin [...]

SHOW MORE

Track 3 from Nouvelle Vague
Length: 00:03:57
Year: 2004
Track Description:
I go to sleep to the sounds of Nouvelle Vague featuring Camille every single night. I love this song. It reminds me of everything that's loveable about life.

SHOW LESS

15
Imogen Heap : Hide and Seek
This is nice, isn't it? I like the electronic aspects of it.

SHOW MORE

Track 5 from Speak for Yourself
Length: 00:04:16
Year: 2005
Track Description:
This is nice, isn't it? I like the electronic aspects of it.

SHOW LESS

16
Radiohead : Exit Music (For A Film)
I hope that you choke.
No, of course I don't. This is magic on a magical album by a magical band. (Magi [...]

SHOW MORE

Track 4 from OK Computer
Length: 00:04:24
Year: 1997
Track Description:
I hope that you choke.
No, of course I don't. This is magic on a magical album by a magical band. (Magic is such a happy/cheerful word for most people though).

SHOW LESS
Tag Board
You must log in to leave a tag
Stuff
Quick Jump
Bea's other mixes
Related mixes
recent visitors
show all