[?]
Not a member? Sign-up now, it's free!
Login
[?]
These are links to some of the major sections in the mixtape collective.
Lists: Browse various lists that are generated by the loads of data we have collected.
Contests: Check out the latest contests, see previous winners, and find out how you can be a part
Music: Check out our ever-growing database of musical knowledge! Use it to find any artist, album, or track that has been entered since the birth of the site and rate and find detailed usage statistics.
Main
[?]
Tired of looking at the same old pages? Try checking out a random one, you never know what you might find...
Random!
Zzzzzzmas :: All I Want for Xmas is Sleep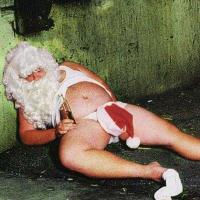 Zzzzzzmas :: All I Want for Xmas is Sleep
Created by:
LustyKazoo
Tracks:
27
Length:
01:19:47
Keywords
1. Mix Contest 18
2. Mix Contest 18
3. Mix Contest 18
Created on
12/23/07 01:00am
Level
5
Points
2327
Total visitors
57
Unique visitors
34
This mix was ranked #5 out of 7 entries for this contest
description:
I am one of those annoying folks who absolutely adore Christmas music & I have a disgusting amount of it on CD, Cassette & Vinyl. I love pulling it out at the beginning of November & peeking around to see what goodies I may have passed up in the previous years.

This is the seventh annual Xmas Mix I've put together to accompany my Christmas cards. The challenge is always in finding something new ... something you don't hear every time you walk into a mall or turn on the radio in your car. There are only a finite number of original Xmas songs out there, but ... some versions are better than others & I always try to make sure that I don't repeat the same version from Xmas-Mixes-Past.

This year the holidays have got me wiped & it's all I can do to get in my car at the end of my sometimes 14 hour workdays & drive the 35 minute commute home. More than once I've contemplated camping out in my car, just because I'm not sure I've got the energy to make it all the way with my eyes open.

Listening to this mix while enjoying a bottle of Shiraz is a good cure for the holidays-in-retail-blahs.

Thank the Goddess for Shiraz.

Merry Zzzzzzmas to all. I hope you sleep well.
tracklist
1
Emmylou Harris : Christmas Time's A-Coming
The perfect blend of Emmylou's voice & Christmas cheer ... a great starter.

SHOW MORE

Track 1 from Light of the Stable
Length: 00:02:51
Year: 2004
Track Description:
The perfect blend of Emmylou's voice & Christmas cheer ... a great starter.

SHOW LESS

2
Moth Wranglers : Dear Santa
I teeter between loathing of the season & a longing for it to never end.

SHOW MORE

Track 8 from A Very Magistery Christmas
Length: 00:02:59
Year: 2005
Track Description:
I teeter between loathing of the season & a longing for it to never end.

SHOW LESS

3
Pearl Jam : Let Me Sleep (It's Christmas Time)
Yes, yes ... let me sleep.

SHOW MORE

Track 9 from Lost Dogs
Length: 00:02:59
Year: 2003
Track Description:
Yes, yes ... let me sleep.

SHOW LESS

4
Over The Rhine : All I Ever Get for Christmas Is Blue
I've got a thing for melancholy holiday music.

SHOW MORE

Track 1 from Snow Angels
Length: 00:04:26
Year: 2007
Track Description:
I've got a thing for melancholy holiday music.

SHOW LESS

5
The Bird And The Bee : Carol of the Bells
Ding, fries are done.

SHOW MORE

Track 1 from Carol of the Bells
Length: 00:02:04
Year: 2007
Track Description:
Ding, fries are done.

SHOW LESS

6
The Blue Hawaiians : Jingle Jangle
I will always prefer the Platters version, but this one's got a nice Island twang going which segues perfectly [...]

SHOW MORE

Track 2 from Christmas On the Big Island
Length: 00:02:49
Year: 2006
Track Description:
I will always prefer the Platters version, but this one's got a nice Island twang going which segues perfectly into ...

SHOW LESS

7
Elvis Presley : Santa Bring My Baby Back (To Me)
this one. Folks we've got some effing Christmas song MAJESTY here ... this is my number ONE Christmas song of [...]

SHOW MORE

Track 5 from If Every Day Was Like Christmas
Length: 00:01:54
Year: 1994
Track Description:
this one. Folks we've got some effing Christmas song MAJESTY here ... this is my number ONE Christmas song of all time. Number two being Joni Mitchell - River & number three being Kenny Loggins' Celebrate Me Home (which makes me cry like a little Betch, every time I hear it.)

SHOW LESS

8
Los Straitjackets : Christmas In Las Vegas
From one of the most fun & original holiday albums in my collection, perfect to fill a spot between Elvis & Re [...]

SHOW MORE

Track 8 from 'Tis The Season for Los Straitjackets!
Length: 00:02:37
Year: 2002
Track Description:
From one of the most fun & original holiday albums in my collection, perfect to fill a spot between Elvis & RevHo, I must say.

SHOW LESS

9
Reverend Horton Heat : Santa Looked A Lot Like Daddy
Another of the BEST holiday collections in my collection. RevHo does Xmas up proper!

SHOW MORE

Track 7 from We Three Kings
Length: 00:02:16
Year: 2005
Track Description:
Another of the BEST holiday collections in my collection. RevHo does Xmas up proper!

SHOW LESS

10
Peggy Lee : Winter Wonderland
I dig on some Peggy Lee, her gritty voice is the stuff that my dreams are made of.

SHOW MORE

Track 2 from Ultra-Lounge: Christmas Cocktails, Part One
Length: 00:01:54
Year: 1996
Track Description:
I dig on some Peggy Lee, her gritty voice is the stuff that my dreams are made of.

SHOW LESS

11
Jimmy Donley : Santa! Don't Pass Me By
John Waters has some kick ass music in his collection.

SHOW MORE

Track 8 from A John Waters Christmas
Length: 00:02:18
Year: 2004
Track Description:
John Waters has some kick ass music in his collection.

SHOW LESS

12
Beth Ditto : Every Day Is Christmas With You
I want to marry Beth Ditto.

SHOW MORE

Track 5 from Kill Rock Stars Winter Holiday Album
Length: 00:03:38
Year: 2006
Track Description:
I want to marry Beth Ditto.

SHOW LESS

13
The Decemberists : Please Daddy (Don't Get Drunk This Christmas)
There is no substitution for John Denver's original of this, but The Decemberists made it their own & I apprec [...]

SHOW MORE

Track 4 from Connect Set
Length: 00:03:27
Year: 2006
Track Description:
There is no substitution for John Denver's original of this, but The Decemberists made it their own & I appreciate that.

SHOW LESS

14
Old 97's : Here It Is Christmas Time
Oh boys ... you just can't do any wrong.

SHOW MORE

Track 1 from Here It Is Christmas Time
Length: 00:03:41
Year: 2007
Track Description:
Oh boys ... you just can't do any wrong.

SHOW LESS

15
The Long Winters : Christmas With You Is The Best
His voice is so sarcastic & angsty in this one. Very 90's sounding, as if he can't believe he wants to give y [...]

SHOW MORE

Track 5 from The O.C. Mix 3: Have a Very Merry Chrismukkah
Length: 00:03:01
Year: 2004
Track Description:
His voice is so sarcastic & angsty in this one. Very 90's sounding, as if he can't believe he wants to give you a present. I also believe the present he wants to give you is of the hot beef variety.

SHOW LESS

16
They Might Be Giants : Santa's Beard
Classically TMBG.

SHOW MORE

Track 12 from Lincoln
Length: 00:01:55
Year: 1988
Track Description:
Classically TMBG.

SHOW LESS

17
Willie Nelson : Please Come Home for Christmas
Willie breaks my heart again & again, especially during the holidays.

SHOW MORE

Track 3 from A Very Special Acoustic Christmas
Length: 00:03:19
Year: 2003
Track Description:
Willie breaks my heart again & again, especially during the holidays.

SHOW LESS

18
The Be Good Tanyas : Rudy
This song is sad yet funny & it makes me sad that I find it funny.

SHOW MORE

Track 10 from A Winter's Night
Length: 00:04:31
Year: 2003
Track Description:
This song is sad yet funny & it makes me sad that I find it funny.

SHOW LESS

19
Sufjan Stevens : Hey Guys! It's Christmas Time!
Oooh, Sufjan was made for Xmas songs (or were Xmas songs made for him?)

SHOW MORE

Track 3 from Songs For Christmas (Disc 4: Joy)
Length: 00:04:41
Year: 2006
Track Description:
Oooh, Sufjan was made for Xmas songs (or were Xmas songs made for him?)

SHOW LESS

20
Fiona Apple : Frosty the Snowman
Frozen, frolicking fun from Fiona. Fabulous!

SHOW MORE

Track 3 from Christmas Calling
Length: 00:02:11
Year: 2003
Track Description:
Frozen, frolicking fun from Fiona. Fabulous!

SHOW LESS

21
Keb' Mo' : Jingle Bell Jamboree
Eeeeee, I luuurve this song. His voice makes me warmer than a hot peppermint snuggle.

SHOW MORE

Track 2 from Christmas Calling
Length: 00:03:12
Year: 1994
Track Description:
Eeeeee, I luuurve this song. His voice makes me warmer than a hot peppermint snuggle.

SHOW LESS

22
The Format : Holly Jolly Christmas
The Format make some of the best pop music I've heard in recent years & they should do more Xmas music because [...]

SHOW MORE

Track 6 from Do You Hear What I Hear?
Length: 00:02:43
Year: 2006
Track Description:
The Format make some of the best pop music I've heard in recent years & they should do more Xmas music because I would enjoy that.

SHOW LESS

23
Rita Faye Wilson : Sleigh Bells, Reindeer And Snow
This little girl is like a creepier version of Shirley Temple, if you can imagine that.

SHOW MORE

Track 10 from A John Waters Christmas
Length: 00:02:25
Year: 2004
Track Description:
This little girl is like a creepier version of Shirley Temple, if you can imagine that.

SHOW LESS

24
Jasper Stone : Saddlin' Up Christmas Morning
I don't even remember how I found this song, but it has become a fast favorite. I want the Old 97's to cover i [...]

SHOW MORE

Track 17 from Electric Ornaments - An Idol Records Christmas Collection
Length: 00:02:40
Year: 2000
Track Description:
I don't even remember how I found this song, but it has become a fast favorite. I want the Old 97's to cover it.

SHOW LESS

25
Death Cab for Cutie : Christmas (Baby Please Come Home)
Nothing can touch the U2 version of this (& I've never been a huge U2 fan) but Ben adds a touch of sensitivity [...]

SHOW MORE

Track 3 from Maybe This Christmas Tree
Length: 00:03:03
Year: 2004
Track Description:
Nothing can touch the U2 version of this (& I've never been a huge U2 fan) but Ben adds a touch of sensitivity to the yearning nature of it.

SHOW LESS

26
Joshua James : Have Yourself a Merry Christmas
This man's voice melts me like butter.

SHOW MORE

Track 2 from Fields & Floods
Length: 00:03:19
Year: 2007
Track Description:
This man's voice melts me like butter.

SHOW LESS

27
Holly Golightly : Christmas Tree On Fire
I have friends (many) who end up hanging eggs on their old, crunchy Christmas trees at Easter. No joke. Ridi [...]

SHOW MORE

Track 1 from Christmas Tree On Fire
Length: 00:02:54
Year: 2006
Track Description:
I have friends (many) who end up hanging eggs on their old, crunchy Christmas trees at Easter. No joke. Ridiculous. Let this song serve as a warning to them.

SHOW LESS
Tag Board
You must log in to leave a tag
Stuff
Quick Jump
LustyKazoo's other mixes
Related mixes
recent visitors
show all