[?]
Not a member? Sign-up now, it's free!
Login
[?]
These are links to some of the major sections in the mixtape collective.
Lists: Browse various lists that are generated by the loads of data we have collected.
Contests: Check out the latest contests, see previous winners, and find out how you can be a part
Music: Check out our ever-growing database of musical knowledge! Use it to find any artist, album, or track that has been entered since the birth of the site and rate and find detailed usage statistics.
Main
[?]
Tired of looking at the same old pages? Try checking out a random one, you never know what you might find...
Random!
Funtimes Friendships Forever Finally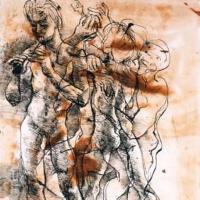 Funtimes Friendships Forever Finally
Created by:
lord_bearded
Tracks:
22
Length:
01:17:55
Keywords
1. Mix Contest 18
2. Mix Contest 18
3. Mix Contest 18
Created on
12/26/07 08:34pm
Level
5
Points
2301
Total visitors
50
Unique visitors
29
This mix was ranked #4 out of 7 entries for this contest
description:
had an idea a while ago to put a mix up here that was about friends and gifts of music and sharing and magic and finding.

than the other day i saw the contest and thought maybe this would be a good try.

gave slight different versions to all my good friends depending on who the friend was.

here's kind of a general version.
tracklist
1
King Crimson : 21st Century Schizoid Man
great opener. saw pigmy love circus cover this with eric and jon raby.

SHOW MORE

Track 1 from In the Court of the Crimson King
Length: 00:07:26
Year: 1969
Track Description:
great opener. saw pigmy love circus cover this with eric and jon raby.

SHOW LESS

2
Boris : Heavy Friends
we are

SHOW MORE

Track 1 from Heavy Rocks
Length: 00:04:49
Year: 2002
Track Description:
we are

SHOW LESS

3
Ween : friends
ween is good friends

SHOW MORE

Track 3 from La Cucaracha
Length: 00:04:09
Year: 2007
Track Description:
ween is good friends

SHOW LESS

4
Minus the Bear : Let's Play Guitar in a Five Guitar Band
the jumpfighters is an awesome five guitar band. remindes me of jerryl, and eric, and coral, and canada, and [...]

SHOW MORE

Track 13 from Highly Refined Pirates
Length: 00:05:12
Year: 2002
Track Description:
the jumpfighters is an awesome five guitar band. remindes me of jerryl, and eric, and coral, and canada, and drinking.


SHOW LESS

5
Smog : Keep Some Steady Friends Around
i like smog. first heard him on the high fidelity soundtrack. he makes me feel comfy.

SHOW MORE

Track 4 from Rein on Lens
Length: 00:04:29
Year: 2001
Track Description:
i like smog. first heard him on the high fidelity soundtrack. he makes me feel comfy.

SHOW LESS

6
The Melvins/Lustmord : Pink Bat
heard this first from Jerryl. i didn't know melvins had a new album and he had it. and it rocked my ass. espec [...]

SHOW MORE

Track 5 from Pigs of the Roman Empire
Length: 00:06:32
Year: 2004
Track Description:
heard this first from Jerryl. i didn't know melvins had a new album and he had it. and it rocked my ass. especially this song.

SHOW LESS

7
Grinderman : Go Tell The Women
this songs for me. been having bad luck with the girls these days. nothing better than grinderman to make y [...]

SHOW MORE

Track 6 from Grinderman
Length: 00:03:24
Year: 2007
Track Description:
this songs for me. been having bad luck with the girls these days. nothing better than grinderman to make you feel good about being a man.

SHOW LESS

8
MF Doom : Deep Fried Frenz
for eric. he introduced me to this glorious rap artist. and it's about some coooooooool friends.

SHOW MORE

Track 5 from MM..Food?
Length: 00:04:59
Year: 2004
Track Description:
for eric. he introduced me to this glorious rap artist. and it's about some coooooooool friends.

SHOW LESS

9
Peeping Tom : Don't Even Trip (feat. Amon Tobin)
for that special friend. who's still your friend even though they're a piece of shit.

SHOW MORE

Track 3 from Peeping Tom
Length: 00:05:46
Year: 2006
Track Description:
for that special friend. who's still your friend even though they're a piece of shit.

SHOW LESS

10
The Melvins : (airplane)
((break)))

SHOW MORE

Track 23 from Mangled Demos From 1983
Length: 00:00:24
Year: 0000
Track Description:
((break)))

SHOW LESS

11
The Dillinger Escape Plan : Rebel Yell
singing this at karaoke with all the friends.

SHOW MORE

Track 0 from Buddyhead Suicide
Length: 00:04:35
Year: 0000
Track Description:
singing this at karaoke with all the friends.

SHOW LESS

12
the hollywood edge : death screams
one of the funnyest things sledg had ever given me. 34 seconds of different screams for your awesome action/a [...]

SHOW MORE

Track 0 from demo
Length: 00:00:34
Year: 0000
Track Description:
one of the funnyest things sledg had ever given me. 34 seconds of different screams for your awesome action/adventure/sci-fi/fantasy movie.

SHOW LESS

13
Daniel Johnston : Living Life
feels strange getting older. will we ever not want some one to hold us like a mother would?

SHOW MORE

Track 11 from Welcome to My World
Length: 00:03:27
Year: 2006
Track Description:
feels strange getting older. will we ever not want some one to hold us like a mother would?

SHOW LESS

14
Fantomas : [Untitled]
((break)))

SHOW MORE

Track 13 from Directors Cut
Length: 00:00:04
Year: 2001
Track Description:
((break)))

SHOW LESS

15
Fantomas : page 13
((still breaking)))

SHOW MORE

Track 13 from Amenaza al Mundo
Length: 00:00:06
Year: 0000
Track Description:
((still breaking)))

SHOW LESS

16
Masters of Reality : John Brown
for ian, for christmas, for drinking and yelling in L.A. great memories. we'll have to do that again somet [...]

SHOW MORE

Track 10 from Masters of Reality
Length: 00:03:38
Year: 1988
Track Description:
for ian, for christmas, for drinking and yelling in L.A. great memories. we'll have to do that again sometime.

SHOW LESS

17
Themselves : Friends
hey guys! remember this show?! twice!

SHOW MORE

Track 8 from live e.p. 1
Length: 00:06:31
Year: 0000
Track Description:
hey guys! remember this show?! twice!

SHOW LESS

18
The Kinks : This Time Tomorrow
time.

SHOW MORE

Track 3 from The Darjeeling Limited
Length: 00:03:26
Year: 2007
Track Description:
time.

SHOW LESS

19
Fantomas : Experiment in Terror
one of my favorite memories was getting so high with ian on marijuana. and jerryl brought this album over. ian [...]

SHOW MORE

Track 3 from Directors Cut
Length: 00:02:40
Year: 2001
Track Description:
one of my favorite memories was getting so high with ian on marijuana. and jerryl brought this album over. ian's reactions to this were so fun. it was a combination of complete improv acting out of the feelings and sweetness, and then getting really scared.

SHOW LESS

20
Odd Nosdam : Choke
eric gave me the book choke once.

SHOW MORE

Track 3 from Burner
Length: 00:00:30
Year: 2005
Track Description:
eric gave me the book choke once.

SHOW LESS

21
Aphex Twin : Bit 4
(more breaks))

SHOW MORE

Track 6 from Drukqs (Disc 2)
Length: 00:00:25
Year: 2001
Track Description:
(more breaks))

SHOW LESS

22
Tom Waits : Kentucky Avenue
it's about being a kid and your friends. i love this song so much. for some reason it makes me think of my b [...]

SHOW MORE

Track 8 from Blue Valentine
Length: 00:04:49
Year: 1978
Track Description:
it's about being a kid and your friends. i love this song so much. for some reason it makes me think of my brother.

SHOW LESS
Tag Board
You must log in to leave a tag
Stuff
Quick Jump
lord_bearded's other mixes
Related mixes
recent visitors
show all