[?]
Not a member? Sign-up now, it's free!
Login
[?]
These are links to some of the major sections in the mixtape collective.
Lists: Browse various lists that are generated by the loads of data we have collected.
Contests: Check out the latest contests, see previous winners, and find out how you can be a part
Music: Check out our ever-growing database of musical knowledge! Use it to find any artist, album, or track that has been entered since the birth of the site and rate and find detailed usage statistics.
Main
[?]
Tired of looking at the same old pages? Try checking out a random one, you never know what you might find...
Random!
Magical Musical Box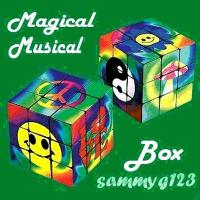 Magical Musical Box
Created by:
sammyg123
Tracks:
28
Length:
01:05:31
Keywords
1. Lost
2. 60s
3. Gems
Created on
7/03/08 06:53pm
Level
5
Points
2080
Total visitors
52
Unique visitors
22
description:
Those 3 words pretty much sum this mix up. A collection of Lost Gems from the 60s, so great that they are all equal, and in most cases better than the well known tracks that troubled the top of the Hit Parade back in the day. Listen & Drool!


tracklist
1
The Millennium : I Need To Be By Your Side
Fine opener, complete with to die for harmonies from this band who could do no wrong.

SHOW MORE

Track 16 from Pieces
Length: 00:01:57
Year: 0000
Track Description:
Fine opener, complete with to die for harmonies from this band who could do no wrong.

SHOW LESS

2
Glenda Colins : If You Gotta Pick A Baby
Insanely catchy girly pop from Ms Collins. A real treat.

SHOW MORE

Track 3 from Ritchie Blackmore Rock Profile, Volume One
Length: 00:02:00
Year: 0000
Track Description:
Insanely catchy girly pop from Ms Collins. A real treat.

SHOW LESS

3
Sagittarius : My World Fell Down
Glen Campbell provided the vocals for this 'sure fire hit' which stalled at #70 in the US.

SHOW MORE

Track 24 from Nuggets: Original Artyfacts From the First Psychedelic Era, 1965-1968 (disc 1)
Length: 00:02:55
Year: 0000
Track Description:
Glen Campbell provided the vocals for this 'sure fire hit' which stalled at #70 in the US.

SHOW LESS

4
Chris Clark : From Head To Toe
Former Motown employee turned singer oozes class on this Soul Stomper.

SHOW MORE

Track 20 from Mod Fave Raves Vol 2
Length: 00:02:45
Year: 0000
Track Description:
Former Motown employee turned singer oozes class on this Soul Stomper.

SHOW LESS

5
Warm Sounds : Birds & The Bees
From the opening 'Ba ba bas' you just know you are going to love this.

SHOW MORE

Track 0 from Unknown
Length: 00:02:35
Year: 0000
Track Description:
From the opening 'Ba ba bas' you just know you are going to love this.

SHOW LESS

6
Honeybus : Scarlet Lady
'Maggie' provided the band with their biggest hit. But the 'Scarlet Lady' was my fave..

SHOW MORE

Track 13 from She Flies Like A Bird
Length: 00:02:44
Year: 0000
Track Description:
'Maggie' provided the band with their biggest hit. But the 'Scarlet Lady' was my fave..

SHOW LESS

7
Left banke : She May Call You Up Tonight
Remembered mainly for their track 'Walk Away Renee'. This, for me, is their best. Just brilliant.

SHOW MORE

Track 4 from There's Gonna Be A Storm
Length: 00:02:18
Year: 0000
Track Description:
Remembered mainly for their track 'Walk Away Renee'. This, for me, is their best. Just brilliant.

SHOW LESS

8
Aerovons : Bessy Goodheart
A comical track from this band who sold next to no records back in the day.

SHOW MORE

Track 7 from Resurrection
Length: 00:01:59
Year: 0000
Track Description:
A comical track from this band who sold next to no records back in the day.

SHOW LESS

9
Jackpots : Jack In The Box
Ridiculous. This pop burst makes E.L.O sound like Leonard Cohen.

SHOW MORE

Track 0 from Unknown
Length: 00:01:57
Year: 0000
Track Description:
Ridiculous. This pop burst makes E.L.O sound like Leonard Cohen.

SHOW LESS

10
Shirley Ellis : Ever See A Diver Kiss His Wife
Another gem from the gal who brought us 'The Name Game' 'The Clapping Song' and 'The Nitty Gritty'.

SHOW MORE

Track 10 from Very Best Of
Length: 00:02:36
Year: 0000
Track Description:
Another gem from the gal who brought us 'The Name Game' 'The Clapping Song' and 'The Nitty Gritty'.

SHOW LESS

11
The Moon : Got To Be On My Way
Wonderful stuff. Glorious harmonies and screeching guitars. A great combination..

SHOW MORE

Track 5 from Without Earth & The Moon
Length: 00:02:01
Year: 0000
Track Description:
Wonderful stuff. Glorious harmonies and screeching guitars. A great combination..

SHOW LESS

12
Dana Gillespie : You Just Gotta Know My Mind
Written by 'Donovan', though I've tried in vain to find a version by him. Great song.

SHOW MORE

Track 1 from Foolish Seasons
Length: 00:02:10
Year: 0000
Track Description:
Written by 'Donovan', though I've tried in vain to find a version by him. Great song.

SHOW LESS

13
Searchers : Aint Gonna Kiss You
Jangly, twangy guitars. Combined with 'Woo woo woos'. It didn't change the world, but that wasn't the idea.. [...]

SHOW MORE

Track 14 from Searchers Greatest 20 Fabulous Hits of the 60's
Length: 00:02:05
Year: 0000
Track Description:
Jangly, twangy guitars. Combined with 'Woo woo woos'. It didn't change the world, but that wasn't the idea..

SHOW LESS

14
Noreen Corcoran : Love Kitten
A Spector-ish delight.

SHOW MORE

Track 8 from Where the Girls Are: A Decade of Columbia Femme Pop
Length: 00:02:30
Year: 0000
Track Description:
A Spector-ish delight.

SHOW LESS

15
Timon : The Bitter Thoughts of Little Jane
A strange song. Upbeat yet melancholy at the same time. Very nice.

SHOW MORE

Track 2 from Paisley Pop
Length: 00:02:20
Year: 0000
Track Description:
A strange song. Upbeat yet melancholy at the same time. Very nice.

SHOW LESS

16
The Zombies : Walking In The Sun
My favourite Zombies track. No mean feat considering their back catalogue.

SHOW MORE

Track 12 from Decca Stereo Anthology (disc 1)
Length: 00:02:54
Year: 0000
Track Description:
My favourite Zombies track. No mean feat considering their back catalogue.

SHOW LESS

17
The Shangri-Las : Hate To Say I Told You So
Blink & you'll miss this 90 second pop burst from the leaders of the pack..

SHOW MORE

Track 28 from Myrmidons of Melodrama
Length: 00:01:36
Year: 0000
Track Description:
Blink & you'll miss this 90 second pop burst from the leaders of the pack..

SHOW LESS

18
Simon Dupree & The Big Sound : Laughing Boy From Nowhere
Best known for 'Kites', this one slipped under the radar. A good song with a great title!

SHOW MORE

Track 0 from Unknown
Length: 00:02:51
Year: 0000
Track Description:
Best known for 'Kites', this one slipped under the radar. A good song with a great title!

SHOW LESS

19
The Yellow Balloon : Panama Red
Fine sunshine pop from one half of Jan & Dean.

SHOW MORE

Track 4 from The Yellow Balloon
Length: 00:01:37
Year: 0000
Track Description:
Fine sunshine pop from one half of Jan & Dean.

SHOW LESS

20
The Cookies : Wounded
Fab RnB from the Cookies.

SHOW MORE

Track 0 from Unknown
Length: 00:02:56
Year: 0000
Track Description:
Fab RnB from the Cookies.

SHOW LESS

21
The Lemon Pipers : Jelly Jungle
Barmy bubble gum from this Ohio band. Jelly Jungle of Orange Marmalade indeed!

SHOW MORE

Track 3 from Lemon Pipers
Length: 00:02:24
Year: 0000
Track Description:
Barmy bubble gum from this Ohio band. Jelly Jungle of Orange Marmalade indeed!

SHOW LESS

22
Nino Tempo & April Stevens : Deep Purple
When the duo first recorded the song as a demo, Tempo forgot the words, and Stevens spoke the lyrics to the so [...]

SHOW MORE

Track 1 from The Best of Nino Tempo & April Stevens
Length: 00:02:42
Year: 0000
Track Description:
When the duo first recorded the song as a demo, Tempo forgot the words, and Stevens spoke the lyrics to the song to remind him. The record's producers thought Stevens' spoken interludes were "cute" and should be included on the finished product. A US No1.

SHOW LESS

23
Beryl Marsden : When The Lovelight Shines Thru His Eyes
The Supremes had a hit with it. But this remains my favourite version..

SHOW MORE

Track 0 from Unknown
Length: 00:02:38
Year: 0000
Track Description:
The Supremes had a hit with it. But this remains my favourite version..

SHOW LESS

24
Dino, Desi & Billy : If You're Thinkin' What I'm Thinkin'
Dino was the son of Dean Martin. Desi, the son of Lucille Ball. Billy, the son of Benito Mussolini. Okay, I ma [...]

SHOW MORE

Track 0 from Unknown
Length: 00:03:04
Year: 0000
Track Description:
Dino was the son of Dean Martin. Desi, the son of Lucille Ball. Billy, the son of Benito Mussolini. Okay, I made that last bit up. Nice song...

SHOW LESS

25
Skip Bifferty : Gas Board Under Dog
A work of psych genius. So much happens in such a short time. Kind of like an early 'Bohemian Rhapsody'. Kind [...]

SHOW MORE

Track 7 from Skip Bifferty
Length: 00:02:16
Year: 0000
Track Description:
A work of psych genius. So much happens in such a short time. Kind of like an early 'Bohemian Rhapsody'. Kind of..

SHOW LESS

26
Sopwith Camel : The Things That I Could Do
From the album 'Sopwith Camel' of 67 comes this laid back smoothy.

SHOW MORE

Track 0 from Unknown
Length: 00:02:16
Year: 0000
Track Description:
From the album 'Sopwith Camel' of 67 comes this laid back smoothy.

SHOW LESS

27
The Free Design : Bubbles
More sunshine pop, with glorious harmonies from this highly influential band.

SHOW MORE

Track 3 from Kites Are Fun: The Best of The Free Design
Length: 00:02:16
Year: 0000
Track Description:
More sunshine pop, with glorious harmonies from this highly influential band.

SHOW LESS

28
Spanky & Our Gang : Stuperflabbergasted
A light hearted closer from Miss McFarlane and her bunch..

SHOW MORE

Track 20 from The Complete Mercury Recordings
Length: 00:01:09
Year: 0000
Track Description:
A light hearted closer from Miss McFarlane and her bunch..

SHOW LESS
Tag Board
You must log in to leave a tag
Stuff
Quick Jump
sammyg123's other mixes
Related mixes
recent visitors
show all