[?]
Not a member? Sign-up now, it's free!
Login
[?]
These are links to some of the major sections in the mixtape collective.
Lists: Browse various lists that are generated by the loads of data we have collected.
Contests: Check out the latest contests, see previous winners, and find out how you can be a part
Music: Check out our ever-growing database of musical knowledge! Use it to find any artist, album, or track that has been entered since the birth of the site and rate and find detailed usage statistics.
Main
[?]
Tired of looking at the same old pages? Try checking out a random one, you never know what you might find...
Random!
Romance Mix for Pretty Pretty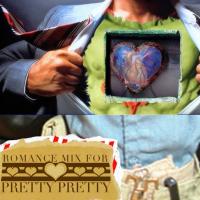 Romance Mix for Pretty Pretty
Created by:
sledgbrainerd
Tracks:
19
Length:
01:19:51
Keywords
1. Crazy
2. Sexy
3. Cool
Created on
9/13/08 12:29pm
Level
5
Points
2015
Total visitors
51
Unique visitors
22
description:
Well, my friends, I held off for a long time, but I now am posting a "For a Girl" mix.

Here is a mix I made for the one with which I am smitten with.

I already gave it to her. I made the cover art also. Thats not all of it, but its enough of it.
tracklist
1
Paul Anka : You Are My Destiny
Some would say that this would be coming on too strong. Not me. This song is epic.

One time I san [...]

SHOW MORE

Track 16 from The Weekender Classic Collection ll
Length: 00:02:28
Year: 0000
Track Description:
Some would say that this would be coming on too strong. Not me. This song is epic.

One time I sang this at karaoke and one friend discribed is as very "un-epic". But in my mind, while I was up there, I was Sailor from Wild at Heart.

SHOW LESS

2
Nancy Sinatra and Lee Hazelwood : Lady Bird
There are some songs that Im never sure whether I should interpret at face value, just like gals. This is one [...]

SHOW MORE

Track 0 from Nancy & Lee
Length: 00:03:04
Year: 0000
Track Description:
There are some songs that Im never sure whether I should interpret at face value, just like gals. This is one of those songs, but this is not one of those gals.

SHOW LESS

3
Isobel Campbell and Mark Lanegan : Come On Over (Turn Me On)
I always invite her over, but she can never come. Then she invites me over, and I can never go.

SHOW MORE

Track 0 from Sunday at Devil Dirt
Length: 00:04:42
Year: 0000
Track Description:
I always invite her over, but she can never come. Then she invites me over, and I can never go.

SHOW LESS

4
Nick Cave And The Bad Seeds : Lie Down Here (and Be My Girl)
We have many tastes in common. One being Nick Cave and the Bad Seeds. Another being an unconditional love for [...]

SHOW MORE

Track 0 from Dig!!! Lazuras Dig!!!
Length: 00:04:58
Year: 2008
Track Description:
We have many tastes in common. One being Nick Cave and the Bad Seeds. Another being an unconditional love for David Bowie and his spandex junk pants in Labrynth.

She also gave me this album as a gift. YES!





Ps. this has nothing to do with this song or even this mix, but whoever put Nick Lachey in our database should be banned from the site please.

SHOW LESS

5
Marc Bolan & T. Rex : Dreamy Lady
Sometimes, I have dreams where she makes an appearance. Not as often as I would like though. I do, however, [...]

SHOW MORE

Track 0 from Greatest Hits
Length: 00:02:53
Year: 0000
Track Description:
Sometimes, I have dreams where she makes an appearance. Not as often as I would like though. I do, however, have dreams about zombies and failure all the fucking time. All that aside, I do find her "dreamy".

SHOW LESS

6
Mott the Hoople : I'm in Awe
Keep the glamrock sexiness goin for one more song.

SHOW MORE

Track 0 from The Journey
Length: 00:04:40
Year: 0000
Track Description:
Keep the glamrock sexiness goin for one more song.

SHOW LESS

7
Cake : Never, Never Gonna Give You Up
Nothing says "Romance" like Cake covering Lisa Stansfield. (Okay, okay... OR Barry White).

SHOW MORE

Track 0 from B-Sides and Rarties
Length: 00:03:51
Year: 2007
Track Description:
Nothing says "Romance" like Cake covering Lisa Stansfield. (Okay, okay... OR Barry White).

SHOW LESS

8
Smog : Let's Move to the Country
Or OUT OF THE COUNTRY is more like it. (Rimshot)

SHOW MORE

Track 1 from Knock Knock
Length: 00:03:05
Year: 1999
Track Description:
Or OUT OF THE COUNTRY is more like it. (Rimshot)

SHOW LESS

9
Mason Jennings : My Perfect Lover
What is it about Mason Jennings that is so awesome? I have a feeling that its because he seems like such a fr [...]

SHOW MORE

Track 0 from In The Ever
Length: 00:06:08
Year: 0000
Track Description:
What is it about Mason Jennings that is so awesome? I have a feeling that its because he seems like such a friendly fellow. I would totally hang out with him. Oh and for my money, his love songs are some of the best around.

SHOW LESS

10
Bonnie "Prince" Billy : I'll Be Glad
Yet another cant miss artist for a romance mix.

SHOW MORE

Track 12 from Lie Down in the Light
Length: 00:02:44
Year: 2008
Track Description:
Yet another cant miss artist for a romance mix.

SHOW LESS

11
Wilco : I'm the Man Who Loves You
A bold statement indeed.

SHOW MORE

Track 8 from Yankee Hotel Foxtrot
Length: 00:03:56
Year: 2002
Track Description:
A bold statement indeed.

SHOW LESS

12
Dennis Wilson : Are You Real
I am a very fortunate man. Sometimes I cant wrap my head around it.

SHOW MORE

Track 8 from Pacific Ocean Blue
Length: 00:03:39
Year: 1977
Track Description:
I am a very fortunate man. Sometimes I cant wrap my head around it.

SHOW LESS

13
Otis Redding : I've Been Loving You Too Long (To Stop Now)
How can you go wrong with some Otis?

SHOW MORE

Track 10 from I've Been Loving You Too Long
Length: 00:02:53
Year: 0000
Track Description:
How can you go wrong with some Otis?

SHOW LESS

14
Eddie Ray : Glad I Found You
times infinity billions.

SHOW MORE

Track 10 from Eccentric Soul: The Prix Label
Length: 00:02:42
Year: 2007
Track Description:
times infinity billions.

SHOW LESS

15
King Khan & The Shrines : 69 Faces of Love
I want to do some serious makin' out to this tune.

SHOW MORE

Track 6 from What Is?!
Length: 00:04:08
Year: 2007
Track Description:
I want to do some serious makin' out to this tune.

SHOW LESS

16
MGMT : Electric Feel
Ever since I put this on this mix Ive been hearing it everywhere (including on one barcrawling night, 3 consec [...]

SHOW MORE

Track 4 from Oracular Spectacular
Length: 00:03:50
Year: 2008
Track Description:
Ever since I put this on this mix Ive been hearing it everywhere (including on one barcrawling night, 3 consecutive bars). I still like it and i think its a good song. So There!

SHOW LESS

17
Four Tet : My Angel Rocks Back and Forth
the song that I planned on having start this mix ended up towards the end. Its how it happp\ens sometimes.

SHOW MORE

Track 4 from Rounds
Length: 00:05:07
Year: 2003
Track Description:
the song that I planned on having start this mix ended up towards the end. Its how it happp\ens sometimes.

SHOW LESS

18
RJD2 : Here's What's Left (Remix)
The finest song RJD2 has crafted if you ask me.

SHOW MORE

Track 7 from Loose Ends
Length: 00:05:44
Year: 2003
Track Description:
The finest song RJD2 has crafted if you ask me.

SHOW LESS

19
My Morning Jacket : I Will Sing You Songs
I want to sing her songs.

SHOW MORE

Track 6 from It Still Moves
Length: 00:09:19
Year: 2003
Track Description:
I want to sing her songs.

SHOW LESS
Tag Board
You must log in to leave a tag
Stuff
Quick Jump
sledgbrainerd's other mixes
Related mixes
recent visitors
show all