[?]
Not a member? Sign-up now, it's free!
Login
[?]
These are links to some of the major sections in the mixtape collective.
Lists: Browse various lists that are generated by the loads of data we have collected.
Contests: Check out the latest contests, see previous winners, and find out how you can be a part
Music: Check out our ever-growing database of musical knowledge! Use it to find any artist, album, or track that has been entered since the birth of the site and rate and find detailed usage statistics.
Main
[?]
Tired of looking at the same old pages? Try checking out a random one, you never know what you might find...
Random!
Pulling Strings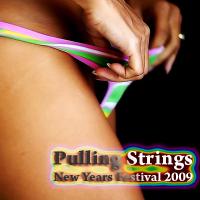 Pulling Strings
Created by:
Calaveth
Tracks:
17
Length:
01:11:40
Keywords
1. Mix Contest 27
2. Mix Contest 27
3. Mix Contest 27
Created on
1/11/09 03:40pm
Level
3
Points
1538
Total visitors
19
Unique visitors
12
This mix was ranked #6 out of 9 entries for this contest
description:
Pretty much every time my friends hold a party, I'm asked to get the music - implied "make a mixtape, extra long". But nobody actually, explicitly says "don't bring a live show". So why not, if I could?

This is the "let's pretend I was able to pull all kinds of strings and bring the most awesomest live entertainment for the 2008/2009 New Year's party instead of just another shitty mixtape". A couple weeks belated, but hey. Think of my hangover.

Oh, and I set myself one limitation - no dead people. I'm just not a very good necromancer. Otherwise the ghosts of Elliott Smith and Jeff Buckley might have made their way into the lineup.
tracklist
1
Bob Dylan & The Band : Million Dollar Bash
I don't think I could possibly keep Dylan out of my dream line up. And as opening track, it's certainly fittin [...]

SHOW MORE

Track 7 from Biograph (disc 2)
Length: 00:03:35
Year: 1985
Track Description:
I don't think I could possibly keep Dylan out of my dream line up. And as opening track, it's certainly fitting.

SHOW LESS

2
Broken Social Scene : Ibi Dream of Pavement (a Better Day)
Broken Social Scene is #2 on my list of "bands I have to see before I die", I'm just not very confident I'll b [...]

SHOW MORE

Track 2 from Broken Social Scene
Length: 00:04:27
Year: 2005
Track Description:
Broken Social Scene is #2 on my list of "bands I have to see before I die", I'm just not very confident I'll be able to, but since I'm the boss here, yay!

SHOW LESS

3
Pavement : Flux = Rad
And while we're at it, let's reunite Pavement for a moment.

SHOW MORE

Track 13 from Wowee Zowee
Length: 00:01:45
Year: 1995
Track Description:
And while we're at it, let's reunite Pavement for a moment.

SHOW LESS

4
David Bowie : Suffragette City
Just like it was impossible to keep Dylan out of the lineup, I can't see how this set would be complete withou [...]

SHOW MORE

Track 10 from The Rise and Fall of Ziggy Stardust and the Spiders From Mars
Length: 00:03:24
Year: 1972
Track Description:
Just like it was impossible to keep Dylan out of the lineup, I can't see how this set would be complete without Bowie.

SHOW LESS

5
Neutral Milk Hotel : Marching Theme
If Broken Social Scene was #2 on my list of bands to see before I die, Neutral Milk Hotel is without doubt #1. [...]

SHOW MORE

Track 5 from On Avery Island
Length: 00:02:58
Year: 1995
Track Description:
If Broken Social Scene was #2 on my list of bands to see before I die, Neutral Milk Hotel is without doubt #1. If I wasn't the curator of this show, I wouldn't like my chances.

SHOW LESS

6
Sonic Youth : Jams Runs Free
We're smack in the middle of the "disjointed sounds" section of the lineup.

SHOW MORE

Track 6 from Rather Ripped
Length: 00:03:51
Year: 2006
Track Description:
We're smack in the middle of the "disjointed sounds" section of the lineup.

SHOW LESS

7
Deerhoof : The Tears and Music of Love
One of the best opening tracks ever. And Deerhoof is a great live band.

SHOW MORE

Track 1 from Offend Maggie
Length: 00:03:58
Year: 2008
Track Description:
One of the best opening tracks ever. And Deerhoof is a great live band.

SHOW LESS

8
PJ Harvey : Victory
Gotta have my crush PJ on here...

SHOW MORE

Track 2 from The Peel Sessions 1991-2004
Length: 00:03:33
Year: 2006
Track Description:
Gotta have my crush PJ on here...

SHOW LESS

9
Murder City Devils : Press Gang
Such a perk being able to reunite whatever bands I want. Then I'd be able to see the Murder City Devils at lea [...]

SHOW MORE

Track 1 from In Name And Blood
Length: 00:03:51
Year: 0000
Track Description:
Such a perk being able to reunite whatever bands I want. Then I'd be able to see the Murder City Devils at least once.

SHOW LESS

10
Black Sabbath : Hole in the Sky
"Hey Ozzy, wanna come to Sweden for New Year? Don't bring the family" :D

SHOW MORE

Track 1 from Sabotage
Length: 00:04:00
Year: 1975
Track Description:
"Hey Ozzy, wanna come to Sweden for New Year? Don't bring the family" :D

SHOW LESS

11
Boris & Michio Kurihara : Starship Narrator
Amazing guitars. I will never, ever decline an opportunity to see Boris live.

SHOW MORE

Track 3 from Rainbow
Length: 00:04:01
Year: 2007
Track Description:
Amazing guitars. I will never, ever decline an opportunity to see Boris live.

SHOW LESS

12
Neil Young & Crazy Horse : Devil's Sidewalk
One legend who is still holding up just fine. Ends an imagined "Day" lineup, as night falls.

SHOW MORE

Track 3 from Greendale
Length: 00:05:17
Year: 2003
Track Description:
One legend who is still holding up just fine. Ends an imagined "Day" lineup, as night falls.

SHOW LESS

13
Flaming Lips : Fight Test
And as we get into the "Night" lineup, we're ready to party and who better to kick off a party than the Flamin [...]

SHOW MORE

Track 1 from Yoshimi Battles the Pink Robots
Length: 00:04:14
Year: 2002
Track Description:
And as we get into the "Night" lineup, we're ready to party and who better to kick off a party than the Flaming Lips?

SHOW LESS

14
Animal Collective : Fireworks
Timing perfectly as the bells strike 12, the fireworks go off and Animal Collective takes over as first act to [...]

SHOW MORE

Track 5 from Strawberry Jam
Length: 00:06:50
Year: 2007
Track Description:
Timing perfectly as the bells strike 12, the fireworks go off and Animal Collective takes over as first act to play in the new year.

SHOW LESS

15
Handsome Boy Modeling School : Rock n' Roll (Could Never Hip Hop Like This)
A New Years resolution that no mix is complete without Mike Patton?

SHOW MORE

Track 1 from So...How's Your Girl?
Length: 00:04:21
Year: 1999
Track Description:
A New Years resolution that no mix is complete without Mike Patton?

SHOW LESS

16
Daft Punk : Touch It/Technologic
And no party is really a party without Daft Punk.

SHOW MORE

Track 2 from Alive
Length: 00:05:29
Year: 2007
Track Description:
And no party is really a party without Daft Punk.

SHOW LESS

17
Massive Attack : Dissolved Girl
And if you're not making out with that special someone by now, you're not doing it right.

SHOW MORE

Track 6 from Mezzanine
Length: 00:06:06
Year: 1998
Track Description:
And if you're not making out with that special someone by now, you're not doing it right.

SHOW LESS
Tag Board
You must log in to leave a tag
Stuff
Quick Jump
Calaveth's other mixes
Related mixes
recent visitors
show all