[?]
Not a member? Sign-up now, it's free!
Login
[?]
These are links to some of the major sections in the mixtape collective.
Lists: Browse various lists that are generated by the loads of data we have collected.
Contests: Check out the latest contests, see previous winners, and find out how you can be a part
Music: Check out our ever-growing database of musical knowledge! Use it to find any artist, album, or track that has been entered since the birth of the site and rate and find detailed usage statistics.
Main
[?]
Tired of looking at the same old pages? Try checking out a random one, you never know what you might find...
Random!
Texas Rhymes With Isolation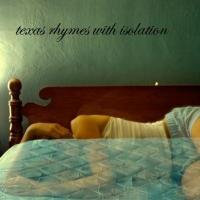 Texas Rhymes With Isolation
Created by:
doppelganger
Tracks:
14
Length:
01:00:28
Keywords
1. driving
2. free
3. gone
Created on
7/07/09 06:53am
Level
3
Points
1552
Total visitors
56
Unique visitors
16
description:
In a nutshell, I hate Texas. It has made me into an asshole, and I dedicate this mix to the day I finally am able to get the fuck out of here.

So, in a sense, this is a 'running away from it all' mix.
tracklist
1
Elton John : Where to Now St. Peter?
This is the ideal song to drive off listening to. Not only are the lyrics perfect, but the speed of the song i [...]

SHOW MORE

Track 6 from Tumbleweed Connection
Length: 00:04:11
Year: 1970
Track Description:
This is the ideal song to drive off listening to. Not only are the lyrics perfect, but the speed of the song is great for that 'early morning start'.

SHOW LESS

2
Grandaddy : El Caminos in the West
"We're all collapsed and futureless
I'll paint the words a simple wish
For peace of mind and happi [...]

SHOW MORE

Track 6 from Sumday
Length: 00:03:22
Year: 2003
Track Description:
"We're all collapsed and futureless
I'll paint the words a simple wish
For peace of mind and happiness"
A sugary tune with a message of freeing oneself and simply not giving a goddamn about it.


SHOW LESS

3
QueenAdreena : Pull Me Under
This is definitely my angry, angsty, 'I want to spit in your eye' type of song. I will drive down the highway [...]

SHOW MORE

Track 5 from The Butcher and the Butterfly
Length: 00:04:23
Year: 2005
Track Description:
This is definitely my angry, angsty, 'I want to spit in your eye' type of song. I will drive down the highway screaming the lyrics, even as I am stuck in traffic.

SHOW LESS

4
Arcade Fire : No Cars Go
Ah! This song is so beautiful, and it makes me want to explore and fly off to space in a heartbeat.

SHOW MORE

Track 10 from Neon Bible
Length: 00:05:43
Year: 2007
Track Description:
Ah! This song is so beautiful, and it makes me want to explore and fly off to space in a heartbeat.

SHOW LESS

5
Autolux : Sugarless
This song is just golden. I could drive at 3am and listen to this for the rest of my life.

SHOW MORE

Track 4 from Future Perfect
Length: 00:05:22
Year: 2004
Track Description:
This song is just golden. I could drive at 3am and listen to this for the rest of my life.

SHOW LESS

6
Blind Melon : No Rain
I grew up near a small ballet studio that had girls painted in bee suits on the building. This song makes me w [...]

SHOW MORE

Track 7 from Blind Melon
Length: 00:03:37
Year: 1992
Track Description:
I grew up near a small ballet studio that had girls painted in bee suits on the building. This song makes me wish I was 7 again.

SHOW LESS

7
Cat Power : The Greatest
"Melt me down
into big black armour
Leave no trace"
I want to just leave and never tell anyo [...]

SHOW MORE

Track 1 from The Greatest
Length: 00:03:22
Year: 2006
Track Description:
"Melt me down
into big black armour
Leave no trace"
I want to just leave and never tell anyone. But, I guess by posting this mix, I'm blowing my cover.

SHOW LESS

8
Yo La Tengo : Saturday
Anytime I get anxious, I just get in my car and leave. This song usually accompanies me on my lone drives.

SHOW MORE

Track 3 from And Then Nothing Turned Itself Inside-Out
Length: 00:04:18
Year: 2000
Track Description:
Anytime I get anxious, I just get in my car and leave. This song usually accompanies me on my lone drives.

SHOW LESS

9
Vincent Gallo : Yes, I'm Lonely
Most of Gallo's music is great for when you want to be alone.

SHOW MORE

Track 9 from When
Length: 00:03:51
Year: 2001
Track Description:
Most of Gallo's music is great for when you want to be alone.

SHOW LESS

10
Ten Years After : I'd Love To Change The World
I'm sure in my travels, I'll get to that phase where I'll experience some wacky things. I'll most likely start [...]

SHOW MORE

Track 3 from A Space in Time
Length: 00:03:46
Year: 1971
Track Description:
I'm sure in my travels, I'll get to that phase where I'll experience some wacky things. I'll most likely start coming to realizations and it will be a big 'coming of age' type deal.

SHOW LESS

11
Songs: Ohia : Lioness
I will definitely be hurting a lot of people. I'm sorry in advance.

SHOW MORE

Track 5 from The Lioness
Length: 00:06:30
Year: 2000
Track Description:
I will definitely be hurting a lot of people. I'm sorry in advance.

SHOW LESS

12
Silverchair : The Closing
I don't care that I'm ruining everything. I'm happy in a sick, twisted way, I suppose.

SHOW MORE

Track 13 from Freak Show
Length: 00:03:27
Year: 1997
Track Description:
I don't care that I'm ruining everything. I'm happy in a sick, twisted way, I suppose.

SHOW LESS

13
Phantom Planet : California
lol, I had to. It's so damn perfect!

SHOW MORE

Track 1 from The Guest
Length: 00:03:13
Year: 2003
Track Description:
lol, I had to. It's so damn perfect!

SHOW LESS

14
Oasis : Masterplan
In one word: grandiose.

SHOW MORE

Track 14 from The Masterplan
Length: 00:05:23
Year: 1998
Track Description:
In one word: grandiose.

SHOW LESS
Tag Board
You must log in to leave a tag
Stuff
Quick Jump
doppelganger's other mixes
Related mixes
recent visitors
show all