[?]
Not a member? Sign-up now, it's free!
Login
[?]
These are links to some of the major sections in the mixtape collective.
Lists: Browse various lists that are generated by the loads of data we have collected.
Contests: Check out the latest contests, see previous winners, and find out how you can be a part
Music: Check out our ever-growing database of musical knowledge! Use it to find any artist, album, or track that has been entered since the birth of the site and rate and find detailed usage statistics.
Main
[?]
Tired of looking at the same old pages? Try checking out a random one, you never know what you might find...
Random!
ugh, it's monday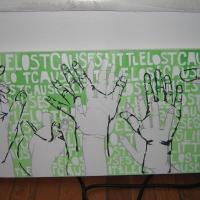 ugh, it's monday
Created by:
riotsheelds
Tracks:
16
Length:
01:14:08
Keywords
1. beats
2. singing
3. oddly good
Created on
7/16/06 10:57pm
Level
5
Points
2432
Total visitors
123
Unique visitors
58
description:
strange beats involving pianos and creepy guitars all around, and people mostly singing, and some just talking. this monday mix causes a raised eyebrow on my coworker's face and a smile on mine, while sitting in traffic on the 101 S. i threw in some upbeat stuff just to break it up, cause nobody likes a sleepy driver/worker.
tracklist
1
Bloc Party : plans (replanned by mogwai)
i'll repeat, replanned by mogwai. sounds like a record playing backwards at times, and that's a good thing. [...]

SHOW MORE

Track 12 from Silent Alarm Remixed
Length: 00:03:42
Year: 2005
Track Description:
i'll repeat, replanned by mogwai. sounds like a record playing backwards at times, and that's a good thing.

SHOW LESS

2
octavius : speed limit
it's always nice when an unexpected birthday present turns into an awesome birthday present. but, there are sp [...]

SHOW MORE

Track 6 from audio noir
Length: 00:05:06
Year: 2003
Track Description:
it's always nice when an unexpected birthday present turns into an awesome birthday present. but, there are speed limits in germany.

SHOW LESS

3
Braid : roses in the car
a rare strange pearl in a sea of crappy vocals and semi-typical chords. i use crappy lightly, because i actua [...]

SHOW MORE

Track 13 from movie music vol. 2
Length: 00:04:24
Year: 2003
Track Description:
a rare strange pearl in a sea of crappy vocals and semi-typical chords. i use crappy lightly, because i actually love them.

SHOW LESS

4
Sole : Theme
#3 song off of this album, #1 in the creepy is good category. i'm not a cheesy poetry fan either, but i enjoy [...]

SHOW MORE

Track 16 from Live From Rome
Length: 00:03:53
Year: 2005
Track Description:
#3 song off of this album, #1 in the creepy is good category. i'm not a cheesy poetry fan either, but i enjoy sole.

SHOW LESS

5
Xiu Xiu : Poe Poe
more of the southern part of northern california.

SHOW MORE

Track 9 from Knife Play
Length: 00:03:40
Year: 2002
Track Description:
more of the southern part of northern california.

SHOW LESS

6
Modest Mouse : karma's payment
is that a whistle?!

SHOW MORE

Track 9 from The Fruit That Ate Itself
Length: 00:03:28
Year: 1997
Track Description:
is that a whistle?!

SHOW LESS

7
Shonen Knife : hot chocolate (stereolab mix)
少年ナイフ + stereolab man = non-annoying asian lady voices and their beats.

SHOW MORE

Track 6 from it's a new find
Length: 00:07:20
Year: 0000
Track Description:
少年ナイフ + stereolab man = non-annoying asian lady voices and their beats.

SHOW LESS

8
Andrew Broder : Gossip Folks
yeah right you say? yeah right to a missy elliott song taking up precious tape space? say yes, because it's o [...]

SHOW MORE

Track 1 from more modern hits
Length: 00:04:13
Year: 2003
Track Description:
yeah right you say? yeah right to a missy elliott song taking up precious tape space? say yes, because it's one of the best repurposed songs ever.

SHOW LESS

9
brad mehldau : paranoid android
a classic with a piano and a genius. intermission!

SHOW MORE

Track 5 from largo
Length: 00:09:05
Year: 2002
Track Description:
a classic with a piano and a genius. intermission!

SHOW LESS

10
hint hint : young days
a great voice and anything that involves an organ gets automatic points.

SHOW MORE

Track 5 from young days
Length: 00:05:58
Year: 2004
Track Description:
a great voice and anything that involves an organ gets automatic points.

SHOW LESS

11
Cat Power : Cross Bones Style

SHOW MORE

Track 10 from Moon Pix
Length: 00:04:32
Year: 1998
Track Description:


SHOW LESS

12
hymie's basement : ghost dream
"i don't trust tall dudes as far as i can thrown them" and chants of "microwave meet your maker" make this gre [...]

SHOW MORE

Track 4 from hymie's basement
Length: 00:02:55
Year: 2003
Track Description:
"i don't trust tall dudes as far as i can thrown them" and chants of "microwave meet your maker" make this great. here lies tall dude

SHOW LESS

13
The Cure : a forest
i included this because it's not friday i'm in love, or boys don't cry, also because i love it.

SHOW MORE

Track 5 from Staring At The Sea: The Singles 1979-1985
Length: 00:04:55
Year: 1986
Track Description:
i included this because it's not friday i'm in love, or boys don't cry, also because i love it.

SHOW LESS

14
south : i know what you're like
weird song from a normally normal band.

SHOW MORE

Track 4 from from here on in
Length: 00:03:42
Year: 2002
Track Description:
weird song from a normally normal band.

SHOW LESS

15
hayden : bad as they seem
reminds me of the 10th grade.

SHOW MORE

Track 1 from everything i long for
Length: 00:03:31
Year: 1996
Track Description:
reminds me of the 10th grade.

SHOW LESS

16
Clinic : Mr Moonlight
loungy good.

SHOW MORE

Track 6 from Walking With Thee
Length: 00:03:44
Year: 2002
Track Description:
loungy good.

SHOW LESS
Tag Board
You must log in to leave a tag
Stuff
Quick Jump
riotsheelds's other mixes
Related mixes
recent visitors
show all