[?]
Not a member? Sign-up now, it's free!
Login
[?]
These are links to some of the major sections in the mixtape collective.
Lists: Browse various lists that are generated by the loads of data we have collected.
Contests: Check out the latest contests, see previous winners, and find out how you can be a part
Music: Check out our ever-growing database of musical knowledge! Use it to find any artist, album, or track that has been entered since the birth of the site and rate and find detailed usage statistics.
Main
[?]
Tired of looking at the same old pages? Try checking out a random one, you never know what you might find...
Random!
DJ DJ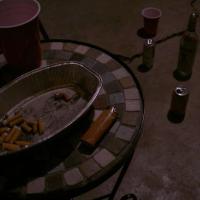 DJ DJ
Created by:
claireillinoise
Tracks:
11
Length:
00:37:00
Keywords
1. garage
2. best friends
3. rum
Created on
7/27/06 11:07pm
Level
5
Points
2428
Total visitors
95
Unique visitors
51
description:
one night i sat in a garage with two of my best friends. we drank a bottle of rum and smoked cigarettes and listened to some good music and took really stupid pictures of each other. then i went home and made a mix of songs that i would want to hear, should we ever be in that situation again.

i hope we will.
tracklist
1
Bloc Party : Helicopter
EHehr explained all about hit drum beats to us on monday night. bloc party uses alot of these. we all re-embra [...]

SHOW MORE

Track 2 from Silent Alarm
Length: 00:03:40
Year: 2005
Track Description:
EHehr explained all about hit drum beats to us on monday night. bloc party uses alot of these. we all re-embraced bloc party that night.

SHOW LESS

2
Cursive : Dorothy At Forty
EHehr played us this album, telling us that we wouldn't be able to find it, because "his friend got it from an [...]

SHOW MORE

Track 2 from Happy Hollow
Length: 00:03:02
Year: 2006
Track Description:
EHehr played us this album, telling us that we wouldn't be able to find it, because "his friend got it from an exclusive music website." bullshit. i found the whole thing online that night. regardless, it's a great album.

SHOW LESS

3
The Lucksmiths : Smokers In Love
i just absolutely am in love with this song right now.

SHOW MORE

Track 0 from Naturaliste
Length: 00:03:07
Year: 0000
Track Description:
i just absolutely am in love with this song right now.

SHOW LESS

4
The Cure : Close To Me
i just recently re-uploaded this album onto my new computer. and this track just rules.

SHOW MORE

Track 7 from Head On The Door
Length: 00:03:23
Year: 0000
Track Description:
i just recently re-uploaded this album onto my new computer. and this track just rules.

SHOW LESS

5
The Velvet Underground : Who Loves the Sun
this song is perfectly ironic for hanging out at night.

SHOW MORE

Track 1 from Loaded: Fully Loaded Edition (disc 1)
Length: 00:02:45
Year: 1970
Track Description:
this song is perfectly ironic for hanging out at night.

SHOW LESS

6
Voxtrot : The Start of Something
this is the smoothest sounding song in the world. so good for relaxing. and drinking, even.

SHOW MORE

Track 0 from Raised By Wolves EP
Length: 00:04:34
Year: 0000
Track Description:
this is the smoothest sounding song in the world. so good for relaxing. and drinking, even.

SHOW LESS

7
Electric Six : Danger! High Voltage
the most ridiculous song you could ever dance to. with the most ambiguous jack white cameo ever. is it him or [...]

SHOW MORE

Track 4 from Fire
Length: 00:03:49
Year: 2003
Track Description:
the most ridiculous song you could ever dance to. with the most ambiguous jack white cameo ever. is it him or isn't it?

SHOW LESS

8
Bob Dylan : Don't Think Twice, It's Alright
a flat out amazing song.

SHOW MORE

Track 7 from The Freewheelin' Bob Dylan
Length: 00:03:39
Year: 1963
Track Description:
a flat out amazing song.

SHOW LESS

9
The Smiths : Ask
this is probably the one song that i wish i had written, not morrissey and marr.

SHOW MORE

Track 13 from Louder Than Bombs
Length: 00:03:18
Year: 1987
Track Description:
this is probably the one song that i wish i had written, not morrissey and marr.

SHOW LESS

10
Pavement : Two States
forty! million! DAGGERS!

this song's so catchy.

SHOW MORE

Track 10 from Slanted & Enchanted
Length: 00:01:47
Year: 1992
Track Description:
forty! million! DAGGERS!

this song's so catchy.

SHOW LESS

11
The Zombies : Care of Cell 44
this is a perfect song to either listen to or dance to. you can take your pick. my two year old neighbor chose [...]

SHOW MORE

Track 1 from Odessey and Oracle
Length: 00:03:56
Year: 0000
Track Description:
this is a perfect song to either listen to or dance to. you can take your pick. my two year old neighbor chose dance.

SHOW LESS
Tag Board
You must log in to leave a tag
Stuff
Quick Jump
claireillinoise's other mixes
Related mixes
recent visitors
show all