[?]
Not a member? Sign-up now, it's free!
Login
[?]
These are links to some of the major sections in the mixtape collective.
Lists: Browse various lists that are generated by the loads of data we have collected.
Contests: Check out the latest contests, see previous winners, and find out how you can be a part
Music: Check out our ever-growing database of musical knowledge! Use it to find any artist, album, or track that has been entered since the birth of the site and rate and find detailed usage statistics.
Main
[?]
Tired of looking at the same old pages? Try checking out a random one, you never know what you might find...
Random!
free jizz for free jazz!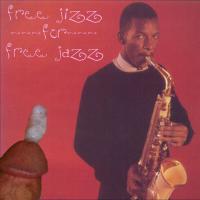 free jizz for free jazz!
Created by:
O_O
Tracks:
7
Length:
00:51:32
Keywords
1. jazz
2. improvisational ejaculate
3. masturbation
Created on
8/07/06 11:40am
Level
5
Points
2453
Total visitors
113
Unique visitors
59
description:
This is a mix of all free jazz & avant-jazz...although i don't think there's a real difference between the two of them. The general idea is that as the tracks go on, the dissonance gradually increases, although i don't really have an objective measure of "dissonance" so maybe i mixed one or two up in the order.

So now you're probably thinking, "Why did you do a mix of all free jazz? Are you realy that goddamn pretentious?" To the second question, the answer is yes. But more than that, i like to expose people to things they haven't heard before. A lot of people have heard Miles Davis, but not many have heard Ornette Coleman. A lot of people know who John Coltrane is, but are largely unaware of the chaos of his later works.

And that brings me to another point. Free jazz is probably one of the most influential types of music to the kind of music i'm most interested and involved in, which would be diy punk and noise and the points at which they cross. Lou Reed cited Ornette Coleman as a major influence; Lightning Bolt likes Sun Ra. Emo, especially, has taken a lot of influence from free jazz: for instance on the back of Swing Kids' first 7", you'll find a quote from Cecil Taylor. But more than that, you'd have to be deaf to not hear the paralells in the cacophony and chaos found in many emo bands and the similar dissonance in the climactic parts of a free jazz movement. And of course noise would simply not exist without free jazz first setting a precedent.

Oh, and if you're asking "Is this the last time you'e going to put something pornographic on a mixtape cover?" the answer is maybe.
tracklist
1
ornette coleman : focus on sanity
Though he was apparently unhappy with the term "free jazz," this tape still had to include him...he was the pe [...]

SHOW MORE

Track 4 from the shape of jazz to come
Length: 00:06:52
Year: 1959
Track Description:
Though he was apparently unhappy with the term "free jazz," this tape still had to include him...he was the person who gave it a name. The song title is also appropriate, given that Miles Davis reportedly said he was "All screwed-up inside."

SHOW LESS

2
john coltrane and archie shepp : my favorite things
This was one of Coltrane's favorite pieces to perform live, and i think it's really cool how as his career goe [...]

SHOW MORE

Track 3 from new thing at newport
Length: 00:14:42
Year: 0000
Track Description:
This was one of Coltrane's favorite pieces to perform live, and i think it's really cool how as his career goes on, you can hear it grow more wandering, more abstract.

SHOW LESS

3
sun ra : bassism

SHOW MORE

Track 1 from the futuristic sounds of sun ra
Length: 00:04:06
Year: 0000
Track Description:


SHOW LESS

4
cecil taylor : after all (fifth movement)

SHOW MORE

Track 4 from silent tongues
Length: 00:09:32
Year: 1975
Track Description:


SHOW LESS

5
albert ayler : holy ghost
A person i know claims that this song is so innovative, it actually invented grindcore twenty or so years befo [...]

SHOW MORE

Track 1 from live in greenwich village: the complete impulse recordings
Length: 00:07:42
Year: 1998
Track Description:
A person i know claims that this song is so innovative, it actually invented grindcore twenty or so years before the fact. I don't think it's quite that fast, but if you listen to the speed of it, you can definitely see a hint of what's to come...

SHOW LESS

6
naked city : saigon pickup
Well...it's John Zorn. John motherfuckin' Zorn. What else can i say here?

SHOW MORE

Track 21 from self-titled
Length: 00:04:50
Year: 1989
Track Description:
Well...it's John Zorn. John motherfuckin' Zorn. What else can i say here?

SHOW LESS

7
Otomo Yoshide's New Jazz Ensemble : hahen fukei
This song is realy cool, with Sakura M. belting out lyrics and the sounds made by manipulating sine waves comi [...]

SHOW MORE

Track 7 from Dreams
Length: 00:03:48
Year: 2002
Track Description:
This song is realy cool, with Sakura M. belting out lyrics and the sounds made by manipulating sine waves coming in here and there...definitely a great cresendo.

SHOW LESS
Tag Board
You must log in to leave a tag
Stuff
Quick Jump
O_O's other mixes
Related mixes
recent visitors
show all