[?]
Not a member? Sign-up now, it's free!
Login
[?]
These are links to some of the major sections in the mixtape collective.
Lists: Browse various lists that are generated by the loads of data we have collected.
Contests: Check out the latest contests, see previous winners, and find out how you can be a part
Music: Check out our ever-growing database of musical knowledge! Use it to find any artist, album, or track that has been entered since the birth of the site and rate and find detailed usage statistics.
Main
[?]
Tired of looking at the same old pages? Try checking out a random one, you never know what you might find...
Random!
Modern Girls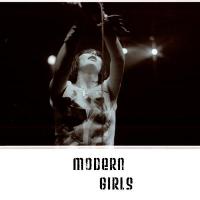 Modern Girls
Created by:
whackedtollie
Tracks:
14
Length:
00:51:38
Keywords
1. women
2. and men
3. or not
Created on
9/24/06 08:20pm
Level
4
Points
1971
Total visitors
81
Unique visitors
49
description:
Some of these songs make me cry. Some of them make me happy. Some of them are about love. Some of them aren't. All of them are by/about strong women, and they are all inspiring.

While making the mix, I actually aspired not to have too many happy songs on it. I just wanted to make a mix that conveys a sadness and emotional depth that, for the most part, only women experience (or admit to experiencing).
tracklist
1
Yeah Yeah Yeahs : Maps
This song makes me so happy in a bitersweet sort of way. I love Karen O, and her weird yet classic style, and [...]

SHOW MORE

Track 9 from Fever to Tell
Length: 00:03:39
Year: 2003
Track Description:
This song makes me so happy in a bitersweet sort of way. I love Karen O, and her weird yet classic style, and voice.

SHOW LESS

2
The Strokes : Modern Girls and Old Fashioned Men (feat. Regina Spektor)
Technically, this appeared on a Strokes album, but Regina really steals the song. The song is about two peopl [...]

SHOW MORE

Track 2 from Reptilia
Length: 00:03:40
Year: 2003
Track Description:
Technically, this appeared on a Strokes album, but Regina really steals the song. The song is about two people who are in love, but the man is too old-fashioned and the girl needs to break it off.

SHOW LESS

3
The Sundays : Here's Where the Story Ends
"The devil in me said, go down to the shed, I know where I belong. And the only thing I ever really wanted to [...]

SHOW MORE

Track 2 from Reading, Writing and Arithmetic
Length: 00:03:55
Year: 1990
Track Description:
"The devil in me said, go down to the shed, I know where I belong. And the only thing I ever really wanted to say was wrong, was wrong, was wrong..."

(I am aware I have used this song before btw)

SHOW LESS

4
Sambassadeur : Between the Lines
To me, this song is just very beautiful. I think it's about someone who wants to find the meaning in a song b [...]

SHOW MORE

Track 1 from Between the Lines
Length: 00:02:40
Year: 2005
Track Description:
To me, this song is just very beautiful. I think it's about someone who wants to find the meaning in a song by someone she really admires but can't figure it out.

SHOW LESS

5
The Concretes : You Can't Hurry Love
The feeling of this song and the Sambassadeur song always seem to go together for me. They're optomistic, and [...]

SHOW MORE

Track 2 from The Concretes
Length: 00:02:02
Year: 2004
Track Description:
The feeling of this song and the Sambassadeur song always seem to go together for me. They're optomistic, and light while at the same time just a little bit sad.

SHOW LESS

6
The Skyflakes : Things to Do
"It's not you... I've got things to do." The very high-pitched vocals don't make the song any lighter, really [...]

SHOW MORE

Track 1 from Calling In Sick
Length: 00:03:35
Year: 0000
Track Description:
"It's not you... I've got things to do." The very high-pitched vocals don't make the song any lighter, really.

SHOW LESS

7
t.A.t.U. : Not Gonna Get Us
You remember the song, right? It's about lesbians! W00t! Seriously though, really cool song. And you can s [...]

SHOW MORE

Track 1 from 200 km/h in the Wrong Lane
Length: 00:04:24
Year: 2002
Track Description:
You remember the song, right? It's about lesbians! W00t! Seriously though, really cool song. And you can see how it fits with the theme. Fish and bicycles, indeed :P

SHOW LESS

8
Tegan and Sara : Speak Slow
"I'm so far away, I just can't see you
I'm so far away, and I just don't need you"

SHOW MORE

Track 10 from So Jealous
Length: 00:02:21
Year: 2004
Track Description:
"I'm so far away, I just can't see you
I'm so far away, and I just don't need you"

SHOW LESS

9
Regina Spektor : Buildings
This song makes me cry.
"He'd take one look at her and say,
"Oh, oh, it's okay"
And her [...]

SHOW MORE

Track 4 from 11:11
Length: 00:04:43
Year: 2001
Track Description:
This song makes me cry.
"He'd take one look at her and say,
"Oh, oh, it's okay"
And her conscience would issue yet another last warning...
Saying, Oh, they build buildings so tall these days"

SHOW LESS

10
Yeah Yeah Yeahs : Cheated Hearts
Presumably (in other words, "I think maybe kinda") this is a song about a couple who cheat on each other... bu [...]

SHOW MORE

Track 6 from Show Your Bones
Length: 00:03:58
Year: 2006
Track Description:
Presumably (in other words, "I think maybe kinda") this is a song about a couple who cheat on each other... but Karen O seems pretty happy about it, and it transitions nicely with "Buildings" so on the mix it goes!

SHOW LESS

11
The Cardigans : Drip Drop Teardrop
This is new Cardigans if I'm not mistaken. They have always seemed to me a very "strong feminine" type band. [...]

SHOW MORE

Track 3 from Super Extra Gravity
Length: 00:03:22
Year: 2005
Track Description:
This is new Cardigans if I'm not mistaken. They have always seemed to me a very "strong feminine" type band. The sense of control in the lyrics is fitting with the theme of the mix also.

SHOW LESS

12
Billie Holiday : Solitude
Okay, enough with the happy songs. Back to the mourning and melancholy. Nobody could sing this song like Bil [...]

SHOW MORE

Track 5 from Billie's Blues
Length: 00:03:29
Year: 1991
Track Description:
Okay, enough with the happy songs. Back to the mourning and melancholy. Nobody could sing this song like Billie does. She mourns the loss of a lover better than anyone I've heard.

SHOW LESS

13
Regina Spektor : Chemo Limo
"No thank you, no thank you, I don't have to put up with this shit
I can afford chemo like I can afford [...]

SHOW MORE

Track 10 from Soviet Kitsch
Length: 00:06:04
Year: 2003
Track Description:
"No thank you, no thank you, I don't have to put up with this shit
I can afford chemo like I can afford a limo
And on any given day I'd rather ride a limosine
No thank you, no thank you
I don't have to die like this
..You know I plan to retire someday
I'm a-gonna go out in style, go out in style"

This song makes me cry, too.

SHOW LESS

14
Tori Amos : Me and a Gun
The lyrics to this song are shockingly raw and easy to interperet. Tori Amos supposedly wrote this song a few [...]

SHOW MORE

Track 11 from Little Earthquakes
Length: 00:03:46
Year: 1993
Track Description:
The lyrics to this song are shockingly raw and easy to interperet. Tori Amos supposedly wrote this song a few hours before a show and performed it right there, right after she'd been raped on her way home. It's rather heartbreaking. I had to make it the last song on the mix, because I don't think anything could really follow it.

SHOW LESS
Tag Board
You must log in to leave a tag
Stuff
Quick Jump
whackedtollie's other mixes
Related mixes
recent visitors
show all