[?]
Not a member? Sign-up now, it's free!
Login
[?]
These are links to some of the major sections in the mixtape collective.
Lists: Browse various lists that are generated by the loads of data we have collected.
Contests: Check out the latest contests, see previous winners, and find out how you can be a part
Music: Check out our ever-growing database of musical knowledge! Use it to find any artist, album, or track that has been entered since the birth of the site and rate and find detailed usage statistics.
Main
[?]
Tired of looking at the same old pages? Try checking out a random one, you never know what you might find...
Random!
Boris & Sebastian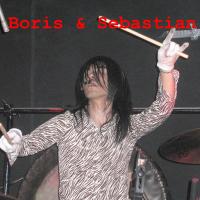 Boris & Sebastian
Created by:
Eraserhead
Tracks:
17
Length:
01:18:59
Keywords
1. Mix Contest 5
2. Mix Contest 5
3. Mix Contest 5
Created on
10/29/06 11:51am
Level
8
Points
3527
Total visitors
189
Unique visitors
87
This mix was ranked #5 out of 18 entries for this contest
description:
There wasn't any great inspiration for this mixtape. I just felt like entering the contest.

I bet that this is the only mix on the site to feature both Boris and Belle & Sebastian.
tracklist
1
Belle & Sebastian : The Stars of Track and Field
I feel that this is the greatest opening track of all time. One of the members of the group at this time was [...]

SHOW MORE

Track 1 from If You're Feeling Sinister
Length: 00:04:48
Year: 1996
Track Description:
I feel that this is the greatest opening track of all time. One of the members of the group at this time was Isobel Campbell...

SHOW LESS

2
Isobel Campbell and Mark Lanegan : Ramblin' Man
...who went on to make this album with Mark Lanegan, singer for such groups as the Screaming Trees. He also w [...]

SHOW MORE

Track 6 from Ballad Of The Broken Seas
Length: 00:03:29
Year: 2006
Track Description:
...who went on to make this album with Mark Lanegan, singer for such groups as the Screaming Trees. He also worked with...

SHOW LESS

3
Queens of the Stone Age : Auto Pilot
...Queens of the Stone Age, for a while at least. Queens of the stone Age also had Dave Grohl as drummer for [...]

SHOW MORE

Track 4 from Rated R
Length: 00:04:01
Year: 2000
Track Description:
...Queens of the Stone Age, for a while at least. Queens of the stone Age also had Dave Grohl as drummer for a while. Most of you probably know him as the drummer for...

SHOW LESS

4
Nirvana : Heart-Shaped Box
...Nirvana, who wrote this song. Kurt Cobain, the frontman for Nirvana, also worked with...

SHOW MORE

Track 3 from In Utero
Length: 00:04:41
Year: 1993
Track Description:
...Nirvana, who wrote this song. Kurt Cobain, the frontman for Nirvana, also worked with...

SHOW LESS

5
The Melvins : Going Blind
...the Melvins for an album or two. Houdini was one of the albums he worked on, and this is a track from it. [...]

SHOW MORE

Track 4 from Houdini
Length: 00:04:43
Year: 1993
Track Description:
...the Melvins for an album or two. Houdini was one of the albums he worked on, and this is a track from it. Joe Preston was the bass player for the Melvins for a few years around the period this came out. Lately he was featured on...

SHOW LESS

6
Boris w/ SunnO))) : Akuma No Kuma
...the collaboration CD between Boris and SunnO))). This is the song he helped with. Boris leads us to...

SHOW MORE

Track 4 from Altar
Length: 00:07:52
Year: 2006
Track Description:
...the collaboration CD between Boris and SunnO))). This is the song he helped with. Boris leads us to...

SHOW LESS

7
Boris : Ibitsu
...Boris, who make great music on their own. Of course, they also worked with...

SHOW MORE

Track 2 from Akuma No Uta
Length: 00:03:23
Year: 2005
Track Description:
...Boris, who make great music on their own. Of course, they also worked with...

SHOW LESS

8
Boris w/ Merzbow : Texas Spaceship
...Merzbow, the great Japanese noise artist. Merzbow also worked with another great mastermind, whose name is [...]

SHOW MORE

Track 3 from Megatone
Length: 00:17:56
Year: 2002
Track Description:
...Merzbow, the great Japanese noise artist. Merzbow also worked with another great mastermind, whose name is...

SHOW LESS

9
Maldoror : Bubble Bath and a Valium
...Mike Patton. Maldoror is the product of these two geniuses. Arguably, however, Mike Patton's best group w [...]

SHOW MORE

Track 10 from She
Length: 00:00:44
Year: 1999
Track Description:
...Mike Patton. Maldoror is the product of these two geniuses. Arguably, however, Mike Patton's best group was...

SHOW LESS

10
Mr. Bungle : Vanity Fair
...Mr. Bungle, from whence this song comes. But the Mike Patton doesn't end there. He was also featured on a [...]

SHOW MORE

Track 9 from California
Length: 00:02:58
Year: 1999
Track Description:
...Mr. Bungle, from whence this song comes. But the Mike Patton doesn't end there. He was also featured on a song by...

SHOW LESS

11
Handsome Boy Modeling School : Are You Down With It (feat. Mike Patton)
...Handsome Boy Modeling School. One of the two main members of HBMS was Prince Paul, known for his work with [...]

SHOW MORE

Track 3 from White People
Length: 00:03:34
Year: 2004
Track Description:
...Handsome Boy Modeling School. One of the two main members of HBMS was Prince Paul, known for his work with De La Soul and...

SHOW LESS

12
Gravediggaz : 1-800-Suicide
...Gravediggaz, who created this horrorcore classic. RZA, also a member of Gravediggaz, was one of the pivota [...]

SHOW MORE

Track 8 from 6 Feet Deep
Length: 00:04:17
Year: 1994
Track Description:
...Gravediggaz, who created this horrorcore classic. RZA, also a member of Gravediggaz, was one of the pivotal members of...

SHOW LESS

13
Wu-Tang Clan : Shame on a Nigga
...the Wu-Tang Clan, who need no description. Ghostface Killah, another of the Wu's many members collaborated [...]

SHOW MORE

Track 2 from Enter the Wu-Tang: 36 Chambers
Length: 00:02:57
Year: 1993
Track Description:
...the Wu-Tang Clan, who need no description. Ghostface Killah, another of the Wu's many members collaborated with...

SHOW LESS

14
Danger Doom : The Mask (feat. Ghostface)
...MF DOOM and Danger Mouse for this track. MF DOOM made a song on one of his previous albums, that just so h [...]

SHOW MORE

Track 3 from The Mouse and The Mask
Length: 00:03:12
Year: 2005
Track Description:
...MF DOOM and Danger Mouse for this track. MF DOOM made a song on one of his previous albums, that just so happened to feature...

SHOW LESS

15
Viktor Vaughn : Doper Skiller (ft. Kool Keith)
...Kool Keith, another very good rapper. One of his most popular alter-egos is, of course,...

SHOW MORE

Track 7 from Venomous Villain
Length: 00:02:51
Year: 2004
Track Description:
...Kool Keith, another very good rapper. One of his most popular alter-egos is, of course,...

SHOW LESS

16
Dr. Octagon : Blue Flowers
...Dr. Octagon, the sex and fecal matter-obsessed doctor from another world. He was also featured, as Kool Ke [...]

SHOW MORE

Track 8 from Dr. Octagonecologyst
Length: 00:03:16
Year: 1997
Track Description:
...Dr. Octagon, the sex and fecal matter-obsessed doctor from another world. He was also featured, as Kool Keith, on a song by...

SHOW LESS

17
The Prodigy : Diesel Power
...The Prodigy, entitled Diesel Power.

SHOW MORE

Track 3 from The Fat of the Land
Length: 00:04:17
Year: 1997
Track Description:
...The Prodigy, entitled Diesel Power.

SHOW LESS
Tag Board
You must log in to leave a tag
Stuff
Quick Jump
Eraserhead's other mixes
Related mixes
recent visitors
show all