[?]
Not a member? Sign-up now, it's free!
Login
[?]
These are links to some of the major sections in the mixtape collective.
Lists: Browse various lists that are generated by the loads of data we have collected.
Contests: Check out the latest contests, see previous winners, and find out how you can be a part
Music: Check out our ever-growing database of musical knowledge! Use it to find any artist, album, or track that has been entered since the birth of the site and rate and find detailed usage statistics.
Main
[?]
Tired of looking at the same old pages? Try checking out a random one, you never know what you might find...
Random!
Get out of my mind You Evil Bitch!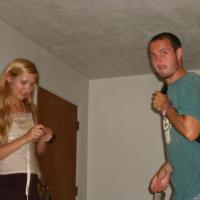 Get out of my mind You Evil Bitch!
Created by:
T-bag
Tracks:
11
Length:
00:40:18
Keywords
1. Regret
2. Loss
3. Remorse
Created on
10/28/06 06:53am
Level
5
Points
2160
Total visitors
71
Unique visitors
40
description:
I've had a hard time forgetting certian special women in my life. I thought I might make a mixx of some really good songs that have easied the pain of a terrible break up.
tracklist
1
The Beach Boys : I Just Wasn't Made for These Times
One of the best bands in the world know how to translate complex feelings into a simple melody. Who knows what [...]

SHOW MORE

Track 11 from Pet Sounds
Length: 00:03:15
Year: 1966
Track Description:
One of the best bands in the world know how to translate complex feelings into a simple melody. Who knows what we would all do without the beach boys influence.

SHOW LESS

2
Aimee Mann : One
I listened to this so so many times. One of the best of Harry Nilsson cover songs.

SHOW MORE

Track 1 from Magnolia
Length: 00:02:53
Year: 1999
Track Description:
I listened to this so so many times. One of the best of Harry Nilsson cover songs.

SHOW LESS

3
Mirianda July : Fuck
Who hasn't felt as deperate as Miranda in this scence.

SHOW MORE

Track 12 from Me, You, and Everyone we know
Length: 00:02:01
Year: 2005
Track Description:
Who hasn't felt as deperate as Miranda in this scence.

SHOW LESS

4
Syd Barrett : Love
Reflecting on a past relationship isn't easy during this song. It's easier to think of the shitty times but SHOW MORE
Track 3 from The Madcap Laughs
Length: 00:02:30
Year: 1970
Track Description:
Reflecting on a past relationship isn't easy during this song. It's easier to think of the shitty times but
syd has a way of making you reflect on the goodtimes of a relationship. You drugged out bastard syd.

SHOW LESS

5
tool : Crawl Away
One of the easiest emmotions to fall into during a break-up can come out during this song. Hint(anger).

SHOW MORE

Track 5 from Undertow
Length: 00:05:30
Year: 1993
Track Description:
One of the easiest emmotions to fall into during a break-up can come out during this song. Hint(anger).

SHOW LESS

6
Bob Dylan : Don't Think Twice, It's Alright
The perfect song to match your mood, when you've come to the realiztion that maybe time has been wasted on som [...]

SHOW MORE

Track 7 from The Freewheelin' Bob Dylan
Length: 00:03:39
Year: 1963
Track Description:
The perfect song to match your mood, when you've come to the realiztion that maybe time has been wasted on something unimportant.

SHOW LESS

7
Murder City Devils : Tell you Brother
Shit faced and totally confused this song has rang true more than a few times. Not the best of times to be wa [...]

SHOW MORE

Track 10 from Murder City Devils
Length: 00:03:27
Year: 1997
Track Description:
Shit faced and totally confused this song has rang true more than a few times. Not the best of times to be wasted at this point...It will happen.

SHOW LESS

8
Harry Nilsson : Without you
It reminds me of a special Ladie Buddy in my life. This song actually cheers me up. It's kind of sick I suppos [...]

SHOW MORE

Track 6 from Nilsson Schmilsson
Length: 00:03:22
Year: 1973
Track Description:
It reminds me of a special Ladie Buddy in my life. This song actually cheers me up. It's kind of sick I suppose.

SHOW LESS

9
A Perfect Circle : The Noose
when the buzz starts to wear down and you can't help but feel worn down from your emmotions. This song is a go [...]

SHOW MORE

Track 3 from Thirteenth Step
Length: 00:04:53
Year: 2003
Track Description:
when the buzz starts to wear down and you can't help but feel worn down from your emmotions. This song is a good downer.

SHOW LESS

10
Beck : Everybody's Gotta Learn Sometime
Have a good cry when this track plays. You'll remember the movie(E.S.O.T.S.M.) and your fucked up ex-relations [...]

SHOW MORE

Track 9 from Eternal Sunshine of the Spotless Mind soundtrack
Length: 00:05:54
Year: 0000
Track Description:
Have a good cry when this track plays. You'll remember the movie(E.S.O.T.S.M.) and your fucked up ex-relationship.

SHOW LESS

11
The Beach Boys : God Only Knows
This song makes it seem that way...Too bad your an atheist and a hopeless romantic. Things start to look up af [...]

SHOW MORE

Track 0 from Pet Sounds
Length: 00:02:54
Year: 1966
Track Description:
This song makes it seem that way...Too bad your an atheist and a hopeless romantic. Things start to look up after a good cry and mixx.

SHOW LESS
Tag Board
You must log in to leave a tag
Stuff
Quick Jump
T-bag's other mixes
Related mixes
recent visitors
show all