[?]
Not a member? Sign-up now, it's free!
Login
[?]
These are links to some of the major sections in the mixtape collective.
Lists: Browse various lists that are generated by the loads of data we have collected.
Contests: Check out the latest contests, see previous winners, and find out how you can be a part
Music: Check out our ever-growing database of musical knowledge! Use it to find any artist, album, or track that has been entered since the birth of the site and rate and find detailed usage statistics.
Main
[?]
Tired of looking at the same old pages? Try checking out a random one, you never know what you might find...
Random!
Please swallow this horse pill...it's for your own good.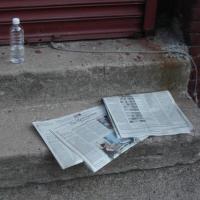 Please swallow this horse pill...it's for your own good.
Created by:
beel
Tracks:
17
Length:
01:14:13
Keywords
1. yes
2. no
3. maybe
Created on
3/09/07 04:20pm
Level
4
Points
1787
Total visitors
60
Unique visitors
28
description:
When I think too much, I fall into a funk. A deep funk. The winds blows against my cheek and I burst into tears. I laugh at awkward moments and am completely doofy. I see myself from the outside and it's not good. You know, you tell yourself to shuttup because you hate the sound of your own voice. You do things and take things you shouldn't, say the wrong things... I am not perfect and I am perfectly fine with that.
tracklist
1
King Crimson : Walking on Air
This song starts and I get lost in his voice. I am numb.

SHOW MORE

Track 4 from Thrak
Length: 00:04:38
Year: 0000
Track Description:
This song starts and I get lost in his voice. I am numb.

SHOW LESS

2
Azure Ray : Displaced
This
song is how I feel when I don't know what to with my arms, don't know
what to say, when my feet [...]

SHOW MORE

Track 2 from Azure Ray
Length: 00:03:41
Year: 2001
Track Description:
This
song is how I feel when I don't know what to with my arms, don't know
what to say, when my feet feel real big, when I feel I can't put a
sentence together.

SHOW LESS

3
Cat Power : Naked, If I Want To
Pure raw feelings with nothing to hide.

SHOW MORE

Track 4 from The Covers Record
Length: 00:02:47
Year: 2000
Track Description:
Pure raw feelings with nothing to hide.

SHOW LESS

4
10,000 Maniacs : The Painted Desert
You
know that feeling of seeing someone for the first time after saying a
very painful goodbye years [...]

SHOW MORE

Track 5 from In My Tribe
Length: 00:03:38
Year: 0000
Track Description:
You
know that feeling of seeing someone for the first time after saying a
very painful goodbye years ago? You know that pierce...

SHOW LESS

5
Eagle-Eye Cherry : Save Tonight
Need to stop time, sometimes...just for a little while.

SHOW MORE

Track 1 from Desireless
Length: 00:04:02
Year: 1998
Track Description:
Need to stop time, sometimes...just for a little while.

SHOW LESS

6
Editors : Distance
Keeping apart from someone is one test that I fail at...

SHOW MORE

Track 11 from The Back Room
Length: 00:03:38
Year: 2006
Track Description:
Keeping apart from someone is one test that I fail at...

SHOW LESS

7
Jets to Brazil : Cat Heaven
Brilliant lyrics. Don't wake me up.

SHOW MORE

Track 3 from Perfecting Loneliness
Length: 00:05:05
Year: 2002
Track Description:
Brilliant lyrics. Don't wake me up.

SHOW LESS

8
Jettie : Goodmorning Russia
A voice and melody that melts your skin into mushy goodness.

SHOW MORE

Track 0 from Goodmorning Russia
Length: 00:03:37
Year: 0000
Track Description:
A voice and melody that melts your skin into mushy goodness.

SHOW LESS

9
Joan Armatrading : The Weakness in Me
It isn't sung any better than this...everyone has a weakness...we know better...or do we?

SHOW MORE

Track 6 from The Millennium Collection
Length: 00:03:33
Year: 0000
Track Description:
It isn't sung any better than this...everyone has a weakness...we know better...or do we?

SHOW LESS

10
Jason Webley : Again the Night
Raw voice. Just hold on those these words, hold on to me. if you like Waits, give Jason Webley a listen to. [...]

SHOW MORE

Track 9 from Against the Night
Length: 00:03:40
Year: 0000
Track Description:
Raw voice. Just hold on those these words, hold on to me. if you like Waits, give Jason Webley a listen to.

SHOW LESS

11
Interpol : The New
taking chances and chances and failing and taking more chances again because you know one day....

SHOW MORE

Track 10 from Turn on the Bright Lights
Length: 00:06:07
Year: 2002
Track Description:
taking chances and chances and failing and taking more chances again because you know one day....

SHOW LESS

12
Snowden : Victim Card
No I'm not!

SHOW MORE

Track 9 from Anti-Anti
Length: 00:05:11
Year: 0000
Track Description:
No I'm not!

SHOW LESS

13
Aroah : Come Home
Dreamy dreamy dreamy!!!!

SHOW MORE

Track 1 from Cuando Termines Con Todo, Habra Terminado Contigo
Length: 00:02:44
Year: 0000
Track Description:
Dreamy dreamy dreamy!!!!

SHOW LESS

14
Blur : Tender
now just walk away would you

SHOW MORE

Track 1 from 13
Length: 00:07:41
Year: 1999
Track Description:
now just walk away would you

SHOW LESS

15
Samiam : Why Do We
why
you ask...because we're human...we're animals, we're not
perfect...we're perfect..we're deserve [...]

SHOW MORE

Track 12 from Astray
Length: 00:06:07
Year: 2000
Track Description:
why
you ask...because we're human...we're animals, we're not
perfect...we're perfect..we're deserve others, and we deserve each
other...

SHOW LESS

16
Eels : P.S. You Rock My World
Guess what? Life goes on and no one has noticed a thing...maybe it's time to live.

SHOW MORE

Track 16 from Electro-Shock Blues
Length: 00:03:08
Year: 1998
Track Description:
Guess what? Life goes on and no one has noticed a thing...maybe it's time to live.

SHOW LESS

17
Toad the Wet Sprocket : Something's Always Wrong
Didn't I say life goes on around you....

SHOW MORE

Track 0 from Dulcinea
Length: 00:04:56
Year: 0000
Track Description:
Didn't I say life goes on around you....

SHOW LESS
Tag Board
You must log in to leave a tag
Stuff
Quick Jump
beel's other mixes
Related mixes
recent visitors
show all