[?]
Not a member? Sign-up now, it's free!
Login
[?]
These are links to some of the major sections in the mixtape collective.
Lists: Browse various lists that are generated by the loads of data we have collected.
Contests: Check out the latest contests, see previous winners, and find out how you can be a part
Music: Check out our ever-growing database of musical knowledge! Use it to find any artist, album, or track that has been entered since the birth of the site and rate and find detailed usage statistics.
Main
[?]
Tired of looking at the same old pages? Try checking out a random one, you never know what you might find...
Random!
Those Crazy Emo Kids These Days: A History Lesson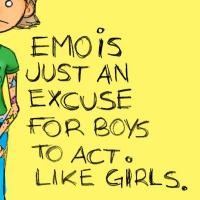 Those Crazy Emo Kids These Days: A History Lesson
Created by:
mogizzle
Tracks:
13
Length:
00:52:54
Keywords
1. Mix Contest 17
2. Mix Contest 17
3. Mix Contest 17
Created on
11/07/07 08:39am
Level
4
Points
1827
Total visitors
77
Unique visitors
48
This mix was ranked #10 out of 12 entries for this contest
description:
This is for all those little fuckers who wear girls jeans and mascara and think My Chemical Romance and Fall Out Boy are the epitome of Emo.
A little history lesson.
tracklist
1
Rites Of Spring : For Want of
Bursting out of the DC hardcore scene, Rites of Spring were one of the first.

SHOW MORE

Track 0 from End on End
Length: 00:03:10
Year: 0000
Track Description:
Bursting out of the DC hardcore scene, Rites of Spring were one of the first.

SHOW LESS

2
The Promise Ring : Nothing Feels Good
I wasn't a big fan of the hardcore emo sound, so we're jumping right into the Indie rock emo phase. Wave 2 as [...]

SHOW MORE

Track 9 from Nothing Feels Good
Length: 00:02:02
Year: 1997
Track Description:
I wasn't a big fan of the hardcore emo sound, so we're jumping right into the Indie rock emo phase. Wave 2 as its known to some

SHOW LESS

3
Texas is the Reason : A Jack With One Eye
and that eye is devoid of any makeup.

SHOW MORE

Track 9 from Do You Know Who You Are?
Length: 00:04:39
Year: 1996
Track Description:
and that eye is devoid of any makeup.

SHOW LESS

4
Sunny Day Real Estate : Pillars
Sunny Day makes me happy

SHOW MORE

Track 1 from How it Feels to be Something On
Length: 00:04:57
Year: 1998
Track Description:
Sunny Day makes me happy

SHOW LESS

5
Braid : roses in the car
Looking through the other Braid songs, I realized that Fall Out Boy totally stole the title Grand Theft Autumn [...]

SHOW MORE

Track 13 from movie music vol. 2
Length: 00:04:24
Year: 2003
Track Description:
Looking through the other Braid songs, I realized that Fall Out Boy totally stole the title Grand Theft Autumn from Braid. What Douchebags!

SHOW LESS

6
Mineral : Gloria
The greatest emo band ever.

SHOW MORE

Track 2 from The Power of Failing
Length: 00:03:42
Year: 1995
Track Description:
The greatest emo band ever.

SHOW LESS

7
Cap'n Jazz : Little League
You know you're good when there are other bands who name themselves after your song titles.

SHOW MORE

Track 1 from Analphabetapolothology
Length: 00:03:56
Year: 0000
Track Description:
You know you're good when there are other bands who name themselves after your song titles.

SHOW LESS

8
American Football : The Summer Ends
The Kinsellas rule.

SHOW MORE

Track 2 from american football
Length: 00:04:46
Year: 1999
Track Description:
The Kinsellas rule.

SHOW LESS

9
The Appleseed Cast : Fishing the Sky
The lead singer of this band has a crazy beard. My college roommate looks just like him, beard included. It [...]

SHOW MORE

Track 2 from Mare Vitalis
Length: 00:03:58
Year: 0000
Track Description:
The lead singer of this band has a crazy beard. My college roommate looks just like him, beard included. It frightens me.

SHOW LESS

10
Christie Front Drive : Valentine
Sometimes I wish I was 5 years older so i could have seen some of these bands live.

SHOW MORE

Track 0 from Boys Life-Christie Front Drive (Split EP)
Length: 00:05:15
Year: 0000
Track Description:
Sometimes I wish I was 5 years older so i could have seen some of these bands live.

SHOW LESS

11
Boys Life : Homecoming
I don't know what to say. Yay!

SHOW MORE

Track 0 from Boys Life-Christie Front Drive (Split EP)
Length: 00:04:52
Year: 0000
Track Description:
I don't know what to say. Yay!

SHOW LESS

12
The Get Up Kids : I'm a Loner Dottie, a Rebel...
I met Sarah Michelle Geller in LA. Thats something to write home about.

SHOW MORE

Track 0 from Something to Write Home About
Length: 00:03:08
Year: 1990
Track Description:
I met Sarah Michelle Geller in LA. Thats something to write home about.

SHOW LESS

13
Jimmy Eat World : For Me This Is Heaven
JEW

SHOW MORE

Track 10 from Clarity
Length: 00:04:05
Year: 1999
Track Description:
JEW

SHOW LESS
Tag Board
You must log in to leave a tag
Stuff
Quick Jump
mogizzle's other mixes
Related mixes
recent visitors
show all