[?]
Not a member? Sign-up now, it's free!
Login
[?]
These are links to some of the major sections in the mixtape collective.
Lists: Browse various lists that are generated by the loads of data we have collected.
Contests: Check out the latest contests, see previous winners, and find out how you can be a part
Music: Check out our ever-growing database of musical knowledge! Use it to find any artist, album, or track that has been entered since the birth of the site and rate and find detailed usage statistics.
Main
[?]
Tired of looking at the same old pages? Try checking out a random one, you never know what you might find...
Random!
Driving to Joshua Tree from Hollywood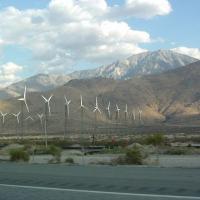 Driving to Joshua Tree from Hollywood
Created by:
sledgbrainerd
Tracks:
20
Length:
01:19:36
Keywords
1. Mix Contest 14
2. Mix Contest 14
3. Mix Contest 14
Created on
8/02/07 07:04pm
Level
5
Points
2089
Total visitors
66
Unique visitors
36
This mix was ranked #12 out of 13 entries for this contest
description:
I am a big fan of visiting the desert. A while back, I went to Joshua Tree with some class mates. It was an absolute blast. The thing I love about the desert is the feeling of being able to do whatever you want. Absolute freedom. Plus, at night, that sky will bring a tear to anyone's eye. This is a mix for the stretch of Highway 10 before you are surrounded by giant Windmills and Beautiful Mountains. The shitty part of the drive. This is the mix to transport us from the bile of the city to the beauty of the desert.
tracklist
1
Iggy Pop : Introduction

SHOW MORE

Track 1 from Buddyhead Suicide (Disc 1)
Length: 00:00:08
Year: 2003
Track Description:


SHOW LESS

2
The Go! Team : My World
A nice little ditty filled with magic and wonder to start us off as we traverse the city streets to get on 101 [...]

SHOW MORE

Track 3 from Proof of Youth
Length: 00:02:08
Year: 2007
Track Description:
A nice little ditty filled with magic and wonder to start us off as we traverse the city streets to get on 101 south.

SHOW LESS

3
Daft Punk : Human After All
This kicks us in to gear and pumps us up as we merge onto the freeway. A great way to start the trip.

SHOW MORE

Track 12 from Musique Vol. 1
Length: 00:05:18
Year: 2006
Track Description:
This kicks us in to gear and pumps us up as we merge onto the freeway. A great way to start the trip.

SHOW LESS

4
Beastie Boys : Looking Down the Barrell of a Gun
This classic tune keeps the excitement alive as we start anxiously awaiting our arrival a few hours in the fut [...]

SHOW MORE

Track 10 from Paul's Boutique
Length: 00:03:28
Year: 1989
Track Description:
This classic tune keeps the excitement alive as we start anxiously awaiting our arrival a few hours in the future. Hopefully when we get on the 10 heading east, it won't have too bad of traffic (although it always does, screw San Bernadino).

SHOW LESS

5
Amon Tobin : Always
While still an exciting tune, it easily can sit in the background as we converse and bullshit and talk about d [...]

SHOW MORE

Track 10 from The Foley Room
Length: 00:03:38
Year: 2007
Track Description:
While still an exciting tune, it easily can sit in the background as we converse and bullshit and talk about doin chicks and shit.

SHOW LESS

6
Aphex Twin : Bbydhyonchord
Another "alive" background track. Perfect for sipping on your drink of choice you picked up while you were ga [...]

SHOW MORE

Track 7 from Drukqs (Disc 1)
Length: 00:02:33
Year: 2001
Track Description:
Another "alive" background track. Perfect for sipping on your drink of choice you picked up while you were gassing up.

SHOW LESS

7
Smog : Ambition
How can something be mellow and rockin' at the same time? It keeps everyone in the car awake but it's not all [...]

SHOW MORE

Track 4 from Supper
Length: 00:04:27
Year: 2003
Track Description:
How can something be mellow and rockin' at the same time? It keeps everyone in the car awake but it's not all up in their grill and shit.

SHOW LESS

8
Queens of the Stone Age : Suture Up Your Future
I will admit that after an initial outright hatred for this album, I have warmed up to A FEW of the tracks on [...]

SHOW MORE

Track 9 from Era Vulgaris
Length: 00:04:37
Year: 2007
Track Description:
I will admit that after an initial outright hatred for this album, I have warmed up to A FEW of the tracks on it. Something we can groove to as we get further towards freedom and further away from bum piss.

SHOW LESS

9
Smashing Pumpkins : Hummer
Now everyone in the ride get to reminisce about the early 90's and our childhoods.

SHOW MORE

Track 4 from Siamese Dream
Length: 00:06:57
Year: 1993
Track Description:
Now everyone in the ride get to reminisce about the early 90's and our childhoods.

SHOW LESS

10
Dead Meadow : At Her Open Door
Some beautiful psychadelic rock for us to get in "desert mode". Desert Mode is drinking lots of beer and gett [...]

SHOW MORE

Track 5 from Feathers
Length: 00:05:31
Year: 2005
Track Description:
Some beautiful psychadelic rock for us to get in "desert mode". Desert Mode is drinking lots of beer and getting high. Since we choose to not do that stuff until we get there, this will do.

SHOW LESS

11
Comets on Fire : Sour Smoke
Once again, DESERT MODE.

SHOW MORE

Track 6 from Avatar
Length: 00:08:47
Year: 0000
Track Description:
Once again, DESERT MODE.

SHOW LESS

12
Tomahawk : Ghost Dance
Some Native American grooves to bob the heads of the passengers and get my brazilian friend to stop talking fo [...]

SHOW MORE

Track 3 from Anonymous
Length: 00:03:44
Year: 2007
Track Description:
Some Native American grooves to bob the heads of the passengers and get my brazilian friend to stop talking for a couple minutes.

SHOW LESS

13
Mastodon : Sleeping Giant
Recently fell for this song when I saw the very cool video. This wakes everyone back up and gets them rocking [...]

SHOW MORE

Track 3 from Blood Mountain
Length: 00:05:36
Year: 2006
Track Description:
Recently fell for this song when I saw the very cool video. This wakes everyone back up and gets them rocking.

SHOW LESS

14
Red Sparowes : Millions Starved and We Became Skinnier and Skinnier, While Our Leaders Became Fatter and Fatter
This sweet tune compliments the beauty around us perfectly and makes me love again.

SHOW MORE

Track 7 from Every Red Heart Shines Toward the Red Sun
Length: 00:09:54
Year: 2006
Track Description:
This sweet tune compliments the beauty around us perfectly and makes me love again.

SHOW LESS

15
Mugison : Mugicone
Same thing as the Red Sparowes tune, keeps the mood going.

SHOW MORE

Track 4 from Little Trip
Length: 00:01:22
Year: 2006
Track Description:
Same thing as the Red Sparowes tune, keeps the mood going.

SHOW LESS

16
Meat Puppets : Aurora Borealis
Again, continuing the vibe. I'm sure by this point in the mix someone has tried to get me to pull over to tak [...]

SHOW MORE

Track 19 from II
Length: 00:02:28
Year: 1999
Track Description:
Again, continuing the vibe. I'm sure by this point in the mix someone has tried to get me to pull over to take a piss.

SHOW LESS

17
John Frusciante : Away and Anywhere
A soong that lets me showcase my amazing sing-along skills.

SHOW MORE

Track 5 from To Record Only Water for Ten Days
Length: 00:04:07
Year: 2001
Track Description:
A soong that lets me showcase my amazing sing-along skills.

SHOW LESS

18
Earth : Charioteer (Temple Song)
As everyone is starting to get antsy, this smooth jam soothes their anxiousness.

SHOW MORE

Track 5 from Pentastar: In the Style of Demons
Length: 00:04:17
Year: 1996
Track Description:
As everyone is starting to get antsy, this smooth jam soothes their anxiousness.

SHOW LESS

19
Four Tet : Chia
The windmills are in sight.

SHOW MORE

Track 7 from Rounds
Length: 00:00:32
Year: 2003
Track Description:
The windmills are in sight.

SHOW LESS

20
Kyuss : Yeah
We are almost there.

SHOW MORE

Track 14 from Blues for the Red Sun
Length: 00:00:04
Year: 1992
Track Description:
We are almost there.

SHOW LESS
Tag Board
You must log in to leave a tag
Stuff
Quick Jump
sledgbrainerd's other mixes
Related mixes
recent visitors
show all