[?]
Not a member? Sign-up now, it's free!
Login
[?]
These are links to some of the major sections in the mixtape collective.
Lists: Browse various lists that are generated by the loads of data we have collected.
Contests: Check out the latest contests, see previous winners, and find out how you can be a part
Music: Check out our ever-growing database of musical knowledge! Use it to find any artist, album, or track that has been entered since the birth of the site and rate and find detailed usage statistics.
Main
[?]
Tired of looking at the same old pages? Try checking out a random one, you never know what you might find...
Random!
Return To Sender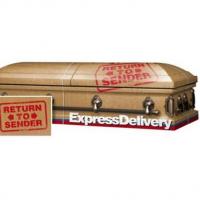 Return To Sender
Created by:
johnny_luddite
Tracks:
19
Length:
01:19:38
Keywords
1. Mix Contest 15
2. Mix Contest 15
3. Mix Contest 15
Created on
8/29/07 12:05am
Level
5
Points
2443
Total visitors
68
Unique visitors
37
This mix was ranked #3 out of 14 entries for this contest
description:
I did a funeral mix for myself here a while back, but I was never totally happy with it, so here is my chance to have another go. It has to be a balance between stuff I would like, and what would go well for the actual event and people that are there. I would like my funeral to be fun, a celebration of a not totally wasted life, but funerals are sad too. You are saying goodbye to someone you probably didn't want to say goodbye to, so I think that along with the fun choices there should be space for sentiment. My previous funeral mix ("From The Cradle...") was an attempt to use music I loved to tell the story of my life. This time out, I just want to play some music that means something to me, a few that mean nothing and one or two that mean everything. Most of all, I want people at the funeral/wake/party/rally to have fun, but be kept on their toes a little. Let the Dom Perignon, Ruddles County and tears flow!
tracklist
1
Debbie Reynolds : Tammy
Ok, we start with this for two reasons. 1) This was number one in the US charts on the day I was born, August [...]

SHOW MORE

Track 1 from Best Of
Length: 00:03:09
Year: 0000
Track Description:
Ok, we start with this for two reasons. 1) This was number one in the US charts on the day I was born, August 31st, 1957. 2) If this was playing as people entered the funeral home/church/whatever for my funeral service it would make them think momentarily that they were in the wrong place. Then they would discover that they were at the right service and realize that I was just gently messing with them one last time. Hopefully they would smile!

SHOW LESS

2
The Timelords : Doctorin' The Tardis (12inch mix)
So the assembled throng are still assembling when the sugary serenity of Debbie Reynolds is broken with the KL [...]

SHOW MORE

Track 6 from Doctorin' The Tardis EP
Length: 00:08:12
Year: 0000
Track Description:
So the assembled throng are still assembling when the sugary serenity of Debbie Reynolds is broken with the KLF posing as the Timelords and mashing up the Doctor Who theme. My scary aunties (who will of course outlive me) will be muttering by now. I would like to think one or two people will be dancing. I would quite like the sound that Doctor Who's Tardis makes to be synched to every movement of my coffin as well.

SHOW LESS

3
Son House : John The Revelator
I wrestled long and hard with the question of whether to include any religious music. As one of the people who [...]

SHOW MORE

Track 4 from The Original Delta Blues
Length: 00:02:32
Year: 0000
Track Description:
I wrestled long and hard with the question of whether to include any religious music. As one of the people who would gain comfort from such sounds would be my wife, whom I love very much, I decided to go for two tracks. This has such a wonderful downhome gospel feel to it, and regardless of your belief system, this is the kind of music that just makes one feel good.

SHOW LESS

4
Bob Dylan : Gotta Serve Somebody
I love this track, I like the fervour and I like the ambiguity. When the Aunties hear the line about "It may b [...]

SHOW MORE

Track 1 from Slow Train Coming
Length: 00:05:25
Year: 1979
Track Description:
I love this track, I like the fervour and I like the ambiguity. When the Aunties hear the line about "It may be the devil, or it may be the lord, but you gotta serve somebody" they will exchange appalled glances. Nice.

SHOW LESS

5
Fleetwood Mac : Albatross
I think I used this in my other funeral mix, but it is a given. This is the music I want played just as the co [...]

SHOW MORE

Track 20 from The Collection
Length: 00:03:08
Year: 0000
Track Description:
I think I used this in my other funeral mix, but it is a given. This is the music I want played just as the coffin starts rolling off to the incinerator. It is quite simply the most beautiful piece of music I know. The guitar playing of Peter Green is so light and yet conversly so passionate. This song encapsulates everything I believe in without a single word being sung or spoken. I was reminded of this today. I listen to a lot of the old concerts posted on the Wolfgang's Vault web site. They have a 1969 Fleetwood Mac show up there, and the version of Albatross is just wonderful. Before playing it, Peter Green said that here was a song that brought peace for many people including him. I had tears in my eyes as I listened. As this song plays at my funeral, it will be one of the times for tears, but I won't let the moment last too long...

SHOW LESS

6
The Bay City Rollers : Bye Bye Baby
I can hardly believe I am doing this myself, but I think this would have a good effect on the huddled masses. [...]

SHOW MORE

Track 1 from Once Upon A Star
Length: 00:02:50
Year: 1975
Track Description:
I can hardly believe I am doing this myself, but I think this would have a good effect on the huddled masses. Some would giggle, thus moving swiftly away from too many tears, although for the aunties, who would not know irony if it came and lived in their spare room for the rest of their lives, this moment will probably be the most moving of the day as they sing "Bye Bye Petey, Petey Bye Bye" dabbing away the odd teardrop as they do so!

SHOW LESS

7
Frank Zappa : Watermelon in Easter Hay
This would be ideal music to play as folk left the chapel/rest home/asylum/brothel/bar where my funeral servic [...]

SHOW MORE

Track 18 from Joe's Garage
Length: 00:09:05
Year: 1979
Track Description:
This would be ideal music to play as folk left the chapel/rest home/asylum/brothel/bar where my funeral service was held. I love guitar, the sound it makes, the sound great players make on it, the scratchy sounds I make on it. On much of Uncle Frank's recorded output, the brain or the dick has ruled, but I chose to believe that on this shimmering guitar solo of an instrumental, the heart is the dominant organ.

SHOW LESS

8
The Beatles : Back in the U.S.S.R.
Let's get this party started time. The throng has moved on to the party part of the proceedings. Drink is flow [...]

SHOW MORE

Track 1 from The Beatles (White Album)
Length: 00:02:43
Year: 1968
Track Description:
Let's get this party started time. The throng has moved on to the party part of the proceedings. Drink is flowing for those that require it. The first few drunks stagger to the dance floor. The duo of aunties are drinking sherry and pulling apart everyone else in attendance. My wife's grown up children are standing around looking bewildered just like they do at everything else to do with me. The Cordova's will have to do without Mariachi to get them through this one, I am afraid! There are so many Beatles tunes I love that I couldn't pick one over the other. My compromise was to pick one I just liked, a McCartney one at that! It makes sense to me.

SHOW LESS

9
Portishead : Glory Box
Played to death, as I will have been by my funeral. This is the other song that was on my other funeral mix. T [...]

SHOW MORE

Track 11 from Dummy
Length: 00:05:07
Year: 1994
Track Description:
Played to death, as I will have been by my funeral. This is the other song that was on my other funeral mix. This song means more to me than any other because it was the tune that reawakened my love of music and therefore life at the time I was most lost. I make no apology for having it here. To deny it would be wrong.

SHOW LESS

10
The Temptations : My Girl
This will be hard on Karmen, my wife, but I would have to have this played. I sang it for her at our wedding r [...]

SHOW MORE

Track 1 from My Girl
Length: 00:02:44
Year: 0000
Track Description:
This will be hard on Karmen, my wife, but I would have to have this played. I sang it for her at our wedding reception less than four years ago. I didn't have any control over the music at our wedding, it was selected by the DJ my wifes daughter hired. It was ok, a mixture of old soul and modern hispanic stuff, but although we were in Ventura at the time, I did fantasize about having the wedding back home in England and having a band of friends up there playing. That was not to be, but at least I did pick up an acoustic and sing this. Karmen will of course be sad but I hope she knows that in my heart she will always be my girl.

SHOW LESS

11
James Brown : Super Bad
Not that there is anything wrong with old soul and funk. If I hadn't of been cremated an hour or so before, I [...]

SHOW MORE

Track 2 from Funk Power
Length: 00:09:03
Year: 1970
Track Description:
Not that there is anything wrong with old soul and funk. If I hadn't of been cremated an hour or so before, I would be up on the dance floor myself from this brilliant offering from the hardest working corpse in showbiz.

SHOW LESS

12
Smokey Robinson & The Miracles : Ooh Baby Baby
If angels exist, they sing like Smokey. This would be another slow one for Karmen. The aunties will be split u [...]

SHOW MORE

Track 17 from Anthology (Disc 1)
Length: 00:02:47
Year: 0000
Track Description:
If angels exist, they sing like Smokey. This would be another slow one for Karmen. The aunties will be split up by now. One of them will be asleep on a comfy chair somewhere, her false teeth rattling in harmony with the Miracles. The other one will be hitting the Haig & Haig and start telling whoever will listen what a great big girly boy I was.

SHOW LESS

13
Junior Senior : move your feet
There would have to be some space for some ridiculous happy dance music. They don't come any more happy or rid [...]

SHOW MORE

Track 13 from D-D-Don't stop the beat
Length: 00:03:07
Year: 2003
Track Description:
There would have to be some space for some ridiculous happy dance music. They don't come any more happy or ridiculous than this. Maybe even the one remaining conscious Aunt would get up and dance to this one.

SHOW LESS

14
David Bowie : Time
After my CD mix was done, I would expect whoever was left to play what they wanted. Whether it was stuff I lik [...]

SHOW MORE

Track 6 from Aladdin Sane
Length: 00:05:09
Year: 1973
Track Description:
After my CD mix was done, I would expect whoever was left to play what they wanted. Whether it was stuff I liked or that would amuse me would be up to them. However, before my final 80 minutes fades away, I think I would want to get a little maudlin again. Five minutes of Bowie ruminating on the nature of time would do it. "Time, she flexes like a whore, falls wanking to the floor, her trick is you and me, boy." Bowie helped me cope with life, so he should be able to help me with the death bit too.

SHOW LESS

15
Johnny Guitar Watson : Too Tired
The last few songs I chose would have to come from the genre that sustained me most over the years. Da blues. [...]

SHOW MORE

Track 5 from 3 Hours Past Midnight
Length: 00:02:43
Year: 1986
Track Description:
The last few songs I chose would have to come from the genre that sustained me most over the years. Da blues. The mix of passion, comedy and despair would feel right about now. "Too tired to walk, I'm too tired to run, I can hear my baby callin' but I'm too tired to come..." Yeah.

SHOW LESS

16
Freddie King : Going Down
I don't know about the whole heaven and hell thing, but if those two places do exist, I think I know which way [...]

SHOW MORE

Track 6 from Getting Ready
Length: 00:03:24
Year: 1971
Track Description:
I don't know about the whole heaven and hell thing, but if those two places do exist, I think I know which way I am going. It sure as hell isn't up. If I have to writhe in eternal damnation, the guitar of Freddie King is a good way to be played out, though.

SHOW LESS

17
Muddy Waters : I'm Ready
By now, I think I will be "ready, ready as anybody can be." Karmen will have left with her family, my aunts, i [...]

SHOW MORE

Track 2 from The Chess Box Disc 2 1954-59
Length: 00:03:04
Year: 0000
Track Description:
By now, I think I will be "ready, ready as anybody can be." Karmen will have left with her family, my aunts, if they were there would be gone now, one taken home to nurse her hangover, the other waking up the next morning next to a twenty three year old wine waiter called Manuel. My friends would be thinking about hitting a) Maxwell's diner in Hampstead if the funeral is in London, and b) Denny's if it is in Porterville. (No other late night choice I am afraid.) I am ready!

SHOW LESS

18
Peter Green : Time For Me To Go
I have to end with my favorite musician of all time, Peter Green. This is not the greatest track but it hasn't [...]

SHOW MORE

Track 1 from White Sky
Length: 00:03:55
Year: 0000
Track Description:
I have to end with my favorite musician of all time, Peter Green. This is not the greatest track but it hasn't been the greatest life. Like that life though, the song is not without it's charm. "I tell you it's over, I pack up my clothes, it's time for me to go."

SHOW LESS

19
The Beatles : Golden Slumbers
Bye bye. Actually it really has all been rather lovely!

SHOW MORE

Track 0 from Abbey Road
Length: 00:01:31
Year: 1969
Track Description:
Bye bye. Actually it really has all been rather lovely!

SHOW LESS
Tag Board
You must log in to leave a tag
Stuff
Quick Jump
johnny_luddite's other mixes
Related mixes
recent visitors
show all