[?]
Not a member? Sign-up now, it's free!
Login
[?]
These are links to some of the major sections in the mixtape collective.
Lists: Browse various lists that are generated by the loads of data we have collected.
Contests: Check out the latest contests, see previous winners, and find out how you can be a part
Music: Check out our ever-growing database of musical knowledge! Use it to find any artist, album, or track that has been entered since the birth of the site and rate and find detailed usage statistics.
Main
[?]
Tired of looking at the same old pages? Try checking out a random one, you never know what you might find...
Random!
Faith, Trust and Pixie Dust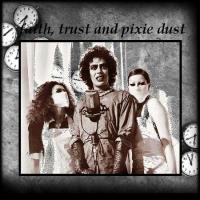 Faith, Trust and Pixie Dust
Created by:
Bea
Tracks:
19
Length:
01:18:49
Keywords
1. Mix Contest 15
2. Mix Contest 15
3. Mix Contest 15
Created on
9/05/07 03:57pm
Level
5
Points
2455
Total visitors
75
Unique visitors
40
This mix was ranked #5 out of 14 entries for this contest
description:
To die would be an awfully big adventure
...especially if I could get all the artists in this mix to perform at my funeral and be able to watch.

I've always wanted my life to be a movie or a book.
Science of Sleep,
Amélie,
Rocky Horror Picture Show,
Life Aquatic with Steve Zissou,
House of the Spirits,
Generation X...something epic.

Death is a very foreign subject to me. No one in my family I know ever died. I have never been to a single funeral. And my own funeral would probably not be traditional in any form, because I'm not Christian, and I don't believe in Islam like my parents do. Would I have a funeral anyway, I wonder? Anyhow, this would be playing if I died. Unless I change my mind over the years about the songs, or some douchebag decides not to put it on. [Oh man, I would haunt the mother fucker, given the chance].

Before I die I hope that I will have found a person who can take care of my precious belongings for me the way I would. No way I'm letting my records and books and movies in the hands of a mess-head. (Sorry, [best friend], that pretty much excludes you). Or whut.

I wouldn't burn a single diary or letter or random note made on the back of a drawing. Every person I ever crushed on would be told about my feelings for them. Some one would write my story (they fucking would, too!), and if they couldn't get it published (... fuck that), they would still hand it out among my friends.

I hope I have friends before I at least die.

---

I bet the entire world will miss me when I'm gone. Yeah. That's good enough for me. Let the show begin.
tracklist
1
Richard O'Brien : Science Fiction/Double Feature
Have a seat.


Sluts first,
assholes second,
groupies and monsters third.

SHOW MORE

Track 1 from The Rocky Horror Picture Show
Length: 00:04:33
Year: 1989
Track Description:
Have a seat.


Sluts first,
assholes second,
groupies and monsters third.

SHOW LESS

2
Louis Armstrong : A Kiss To Build A Dream On
Maybe I will have a little video in black and white like Andy Kaufman had.

SHOW MORE

Track 6 from Now You Has Jazz
Length: 00:02:56
Year: 0000
Track Description:
Maybe I will have a little video in black and white like Andy Kaufman had.

SHOW LESS

3
Sondre Lerche : Wet Ground
This is similar to The Moon by Cat Power. Doesn't his beautiful voice go a bit Louis Armstrong rough in the be [...]

SHOW MORE

Track 6 from Two Way Monologue
Length: 00:03:11
Year: 2004
Track Description:
This is similar to The Moon by Cat Power. Doesn't his beautiful voice go a bit Louis Armstrong rough in the beginning of the song?

SHOW LESS

4
Arctic Monkeys : Do Me A Favour
The guitar in this song...

SHOW MORE

Track 7 from Favourite Worst Nightmare
Length: 00:03:27
Year: 2007
Track Description:
The guitar in this song...

SHOW LESS

5
Portishead : Glory Box
I couldn't start to write about how much Portishead mean to me.

SHOW MORE

Track 11 from Dummy
Length: 00:05:07
Year: 1994
Track Description:
I couldn't start to write about how much Portishead mean to me.

SHOW LESS

6
Matt Pond PA : It Is Safe
Ever since beel used this in her mix, I have been hooked. It fits this mix so well.

SHOW MORE

Track 5 from Several Arrows Later
Length: 00:04:58
Year: 2005
Track Description:
Ever since beel used this in her mix, I have been hooked. It fits this mix so well.

SHOW LESS

7
Sneaker Pimps : m'aidez
Just listen. I can, sometimes forever.

SHOW MORE

Track 6 from bloodsport
Length: 00:05:12
Year: 2002
Track Description:
Just listen. I can, sometimes forever.

SHOW LESS

8
Muse : Sing For Absolution
The title of another Muse song, "Thoughts of a Dying Atheist," will be translated and served on a silver plate [...]

SHOW MORE

Track 4 from Absolution
Length: 00:04:54
Year: 2003
Track Description:
The title of another Muse song, "Thoughts of a Dying Atheist," will be translated and served on a silver plate to my parents. And the rest of my family. - Oh so that's what I was. A NON-believer.

SHOW LESS

9
Elliott Smith : Talking To Mary
I never sing, because I don't trust my voice (I shouldn't either), but I can never help myself when this song [...]

SHOW MORE

Track 2 from New Moon
Length: 00:03:42
Year: 2007
Track Description:
I never sing, because I don't trust my voice (I shouldn't either), but I can never help myself when this song comes to mind while I'm at work and there are no customers and/or co-workers around.

I love you, Elliott Smith. I love you, and your beautiful music.

SHOW LESS

10
The Ataris : The Night That the Lights Went Out In NYC
This song is the only song that has been in my data base since forever. I have had various tastes in music ove [...]

SHOW MORE

Track 0 from
Length: 00:03:35
Year:
Track Description:
This song is the only song that has been in my data base since forever. I have had various tastes in music over the years, but this song is not going anywhere. Ever. I can't begin to recall all the memories stored in this song. Is this my song? I wouldn't go as far as to calling it my song, but it means a lot to me.

SHOW LESS

11
Justice vs. Simian : We Are Your Friends (Original Mix)
I will give them one moment to forget the pain and sorrow.

SHOW MORE

Track 1 from We Are Your Friends - Single
Length: 00:04:22
Year: 2002
Track Description:
I will give them one moment to forget the pain and sorrow.

SHOW LESS

12
Mogwai : Take Me Somewhere Nice
Just beautiful, alright?

SHOW MORE

Track 2 from Rock Action
Length: 00:06:59
Year: 2001
Track Description:
Just beautiful, alright?

SHOW LESS

13
Tori Amos : Original Sinsuality
This is not my Tori Amos song. I have decided that Playboy Mommy is my Tori Amos song, and not Northern Lad, a [...]

SHOW MORE

Track 12 from The Beekeeper
Length: 00:02:02
Year: 2005
Track Description:
This is not my Tori Amos song. I have decided that Playboy Mommy is my Tori Amos song, and not Northern Lad, as I thought for a long time. Nevertheless, I am putting this one on here, because Playboy Mommy can't fit the mix (track length). Original Sinsuality fits perfect here, by the way. Just the sound I was looking for.

SHOW LESS

14
Yann Tiersen : Comptine d'un autre été : L'aprèes-midi
This is my all-time favorite, yes. Aww man, why did I have to die?

SHOW MORE

Track 4 from Amélie (Soundtrack from the Motion Picture)
Length: 00:02:20
Year: 0000
Track Description:
This is my all-time favorite, yes. Aww man, why did I have to die?

SHOW LESS

15
CocoRosie : The Sea is Calm
I love this song. Especially the parts in French.

SHOW MORE

Track 6 from Noah's Ark
Length: 00:03:39
Year: 2005
Track Description:
I love this song. Especially the parts in French.

SHOW LESS

16
Jeff Buckley : Lilac Wine
Mmmmmm.

SHOW MORE

Track 5 from Live at L'Olympia
Length: 00:05:39
Year: 2001
Track Description:
Mmmmmm.

SHOW LESS

17
Cat Power : The Moon
Cat Power will definitely stick with me to the very end.

SHOW MORE

Track 8 from The Greatest
Length: 00:03:45
Year: 2006
Track Description:
Cat Power will definitely stick with me to the very end.

SHOW LESS

18
David Bowie : Life On Mars?
I will forever have the image of Bill Murray smoking in that particular scene in The Life Aquatic when I hear [...]

SHOW MORE

Track 4 from Hunky Dory
Length: 00:03:52
Year: 1971
Track Description:
I will forever have the image of Bill Murray smoking in that particular scene in The Life Aquatic when I hear this song. Close your eyes and remember that, please.

I don't always care for lyrics in a song when I choose to include it in a mix, but when this starts playing it would be awesome if people would sing this song. I don't care if it's just to themselves, if they hum it or whatever. I love the lyrics to this song.

The end?

SHOW LESS

19
Rihanna : Umbrella (featuring Jay-Z)
This is for all my cousins who will probably feel outside the whole thing because they don't understand, appre [...]

SHOW MORE

Track 1 from Good Girl Gone Bad
Length: 00:04:36
Year: 2007
Track Description:
This is for all my cousins who will probably feel outside the whole thing because they don't understand, appreciate or dig my music taste, at all. I think, if the funeral is too bizarre for them (because of my music selection) to make them cry, this will do the trick.
By the way, I am really excited to see how they are all doing in the future.
And damnit, I like this song. Maybe in the future, every cool band and artist will make a cover of it.

Take care. Drive safe.

SHOW LESS
Tag Board
You must log in to leave a tag
Stuff
Quick Jump
Bea's other mixes
Related mixes
recent visitors
show all