[?]
Not a member? Sign-up now, it's free!
Login
[?]
These are links to some of the major sections in the mixtape collective.
Lists: Browse various lists that are generated by the loads of data we have collected.
Contests: Check out the latest contests, see previous winners, and find out how you can be a part
Music: Check out our ever-growing database of musical knowledge! Use it to find any artist, album, or track that has been entered since the birth of the site and rate and find detailed usage statistics.
Main
[?]
Tired of looking at the same old pages? Try checking out a random one, you never know what you might find...
Random!
More Than Five Guys Called Joe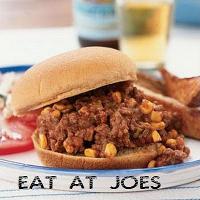 More Than Five Guys Called Joe
Created by:
johnny_luddite
Tracks:
10
Length:
00:45:39
Keywords
1. joe
2. joey
3. joseph
Created on
9/08/08 11:56pm
Level
3
Points
1578
Total visitors
31
Unique visitors
14
description:
New MTC member RetroJoe is the inspiration here. Lots of songs by people called Joe or that have Joe in the title. From what I have seen of his mixes so far, RetroJoe might not like everything here, but I think there are a few he may approve of!
tracklist
1
Frank Zappa : Joe's Garage
From Uncle Frank's accessible and fun rock opera.

"Guess you only get one chance in life to play a [...]

SHOW MORE

Track 2 from Joe's Garage
Length: 00:06:10
Year: 1979
Track Description:
From Uncle Frank's accessible and fun rock opera.

"Guess you only get one chance in life to play a song that sounds like..."

SHOW LESS

2
Joe Strummer and the Mescaleros : Get Down Moses
My favorite Joe of all time. A friend who was having trouble with his son asked me once who I would cite as a [...]

SHOW MORE

Track 2 from Streetcore
Length: 00:05:05
Year: 2003
Track Description:
My favorite Joe of all time. A friend who was having trouble with his son asked me once who I would cite as a role model for his slightly wayward boy. I suggested Joe Strummer. My friend stared at me for a few moments before he said, "Yeah, I can work with that."

SHOW LESS

3
David Bowie : Joe the Lion
I think there was a character in "The Last Picture Show" called Sam The Lion. I wonder if by chance they are r [...]

SHOW MORE

Track 2 from "Heroes"
Length: 00:03:07
Year: 1977
Track Description:
I think there was a character in "The Last Picture Show" called Sam The Lion. I wonder if by chance they are related? "Heroes" is one of my favorite Bowie albums, but then I have a lot of favorite Bowie albums.

SHOW LESS

4
Joe Tex : Papa Was Too (Tramp)
Early funk song also recorded by bluesman Lowell Fulsom. I seem to remember that Joe Tex had backing singers c [...]

SHOW MORE

Track 23 from 25 Greatest Hits
Length: 00:02:43
Year: 2005
Track Description:
Early funk song also recorded by bluesman Lowell Fulsom. I seem to remember that Joe Tex had backing singers called The Sexolettes, I mention this only because I can!

SHOW LESS

5
Jimi Hendrix : Hey Joe
An obvious choice, but really one of the great recordings of the 60s I think. It wasn't just his solo playing, [...]

SHOW MORE

Track 4 from Experience Hendrix
Length: 00:03:29
Year: 1998
Track Description:
An obvious choice, but really one of the great recordings of the 60s I think. It wasn't just his solo playing, it was the little flourishes, the way Hendrix filled in holes no one had bothered with before. A record that is 42 years old, yet still sounds fresh to me.

SHOW LESS

6
Joe Williams : every Day I Have The Blues
Joe Williams was one of the great blues shouters, at home on bluesy numbers like this as well as jazz standard [...]

SHOW MORE

Track 1 from Greatest Hits
Length: 00:04:45
Year: 0000
Track Description:
Joe Williams was one of the great blues shouters, at home on bluesy numbers like this as well as jazz standards.

SHOW LESS

7
Dusty Springfield : Joe
Jolly little number from Britain's greatest ever soul singer."I love you still, I always will..."

SHOW MORE

Track 7 from Brand New Me
Length: 00:02:23
Year: 0000
Track Description:
Jolly little number from Britain's greatest ever soul singer."I love you still, I always will..."

SHOW LESS

8
Joe Simon : It Be's that way sometimes
More funky R&B. I think that Joe Simon got played a lot at the Wigan Casino, the hub of the 70's/80's Northern [...]

SHOW MORE

Track 3 from Get Down
Length: 00:06:22
Year: 0000
Track Description:
More funky R&B. I think that Joe Simon got played a lot at the Wigan Casino, the hub of the 70's/80's Northern soul scene in England.

SHOW LESS

9
Kings of Leon : Joe's Head
I know I have mentioned it before, but I think it must be a lot of fun to play in The Kings Of Leon. One of th [...]

SHOW MORE

Track 4 from Youth & Young Manhood
Length: 00:03:21
Year: 2003
Track Description:
I know I have mentioned it before, but I think it must be a lot of fun to play in The Kings Of Leon. One of the more modern bands that we old folk are allowed to like. (But I like them anyway!)

SHOW LESS

10
Joe Bonamassa : Slow Gin
In a very bland contemporary blues scene, this Joe shines. Not flashy, just good.

SHOW MORE

Track 5 from Sloe Gin
Length: 00:08:14
Year: 0000
Track Description:
In a very bland contemporary blues scene, this Joe shines. Not flashy, just good.

SHOW LESS
Tag Board
You must log in to leave a tag
Stuff
Quick Jump
johnny_luddite's other mixes
Related mixes
recent visitors
show all