[?]
Not a member? Sign-up now, it's free!
Login
[?]
These are links to some of the major sections in the mixtape collective.
Lists: Browse various lists that are generated by the loads of data we have collected.
Contests: Check out the latest contests, see previous winners, and find out how you can be a part
Music: Check out our ever-growing database of musical knowledge! Use it to find any artist, album, or track that has been entered since the birth of the site and rate and find detailed usage statistics.
Main
[?]
Tired of looking at the same old pages? Try checking out a random one, you never know what you might find...
Random!
La Citta Eterna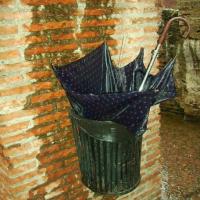 La Citta Eterna
Created by:
Bea
Tracks:
23
Length:
01:27:55
Keywords
1. Mix Contest 20
2. Mix Contest 20
3. Mix Contest 20
Created on
3/16/08 04:25am
Level
5
Points
2168
Total visitors
62
Unique visitors
34
This mix was ranked #11 out of 13 entries for this contest
description:
You know what else has stood my personal 'test-of-time'?


...


Well, I guess friends come and friends go. So do bands and songs. I'm not exactly waiting for these songs to go, but everyone disappears, no matter who loves them. Yeah, that's a great line from Dave Eggers' What is the What, and I'm all melancholic today because I got home from Rome yesterday. I already miss everybody and I want to go back to that over-tagged city.

This mix was made before I went to Rome, and is all I listened to on the trip. That and a whole shit load of David Bowie (L). Yeah, that's right - that's all. Because I don't listen to Shakira - I dance to Shakira when I'm drunk on absinthe and we have left the bar that shows Wonder Showzen on a big screen.

(Give it up for the best of the best).
tracklist
1
Rachel Sweet : Hairspray (feat. Deborah Harry)
HEY GIRL, WHATCHU DOIN' OVER THERE?

SHOW MORE

Track 1 from Hairspray (Original Motion Picture Soundtrack)
Length: 00:03:08
Year: 1988
Track Description:
HEY GIRL, WHATCHU DOIN' OVER THERE?

SHOW LESS

2
The Cure : Close to Me
The Italian who would be sitting in the reception most of our stay was this strange man in his early thirties [...]

SHOW MORE

Track 7 from The Head On The Door
Length: 00:03:26
Year: 1985
Track Description:
The Italian who would be sitting in the reception most of our stay was this strange man in his early thirties with very greasy hair and an endless amount of self confidence. He would sit in his kitchen and play pirate games on his computer, and he told me how to pronounce 'forza' properly.

SHOW LESS

3
The Clash : The Magnificent Seven
I love my class. Really, they are the best. We had a great time. Who would've thought.

SHOW MORE

Track 1 from Sandinista! (Disc 1)
Length: 00:05:33
Year: 0000
Track Description:
I love my class. Really, they are the best. We had a great time. Who would've thought.

SHOW LESS

4
The Kinks : sunny afternoon
Gawd, Rome is beautiful.

SHOW MORE

Track 12 from Kronikles
Length: 00:03:36
Year: 1972
Track Description:
Gawd, Rome is beautiful.

SHOW LESS

5
Elliott Smith : Waltz #2 (XO)
In the middle of the night, when some of us had decided to call it a night, while the others were still foolin [...]

SHOW MORE

Track 3 from XO
Length: 00:04:40
Year: 1998
Track Description:
In the middle of the night, when some of us had decided to call it a night, while the others were still fooling around and drinking in their rooms, I was drunk and asleep when all of a sudden the Italian receptionist walked up and down the hall way yelling and, I assume, cursing at us in Italian.

SHOW LESS

6
No Doubt : Don't Speak
Minutes later I was doing all my best not to laugh out loud because of this stupid dream I had. The next morni [...]

SHOW MORE

Track 10 from Tragic Kingdom
Length: 00:04:23
Year: 1995
Track Description:
Minutes later I was doing all my best not to laugh out loud because of this stupid dream I had. The next morning, the others told me I was, indeed, laughing out loud in my bed and then hushing myself.

SHOW LESS

7
Sonic Youth : Reena

SHOW MORE

Track 1 from Rather Ripped
Length: 00:03:47
Year: 2006
Track Description:


SHOW LESS

8
The The : The Whisperers

SHOW MORE

Track 3 from NakedSelf
Length: 00:03:20
Year: 2000
Track Description:


SHOW LESS

9
ABBA : Super Trouper
I didn't miss home for one second of the trip - still, this song reminded me of my Dad.

SHOW MORE

Track 1 from Super Trouper
Length: 00:04:10
Year: 1980
Track Description:
I didn't miss home for one second of the trip - still, this song reminded me of my Dad.

SHOW LESS

10
Spoon : Black Like Me
Stored memories from another time.

SHOW MORE

Track 10 from Ga Ga Ga Ga Ga
Length: 00:02:56
Year: 2007
Track Description:
Stored memories from another time.

SHOW LESS

11
Lovage : To Catch a Thief
The bus trips seemed endless.

SHOW MORE

Track 5 from Music to Make Love to Your Old Lady By
Length: 00:03:17
Year: 2001
Track Description:
The bus trips seemed endless.

SHOW LESS

12
Tegan and Sara : I Won't Be Left
I developed a crush on a bartender who looked exactly like Tegan and Sara.

SHOW MORE

Track 7 from So Jealous
Length: 00:02:38
Year: 2004
Track Description:
I developed a crush on a bartender who looked exactly like Tegan and Sara.

SHOW LESS

13
Richard O'Brien : The Time Warp

SHOW MORE

Track 4 from The Rocky Horror Picture Show
Length: 00:03:19
Year: 1989
Track Description:


SHOW LESS

14
Ultravox : Dancing With Tears In My Eyes

SHOW MORE

Track 3 from Lament
Length: 00:04:40
Year: 1984
Track Description:


SHOW LESS

15
The Knife : marble house

SHOW MORE

Track 6 from Silent shout
Length: 00:05:18
Year: 2006
Track Description:


SHOW LESS

16
M.I.A. : $20

SHOW MORE

Track 7 from Kala
Length: 00:04:34
Year: 2007
Track Description:


SHOW LESS

17
Sneaker Pimps : sick
Absinthe made me act so lame one night. I spent €70 on drinks and puking in a cab.

SHOW MORE

Track 2 from bloodsport
Length: 00:04:14
Year: 2002
Track Description:
Absinthe made me act so lame one night. I spent €70 on drinks and puking in a cab.

SHOW LESS

18
Sonic Youth : JC

SHOW MORE

Track 13 from Dirty
Length: 00:04:03
Year: 1992
Track Description:


SHOW LESS

19
Richard O'Brien : Lullaby
I'm no good.

SHOW MORE

Track 7 from Shock Treatment
Length: 00:02:33
Year: 1981
Track Description:
I'm no good.

SHOW LESS

20
Ladytron : Playgirl

SHOW MORE

Track 9 from 604
Length: 00:03:49
Year: 2001
Track Description:


SHOW LESS

21
Sondre Lerche : Counter Spark

SHOW MORE

Track 7 from Two Way Monologue
Length: 00:04:13
Year: 2004
Track Description:


SHOW LESS

22
Led Zeppelin : Going to California
Man, this trip was the bomb. I don't know how to describe it through these songs.

SHOW MORE

Track 7 from Led Zeppelin IV
Length: 00:03:31
Year: 1971
Track Description:
Man, this trip was the bomb. I don't know how to describe it through these songs.

SHOW LESS

23
The Beatles : Because
xoxo

SHOW MORE

Track 8 from Abbey Road
Length: 00:02:47
Year: 1969
Track Description:
xoxo

SHOW LESS
Tag Board
You must log in to leave a tag
Stuff
Quick Jump
Bea's other mixes
Related mixes
recent visitors
show all