[?]
Not a member? Sign-up now, it's free!
Login
[?]
These are links to some of the major sections in the mixtape collective.
Lists: Browse various lists that are generated by the loads of data we have collected.
Contests: Check out the latest contests, see previous winners, and find out how you can be a part
Music: Check out our ever-growing database of musical knowledge! Use it to find any artist, album, or track that has been entered since the birth of the site and rate and find detailed usage statistics.
Main
[?]
Tired of looking at the same old pages? Try checking out a random one, you never know what you might find...
Random!
Pro-pourri Yoga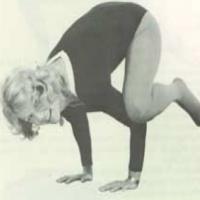 Pro-pourri Yoga
Created by:
beel
Tracks:
15
Length:
00:58:05
Keywords
1. Mix Contest 23
2. Mix Contest 23
3. Mix Contest 23
Created on
9/25/08 11:41pm
Level
4
Points
1951
Total visitors
32
Unique visitors
15
This mix was ranked #15 out of 20 entries for this contest
description:
I don't do yoga, although I dream of twisting my body in cool positions and astounding all my friends at parties and ball games.
Then we would eat fondu, drink tom collins' and make prank phone calls. I am guessing the night would progress with someone skinny dipping in the pool and someone else freaking out because they were not prepared to see a "live pee-pee". Then someone would cry and complain that they showed up to the party to get laid and all they are going home with are fondu stains on their tropical inspired moo-moo dress. Everyone will pass out drunk on the carpeted kitchen floor. It will take months to clean out all the stains.
Years will pass and we will all laugh about that night and listen to this mix while playing mah-jong and wonder where all the time went.
Oh goodie.
tracklist
1
Public Enemy : 911 Is A Joke
Number song.
Remember when we didn't know Flav's pet name was Foofie? Yeah? Bring that time back please. [...]

SHOW MORE

Track 3 from Fear of a Black Planet
Length: 00:03:17
Year: 1989
Track Description:
Number song.
Remember when we didn't know Flav's pet name was Foofie? Yeah? Bring that time back please.

SHOW LESS

2
Medium Medium : Hungry, So Angry
A good drinking song.

Ever been out at a bar or something and someone is talking to you and then a [...]

SHOW MORE

Track 1 from The Glitterhouse
Length: 00:03:59
Year: 1981
Track Description:
A good drinking song.

Ever been out at a bar or something and someone is talking to you and then a good song comes on and you pretend to be listening to them, but you are too busy getting caught up in the song?
(There must be a shorter way to express what I just wrote.)

SHOW LESS

3
Goldfrapp : Happiness
A song I could wear.

I would either be adorned in gold dust, glitter and sequins or a rabbit suit. [...]

SHOW MORE

Track 3 from Seventh Tree
Length: 00:04:16
Year: 2008
Track Description:
A song I could wear.

I would either be adorned in gold dust, glitter and sequins or a rabbit suit. Either one would suffice.

SHOW LESS

4
Julian Schnabel : I Want to Take You Home
Celebrity-

There is something endearing about this album from this artist/director/cook/liontamer/s [...]

SHOW MORE

Track 11 from Every Silver Lining Has A Cloud
Length: 00:03:29
Year: 1995
Track Description:
Celebrity-

There is something endearing about this album from this artist/director/cook/liontamer/skydiver/ dancer/producer/writer/singer/harpsichord player/slash//.

SHOW LESS

5
Tiny Tim : Tip Toe Thru' the Tulips With Me
Creeeepy ---
in a good kind of way. All his music puts me in a weird trance like state. A little bit of [...]

SHOW MORE

Track 2 from God Bless Tiny Tim
Length: 00:01:51
Year: 1969
Track Description:
Creeeepy ---
in a good kind of way. All his music puts me in a weird trance like state. A little bit of horror and delight.

SHOW LESS

6
The Beatings : How Many Times Can You Say Goodbye to the Same Person?
Fight!
This songs makes me think of two things: that long fight scene between Roddy Piper and Keith Dav [...]

SHOW MORE

Track 3 from Italiano
Length: 00:04:41
Year: 0000
Track Description:
Fight!
This songs makes me think of two things: that long fight scene between Roddy Piper and Keith David in They Live and Stallone's busted face in Rocky.

SHOW LESS

7
Nazareth : Love Hurts
Cheesy love song

Nothing like Nazareth singing about heart pain.

SHOW MORE

Track 3 from Hair of the Dog
Length: 00:03:53
Year: 1975
Track Description:
Cheesy love song

Nothing like Nazareth singing about heart pain.

SHOW LESS

8
The Sugarcubes : Delicious Demon
Obscene song.
When I hear this song I feel like doing obscene things.

SHOW MORE

Track 4 from Life's too Good
Length: 00:02:42
Year: 1988
Track Description:
Obscene song.
When I hear this song I feel like doing obscene things.

SHOW LESS

9
Pigbag : Papa's Got a New Pigbag
Song between 3:30-3:35

Every time I hear this I want to join a street marching band.

SHOW MORE

Track 1 from Papa's Got a New Pigbag
Length: 00:03:34
Year: 1980
Track Description:
Song between 3:30-3:35

Every time I hear this I want to join a street marching band.

SHOW LESS

10
Q-Feel : Dancing in Heaven
Attack of the Synth!
Playing the synth this fast can cause carpel tunnel.

SHOW MORE

Track 5 from Q-Feel
Length: 00:06:07
Year: 1983
Track Description:
Attack of the Synth!
Playing the synth this fast can cause carpel tunnel.

SHOW LESS

11
Band of Horses : The Funeral
song used too much

Not that it changes how I feel about this song or the band. I love the great bu [...]

SHOW MORE

Track 4 from Everything All the Time
Length: 00:05:22
Year: 2006
Track Description:
song used too much

Not that it changes how I feel about this song or the band. I love the great buildup of the song. The usage has died down though. Look, if a big corporation wanted to use my recording of my dog farting, I would sell it to them.

SHOW LESS

12
Lene Lovich : It's You, Only You (Mein Schmerz)
This song makes me feel purty!
Ok, I just learned that she was born in Detroit!

SHOW MORE

Track 1 from It's You, Only You (Mein Schmerz)
Length: 00:03:55
Year: 1982
Track Description:
This song makes me feel purty!
Ok, I just learned that she was born in Detroit!

SHOW LESS

13
Cheap Trick : Punch Ya/ You Talk Too Much (Live, 1975)
For Bono

First I touch you, then I punch you.
I hate witnessing the birth of a blowhar [...]

SHOW MORE

Track 1 from Bun E.'s Basement Bootleg "Beertown'75"
Length: 00:03:16
Year: 1975
Track Description:
For Bono

First I touch you, then I punch you.
I hate witnessing the birth of a blowhard. It sucks.


SHOW LESS

14
Patti Smith Group : Dancing Barefoot
Song for grandkids

This made me a little sad. Not sure I will have grandkids because you hav [...]

SHOW MORE

Track 2 from Wave
Length: 00:04:16
Year: 1979
Track Description:
Song for grandkids

This made me a little sad. Not sure I will have grandkids because you have to have kids first. Being that I am no where near that right now- I will play this for my niece Penny.

SHOW LESS

15
The Pogues : Turkish Song of the Damned
Should have listened to.

I should have given Turkish music more of a chance while growing up. Now I [...]

SHOW MORE

Track 2 from If I Should Fall From Grace With God
Length: 00:03:27
Year: 1988
Track Description:
Should have listened to.

I should have given Turkish music more of a chance while growing up. Now I am slowly discovering the music of my peoples...only the older stuff. The new stuff is borderline "pop" poop. Well that's my opinion.
Not sure if there is an actual Turkish song of the damned though.

SHOW LESS
Tag Board
You must log in to leave a tag
Stuff
Quick Jump
beel's other mixes
Related mixes
recent visitors
show all