[?]
Not a member? Sign-up now, it's free!
Login
[?]
These are links to some of the major sections in the mixtape collective.
Lists: Browse various lists that are generated by the loads of data we have collected.
Contests: Check out the latest contests, see previous winners, and find out how you can be a part
Music: Check out our ever-growing database of musical knowledge! Use it to find any artist, album, or track that has been entered since the birth of the site and rate and find detailed usage statistics.
Main
[?]
Tired of looking at the same old pages? Try checking out a random one, you never know what you might find...
Random!
Run Away, Hit the Road, Don't Commit, You're Full of Shit!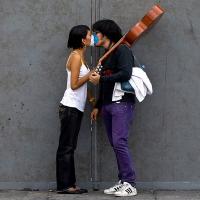 Run Away, Hit the Road, Don't Commit, You're Full of Shit!
Created by:
whackedtollie
Tracks:
20
Length:
01:16:03
Keywords
1. road
2. love
3. bullshit
Created on
5/16/10 01:59am
Level
1
Points
1116
Total visitors
20
Unique visitors
9
description:
So, this mix is based around the line from Rent, "He was the same way, he was always 'run away, hit the road, don't commit' -- you're full of SHIT!"

Pretty much all of the songs either deal with lost love, road trips or bullshit. SOMETIMES ALL THREE.

Enjoy!
tracklist
1
The Presidents of the United States of America : Peaches
"Going to the country, gonna eat me a lot of peaches"

SHOW MORE

Track 6 from The Presidents of the United States of America
Length: 00:02:48
Year: 1995
Track Description:
"Going to the country, gonna eat me a lot of peaches"

SHOW LESS

2
Tegan and Sara : Call It Off
"Maybe you would have been something I'd be good at, but now we'll never know."

SHOW MORE

Track 14 from The Con
Length: 00:02:21
Year: 2007
Track Description:
"Maybe you would have been something I'd be good at, but now we'll never know."

SHOW LESS

3
Bob Dylan : Tangled Up in Blue
"Drove that car as far as we could, abandoned it out west. We split up one sad dark night, both agreeing it w [...]

SHOW MORE

Track 1 from Blood on the Tracks
Length: 00:05:44
Year: 0000
Track Description:
"Drove that car as far as we could, abandoned it out west. We split up one sad dark night, both agreeing it was best."

SHOW LESS

4
Jonathan Larson : Goodbye Love
"Mimi's gotten thin. Mimi's running out of time. Roger's running out the door." "No more! Oh no... I gotta [...]

SHOW MORE

Track 12 from Rent (Original Broadway Cast) (disc 2)
Length: 00:05:57
Year: 1996
Track Description:
"Mimi's gotten thin. Mimi's running out of time. Roger's running out the door." "No more! Oh no... I gotta go."

SHOW LESS

5
Chris Pureka : California
"The sun shines through the shades, lands on the ceiling. It came 93 million miles just to be here. Maybe it [...]

SHOW MORE

Track 2 from Chimera EP
Length: 00:03:54
Year: 2009
Track Description:
"The sun shines through the shades, lands on the ceiling. It came 93 million miles just to be here. Maybe it's not so far."

SHOW LESS

6
The Velvet Underground : Run Run Run
"Teenage Mary said to Uncle Dave, I sold my soul, must be saved. Gonna take a walk down to Union Square. You [...]

SHOW MORE

Track 5 from The Velvet Underground & Nico
Length: 00:04:24
Year: 1967
Track Description:
"Teenage Mary said to Uncle Dave, I sold my soul, must be saved. Gonna take a walk down to Union Square. You never know who you're gonna find there."

SHOW LESS

7
Melissa Etheridge : Chrome Plated Heart
"I will feel another lover's wheel, and drive for miles and not look back."

SHOW MORE

Track 2 from Melissa Etheridge
Length: 00:03:58
Year: 1988
Track Description:
"I will feel another lover's wheel, and drive for miles and not look back."

SHOW LESS

8
bruce springsteen : Born to Run
"We've got to get out while we're young."

SHOW MORE

Track 5 from Born to Run
Length: 00:04:30
Year: 0000
Track Description:
"We've got to get out while we're young."

SHOW LESS

9
Siouxsie & the Banshees : You're Lost Little Girl
"You're lost. Tell me who are you?"

SHOW MORE

Track 6 from Through the Looking Glass
Length: 00:02:57
Year: 1987
Track Description:
"You're lost. Tell me who are you?"

SHOW LESS

10
Heart : Dreamboat Annie
"Heading out to somewhere. Won't be back for awhile."

SHOW MORE

Track 5 from Dreamboat Annie
Length: 00:02:01
Year: 1976
Track Description:
"Heading out to somewhere. Won't be back for awhile."

SHOW LESS

11
Paul McCartney : Helen Wheels
"Slow down, driver, I wanna stay alive, I wanna make this journey last."

SHOW MORE

Track 10 from Band On The Run
Length: 00:03:47
Year: 0000
Track Description:
"Slow down, driver, I wanna stay alive, I wanna make this journey last."

SHOW LESS

12
M.I.A. : Paper Planes
"Already going to hell, just pumpin' that gas."

SHOW MORE

Track 11 from Kala
Length: 00:03:24
Year: 2007
Track Description:
"Already going to hell, just pumpin' that gas."

SHOW LESS

13
Locksley : Away From Here
"We both know there is no staying here."

SHOW MORE

Track 6 from Be In Love
Length: 00:02:27
Year: 2010
Track Description:
"We both know there is no staying here."

SHOW LESS

14
The Smiths : Half A Person
"I went to London and I booked myself in at the Y... WCA."

SHOW MORE

Track 5 from Louder Than Bombs
Length: 00:03:36
Year: 1987
Track Description:
"I went to London and I booked myself in at the Y... WCA."

SHOW LESS

15
Joan Baez : Four Strong Winds
"Think I'll go out to Alberta, weather's good there in the fall."

SHOW MORE

Track 0 from
Length: 00:03:57
Year:
Track Description:
"Think I'll go out to Alberta, weather's good there in the fall."

SHOW LESS

16
Elton John : Rocket Man
"I miss the Earth so much."

SHOW MORE

Track 6 from Greatest Hits
Length: 00:04:42
Year: 1974
Track Description:
"I miss the Earth so much."

SHOW LESS

17
Chris Pureka : Wagon Wheel
"I made it down the coast in 17 hours, picking me a bouquet of dogwood flowers. Hoping for Raleigh, I can see [...]

SHOW MORE

Track 7 from Chimera EP
Length: 00:04:26
Year: 2009
Track Description:
"I made it down the coast in 17 hours, picking me a bouquet of dogwood flowers. Hoping for Raleigh, I can see my baby tonight."

SHOW LESS

18
Duffy : Rockferry
"I won't write to you, because I'm not that kind."

SHOW MORE

Track 1 from Rockferry
Length: 00:04:14
Year: 2008
Track Description:
"I won't write to you, because I'm not that kind."

SHOW LESS

19
Helen Love : (The Continuing Adventures Of) The Girl About Town
"20 years ago today, I was a Welsh girl in the USA."

SHOW MORE

Track 5 from The Bubblegum Killers EP
Length: 00:04:04
Year: 2005
Track Description:
"20 years ago today, I was a Welsh girl in the USA."

SHOW LESS

20
Glee Cast : Run, Joey, Run
BONUS TRACK!!!! Bahahaha.

SHOW MORE

Track 0 from Glee: The Music, Volume 3
Length: 00:02:52
Year: 2010
Track Description:
BONUS TRACK!!!! Bahahaha.

SHOW LESS
Tag Board
You must log in to leave a tag
Stuff
Quick Jump
whackedtollie's other mixes
Related mixes
recent visitors
show all