[?]
Not a member? Sign-up now, it's free!
Login
[?]
These are links to some of the major sections in the mixtape collective.
Lists: Browse various lists that are generated by the loads of data we have collected.
Contests: Check out the latest contests, see previous winners, and find out how you can be a part
Music: Check out our ever-growing database of musical knowledge! Use it to find any artist, album, or track that has been entered since the birth of the site and rate and find detailed usage statistics.
Main
[?]
Tired of looking at the same old pages? Try checking out a random one, you never know what you might find...
Random!
Collect Them All!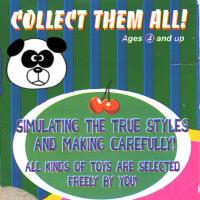 Collect Them All!
Created by:
derhay
Tracks:
21
Length:
01:19:06
Keywords
1. Mix Contest 1
2. Mix Contest 1
3. Mix Contest 1
Created on
7/28/06 09:15am
Level
6
Points
2550
Total visitors
139
Unique visitors
66
This mix was ranked #8 out of 23 entries for this contest
description:
This is my stab at the contest. As mixes go, it's a good mix. I only added songs that I could stand behind. Okay, I have two tracks from the same group. That's the only glaring problem I see (right now).

Simulating The True Styles And Making Carefully! I had another cover lined up for this mix, but my wife shared this with me this morning. She had bought a dollar toy with this awesome packaging. All Kinds Of Toys Are Selected Freely By You - that's this mix.
tracklist
1
Children of the Anachronistic Dynasty : 25 Hours
Eric was nice enough to help me find this one. The contest started after I got it. I thought it would be a goo [...]

SHOW MORE

Track 10 from Fingernails
Length: 00:06:24
Year: 1986
Track Description:
Eric was nice enough to help me find this one. The contest started after I got it. I thought it would be a good song to start with. This song hypnotizes me. I like found radio/tv samples with good songs.

SHOW LESS

2
The Natural History : Hours From My Life
Great swagger. I really like The Natural History, old label mates of The Walkmen. Killer track.

SHOW MORE

Track 9 from Beat Beat Heartbeat
Length: 00:03:04
Year: 2003
Track Description:
Great swagger. I really like The Natural History, old label mates of The Walkmen. Killer track.

SHOW LESS

3
The Chemical Brothers : Life is Sweet
Back into a trance, without the fog. Optimism in beats.

SHOW MORE

Track 9 from Exit Planet Dust
Length: 00:06:31
Year: 1995
Track Description:
Back into a trance, without the fog. Optimism in beats.

SHOW LESS

4
The Muppets : Sweet Tooth Jam
Dr. Teeth and the Electric Mayhem! Animal! Wo-man! Jam! Short and sweet (tooth).

SHOW MORE

Track 16 from Muppet Hits Take 2
Length: 00:01:54
Year: 1994
Track Description:
Dr. Teeth and the Electric Mayhem! Animal! Wo-man! Jam! Short and sweet (tooth).

SHOW LESS

5
Mos Def : Jam on It
Love the Mighty Mos. Follows The Muppets well, if you've heard this one.

SHOW MORE

Track 11 from Underground Airplay Version 1.0
Length: 00:04:38
Year: 2001
Track Description:
Love the Mighty Mos. Follows The Muppets well, if you've heard this one.

SHOW LESS

6
Gladys Knight & The Pips : It Should Have Been Me
This spot could just as easily been filled by Social Distortion's "It Coulda Been Me" or Calla's "It Dawned on [...]

SHOW MORE

Track 5 from The Ultimate Collection
Length: 00:02:58
Year: 1997
Track Description:
This spot could just as easily been filled by Social Distortion's "It Coulda Been Me" or Calla's "It Dawned on Me". I dig on both of these songs also, but Mos Def to Gladys to WAR flowed too well to pass it up.

SHOW LESS

7
War : Me and Baby Brother
Oh, that sweet, sweet funk. Great groove, great song.

SHOW MORE

Track 5 from The Best of War and More
Length: 00:03:33
Year: 1991
Track Description:
Oh, that sweet, sweet funk. Great groove, great song.

SHOW LESS

8
The Cult : Brother Wolf, Sister Moon
Live cut, 'cause I don't own Love. Awesome disc. This track takes the tempo and feel down a notch from WAR. Wh [...]

SHOW MORE

Track 6 from Live Marquee London MCMXCI (Disc 1)
Length: 00:06:41
Year: 1993
Track Description:
Live cut, 'cause I don't own Love. Awesome disc. This track takes the tempo and feel down a notch from WAR. Which will tie into...

SHOW LESS

9
Lisa Germano : Moon in Hell
I love the new disc from LG. This song is Lisa, Lisa on echo, acoustic guitar, organ, keys, her violin and xyl [...]

SHOW MORE

Track 3 from In the Maybe World
Length: 00:03:26
Year: 2006
Track Description:
I love the new disc from LG. This song is Lisa, Lisa on echo, acoustic guitar, organ, keys, her violin and xylophone. Controlled chaos. Bliss.

SHOW LESS

10
Beck : Hell Yes
Wake up! Too many Beck haters in the world. LOVE this track. Roll to this one.

SHOW MORE

Track 7 from Guero
Length: 00:03:17
Year: 2005
Track Description:
Wake up! Too many Beck haters in the world. LOVE this track. Roll to this one.

SHOW LESS

11
The Futureheads : Yes/No
The slow intro is the "intermission". Drums build... agggghhhhh! I love The Futureheads. I hope to see them in [...]

SHOW MORE

Track 1 from News and Tributes
Length: 00:02:58
Year: 2006
Track Description:
The slow intro is the "intermission". Drums build... agggghhhhh! I love The Futureheads. I hope to see them in a few weeks. Kinda anthemic.

SHOW LESS

12
Jonathan Fire*Eater : No Love Like That
How do you follow "Yes/No"? With the new/old heir to New York Jagger crown. JFE's in my top-five. More swagger [...]

SHOW MORE

Track 4 from Wolf Songs for Lambs
Length: 00:02:51
Year: 1997
Track Description:
How do you follow "Yes/No"? With the new/old heir to New York Jagger crown. JFE's in my top-five. More swagger, more organ, all rock.

SHOW LESS

13
Louis Prima & Keely Smith : That Old Black Magic
Whiter than Beck. Killer "golden oldie". Great track. Puts a smile on me face. Arrrrrggghhh

SHOW MORE

Track 3 from Louis Prima
Length: 00:02:54
Year: 1998
Track Description:
Whiter than Beck. Killer "golden oldie". Great track. Puts a smile on me face. Arrrrrggghhh

SHOW LESS

14
Mary Timony : Magic Power
More magic. Enchanting. I love Mary's voice. "Hey ho. How do you love? How do you love a dead dove?"

SHOW MORE

Track 8 from The Golden Dove
Length: 00:02:21
Year: 0000
Track Description:
More magic. Enchanting. I love Mary's voice. "Hey ho. How do you love? How do you love a dead dove?"

SHOW LESS

15
The Chemical Brothers : Power Move
A personal desert-island track. This one is an instrumental. A slap-your-DJ's-mama instrumental. My favorite C [...]

SHOW MORE

Track 2 from Out of Control
Length: 00:04:09
Year: 1999
Track Description:
A personal desert-island track. This one is an instrumental. A slap-your-DJ's-mama instrumental. My favorite Chemical Bros. song.

SHOW LESS

16
Texas : Move In
Another great voice. Takes you down a bit. Great jam. More enchantment.

SHOW MORE

Track 5 from The Hush
Length: 00:04:27
Year: 1995
Track Description:
Another great voice. Takes you down a bit. Great jam. More enchantment.

SHOW LESS

17
Clap Your Hands Say Yeah : In This Home on Ice
LOVE! Sorry for all the gushing, but holy crap! Another head noddin' car song.

SHOW MORE

Track 10 from Clap Your Hands Say Yeah
Length: 00:03:58
Year: 2005
Track Description:
LOVE! Sorry for all the gushing, but holy crap! Another head noddin' car song.

SHOW LESS

18
Gilby Clark : Ice Cream Man
I know, this could have been Tom Wait's song also. I've been getting into Rockstar: Supernova. I always dug on [...]

SHOW MORE

Track 9 from Hot for Remixes: A Tribute to Van Halen
Length: 00:03:23
Year: 1999
Track Description:
I know, this could have been Tom Wait's song also. I've been getting into Rockstar: Supernova. I always dug on this song, but never connected it to Gilby 'til putting this mix together. Killer track. Cheers! The long outro from "In This Home" builds perfectly for this KMFDM/Sheep on Drugs-esque cover of VH.

SHOW LESS

19
Super Furry Animals : The Man Don't Give a Fuck
This is the most Parental Advisory Sticker riddled mix I've ever made, but it's SFA! Oddball follow to Gilby. [...]

SHOW MORE

Track 1 from The Man Don't Give a Fuck
Length: 00:04:46
Year: 1996
Track Description:
This is the most Parental Advisory Sticker riddled mix I've ever made, but it's SFA! Oddball follow to Gilby. LOVE SFA!

SHOW LESS

20
Belle & Sebastian : Fuck This Shit
Shocker. No, it isn't. This is the first song on my son's post-bath, nightly, settling-down mix. My wife plays [...]

SHOW MORE

Track 4 from Storytelling
Length: 00:02:29
Year: 2002
Track Description:
Shocker. No, it isn't. This is the first song on my son's post-bath, nightly, settling-down mix. My wife plays this every night, but don't tell'er what the title really is. Remarkable song. I wish I could play the harmonica like a Scot.

SHOW LESS

21
Modest Mouse : Shit Luck
What a way to end it, and a full mix too. You've been a great audience! See you next time! "MY HEART IS SLOWLY [...]

SHOW MORE

Track 11 from The Lonesome Crowded West
Length: 00:02:24
Year: 1997
Track Description:
What a way to end it, and a full mix too. You've been a great audience! See you next time! "MY HEART IS SLOWLY DRYING UP!"

SHOW LESS
Tag Board
You must log in to leave a tag
Stuff
Quick Jump
derhay's other mixes
Related mixes
recent visitors
show all