[?]
Not a member? Sign-up now, it's free!
Login
[?]
These are links to some of the major sections in the mixtape collective.
Lists: Browse various lists that are generated by the loads of data we have collected.
Contests: Check out the latest contests, see previous winners, and find out how you can be a part
Music: Check out our ever-growing database of musical knowledge! Use it to find any artist, album, or track that has been entered since the birth of the site and rate and find detailed usage statistics.
Main
[?]
Tired of looking at the same old pages? Try checking out a random one, you never know what you might find...
Random!
Waiting in line for the bathroom at Cantina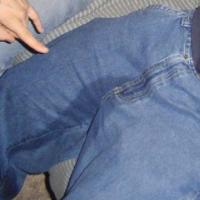 Waiting in line for the bathroom at Cantina
Created by:
shortbus
Tracks:
10
Length:
00:47:12
Keywords
1. Mix Contest 1
2. Mix Contest 1
3. Mix Contest 1
Created on
8/04/06 05:09pm
Level
6
Points
2552
Total visitors
79
Unique visitors
52
This mix was ranked #6 out of 23 entries for this contest
description:
The stream of conciousness "poem" presented here should resonate with anyone who has had to wait in line for the mens bathroom at the bar Cantina in Corvallis, OR on ladies night. Ah the joys of waiting in a long-ass line while women keep cutting in front of some dick who thinks he has a better chance of getting laid by letting a sloppy-ass drunk girl take a piss with her friend in our bathroom.

No I cannot hold it better because I have a penis. After two PBR man-cans and 3 double rum and coke's things are going to evacuate whether I like it or not.

Thank (insert diety here) for the alley.
-------------------------------------------
Slow and low-
Heaven-
beside you...

You know what you are?!
Are you in?
In the waiting line?

Lines across eyes-
to form shadows-
that move.

Move bitch!
tracklist
1
Beastie Boys : Slow and Low
See #3

SHOW MORE

Track 12 from Licensed to Ill
Length: 00:03:38
Year: 1986
Track Description:
See #3

SHOW LESS

2
13 & God : Low Heaven
See #3

SHOW MORE

Track 1 from 13 & God
Length: 00:04:32
Year: 2005
Track Description:
See #3

SHOW LESS

3
Alice in Chains : Heaven Beside You
Slow and low-
Heaven-
beside you...

The toilet... get it?

SHOW MORE

Track 9 from Unplugged
Length: 00:05:40
Year: 1996
Track Description:
Slow and low-
Heaven-
beside you...

The toilet... get it?

SHOW LESS

4
Nine Inch Nails : You Know What You Are?
Insert choice words here...

SHOW MORE

Track 2 from [with_Teeth]
Length: 00:03:41
Year: 2005
Track Description:
Insert choice words here...

SHOW LESS

5
Incubus : Are You In?
See #6

SHOW MORE

Track 11 from Morning View
Length: 00:04:28
Year: 2001
Track Description:
See #6

SHOW LESS

6
Zero 7 : In The Waiting Line

Are you in?
In the waiting line?

If not, get the fuck out the way.

SHOW MORE

Track 8 from Simple Things
Length: 00:04:33
Year: 2001
Track Description:

Are you in?
In the waiting line?

If not, get the fuck out the way.

SHOW LESS

7
Isis : Lines Across Eyes
See #9

SHOW MORE

Track 7 from The Red Sea
Length: 00:05:47
Year: 1998
Track Description:
See #9

SHOW LESS

8
Dälek : Eyes To Form Shadows
See #9

SHOW MORE

Track 8 from Absence
Length: 00:06:30
Year: 2004
Track Description:
See #9

SHOW LESS

9
Mastodon : Shadows That Move
Lines across eyes-
to form shadows-
that move.

Thats right, I'm looking at you.. [...]

SHOW MORE

Track 1 from Lifesblood
Length: 00:03:53
Year: 2001
Track Description:
Lines across eyes-
to form shadows-
that move.

Thats right, I'm looking at you...

SHOW LESS

10
Ludacris : Move Bitch
Nuff Said.

SHOW MORE

Track 10 from Word of Mouf
Length: 00:04:30
Year: 2001
Track Description:
Nuff Said.

SHOW LESS
Tag Board
You must log in to leave a tag
Stuff
Quick Jump
shortbus's other mixes
Related mixes
recent visitors
show all