[?]
Not a member? Sign-up now, it's free!
Login
[?]
These are links to some of the major sections in the mixtape collective.
Lists: Browse various lists that are generated by the loads of data we have collected.
Contests: Check out the latest contests, see previous winners, and find out how you can be a part
Music: Check out our ever-growing database of musical knowledge! Use it to find any artist, album, or track that has been entered since the birth of the site and rate and find detailed usage statistics.
Main
[?]
Tired of looking at the same old pages? Try checking out a random one, you never know what you might find...
Random!
Now, Who Wants Ice Cream?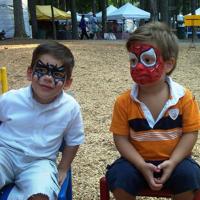 Now, Who Wants Ice Cream?
Created by:
lord_bearded
Tracks:
18
Length:
01:18:52
Keywords
1. Mix Contest 2
2. Mix Contest 2
3. Mix Contest 2
Created on
9/02/06 10:49am
Level
5
Points
2404
Total visitors
76
Unique visitors
44
This mix was ranked #10 out of 30 entries for this contest
description:
when I get sad, i usually turn mad. and when that happens i usually end up getting pretty rad.

p.s. if you would be so kind as to think of the dose and aphex songs as transitions made to draw out the moods that would be great. thanks.
tracklist
1
Eyvand Kang : I Am The Dead
dealing with the dead can be a huge and painfull process. my heart goes out to everyone who had to deal with l [...]

SHOW MORE

Track 0 from ?
Length: 00:05:08
Year: 0000
Track Description:
dealing with the dead can be a huge and painfull process. my heart goes out to everyone who had to deal with losing someone. i just watched my grandmother take her last breath on march 9th. she was only 63. but i have another mix ready for her.

SHOW LESS

2
Triumph of Lethargy Skinned Alive to Death : Helpless
sweet sombre wash

SHOW MORE

Track 6 from Helpless
Length: 00:04:35
Year: 2005
Track Description:
sweet sombre wash

SHOW LESS

3
doseone : Track 42
subtle slight sand strokes.

SHOW MORE

Track 42 from slow death
Length: 00:01:04
Year: 0000
Track Description:
subtle slight sand strokes.

SHOW LESS

4
Aphex Twin : Kesson Dalef
a transitional piece with a little if not just enough drag to slip a whirl.

SHOW MORE

Track 15 from Drukqs (Disc 1)
Length: 00:01:19
Year: 2001
Track Description:
a transitional piece with a little if not just enough drag to slip a whirl.

SHOW LESS

5
The John & Spencer Booze Explosion : Black Douleur
spencer so saying bye bye.

SHOW MORE

Track 2 from The John & Spencer Booze Explosion
Length: 00:03:11
Year: 0000
Track Description:
spencer so saying bye bye.

SHOW LESS

6
Modest Mouse : The Cold Part
this is from the only modest mouse i can really stand. and it reminds me of past sadness.

SHOW MORE

Track 7 from The Moon and Antarctica
Length: 00:05:00
Year: 2000
Track Description:
this is from the only modest mouse i can really stand. and it reminds me of past sadness.

SHOW LESS

7
Dillinger Escape Plan : We Are the Storm
starting to get mad

SHOW MORE

Track 6 from Miss Machine
Length: 00:04:38
Year: 2004
Track Description:
starting to get mad

SHOW LESS

8
Mason Jennings : Adrian
bringing it back up only to find you wont be coming down for a while. with a neck in a noose and questions all [...]

SHOW MORE

Track 10 from Century Spring
Length: 00:02:59
Year: 2002
Track Description:
bringing it back up only to find you wont be coming down for a while. with a neck in a noose and questions all about.

SHOW LESS

9
Aphex Twin : Strotha Tynhe
looking away

SHOW MORE

Track 5 from Drukqs (Disc 1)
Length: 00:02:12
Year: 2001
Track Description:
looking away

SHOW LESS

10
Nick Cave And The Bad Seeds : The Kindness Of Strangers
i listened to this song a lot after i had some serious sergery. i was broken hearted, pantsless, and high as f [...]

SHOW MORE

Track 7 from Murder Ballads
Length: 00:04:37
Year: 1996
Track Description:
i listened to this song a lot after i had some serious sergery. i was broken hearted, pantsless, and high as fuck. myspace 04 style. one of the saddest songs i think.

SHOW LESS

11
Tom Waits : Poor Edward
fancifull sadness is sad too. just look at Golum (book not movie).

SHOW MORE

Track 6 from Alice
Length: 00:03:43
Year: 2002
Track Description:
fancifull sadness is sad too. just look at Golum (book not movie).

SHOW LESS

12
doseone : Trach 14
pretty transmissions

SHOW MORE

Track 14 from slow death
Length: 00:00:24
Year: 0000
Track Description:
pretty transmissions

SHOW LESS

13
Fantomas : Twin Peaks: Fire Walk With Me
another one of the saddest characters. laura palmers story. a must see (after you watch the series).

SHOW MORE

Track 15 from Directors Cut
Length: 00:03:29
Year: 2001
Track Description:
another one of the saddest characters. laura palmers story. a must see (after you watch the series).

SHOW LESS

14
Neurosis : Away
reminding how when folks take off. and are away without coming back.

SHOW MORE

Track 9 from Times of Grace
Length: 00:09:34
Year: 1999
Track Description:
reminding how when folks take off. and are away without coming back.

SHOW LESS

15
doseone : Track 43
"to a very special boy. the perminent cry. but i'm not sad."

SHOW MORE

Track 43 from slow death
Length: 00:00:25
Year: 0000
Track Description:
"to a very special boy. the perminent cry. but i'm not sad."

SHOW LESS

16
The Melvins : Second Coming/The Ballad Of Dwight Fry
super rad into kinda sad. alice cooper rules.

SHOW MORE

Track 0 from lysol
Length: 00:04:26
Year: 0000
Track Description:
super rad into kinda sad. alice cooper rules.

SHOW LESS

17
Godspeed You! Black Emperor : East Hastings
the saddest street i've ever walked on. Vancouver B.C. Sledg knows what i'm talkin about. 28 days later style. [...]

SHOW MORE

Track 2 from F# A# oo
Length: 00:17:58
Year: 1998
Track Description:
the saddest street i've ever walked on. Vancouver B.C. Sledg knows what i'm talkin about. 28 days later style.

SHOW LESS

18
Eyvand Kang : Go In A Good Way To A Better Place
that better place being F.F. Woodycooks for ice cream. and then back around to the front of the mix.

SHOW MORE

Track 2 from Virginal Co Ordinates
Length: 00:04:10
Year: 0000
Track Description:
that better place being F.F. Woodycooks for ice cream. and then back around to the front of the mix.

SHOW LESS
Tag Board
You must log in to leave a tag
Stuff
Quick Jump
lord_bearded's other mixes
Related mixes
recent visitors
show all