[?]
Not a member? Sign-up now, it's free!
Login
[?]
These are links to some of the major sections in the mixtape collective.
Lists: Browse various lists that are generated by the loads of data we have collected.
Contests: Check out the latest contests, see previous winners, and find out how you can be a part
Music: Check out our ever-growing database of musical knowledge! Use it to find any artist, album, or track that has been entered since the birth of the site and rate and find detailed usage statistics.
Main
[?]
Tired of looking at the same old pages? Try checking out a random one, you never know what you might find...
Random!
Organized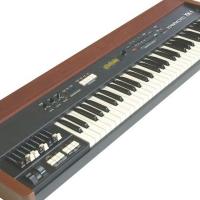 Organized
Created by:
Capn_Derk
Tracks:
12
Length:
00:59:10
Keywords
1. Organ
2. Rock
3. Theme
Created on
9/01/06 08:55pm
Level
5
Points
2323
Total visitors
80
Unique visitors
46
description:
Is there a cooler sound in music than the loud, operatic wail of the organ? I highly doubt it. From pro-rock extravaganzas to three-chord garage rock, from Hammonds to Farfisas, they're right up there with the piano and guitar as the most versatile instruments out there.

As a fan of the organ, I have compiled this tape filled with some of my favorite organ lines. By no means is this an all-time best-of, but it makes for a killer listen anyways.
tracklist
1
Wolfmother : Mind's Eye
The highlight here is Chris Ross' five-alarm, call-to-arms organ solo. It recalls the best parts of prog while [...]

SHOW MORE

Track 8 from Wolfmother
Length: 00:04:54
Year: 2006
Track Description:
The highlight here is Chris Ross' five-alarm, call-to-arms organ solo. It recalls the best parts of prog while simultaneous kicking major ass.

SHOW LESS

2
? and the Mysterians : 96 Tears
A garage rock classic, featuring the most copied organ line in all of rock. Also, the easiest (you can play it [...]

SHOW MORE

Track 12 from 96 Tears
Length: 00:02:54
Year: 1966
Track Description:
A garage rock classic, featuring the most copied organ line in all of rock. Also, the easiest (you can play it with two fingers). Plus, you can't beat that cheap-ass, garage-y Farfisa sound.

SHOW LESS

3
The Raconteurs : Store Bought Bones
Has a choppy, ELP-esque organ bit right off the top. Keith Emerson would approve.

SHOW MORE

Track 7 from Broken Boy Soldiers
Length: 00:02:27
Year: 2006
Track Description:
Has a choppy, ELP-esque organ bit right off the top. Keith Emerson would approve.

SHOW LESS

4
Emerson, Lake and Palmer : Knife Edge
Speaking of Keith Emerson... He happenes to be one of the greats, and the mad funks riffs he can coax out of h [...]

SHOW MORE

Track 3 from Emerson, Lake and Palmer
Length: 00:05:04
Year: 1970
Track Description:
Speaking of Keith Emerson... He happenes to be one of the greats, and the mad funks riffs he can coax out of his organ demonstarte that with ease. The chorus of this must be heard to be believed.

SHOW LESS

5
Kansas : Belexes
This galloping "boogie-prog" tune has a great deedle-dee-dee riff, courtesy of Steve Walsh, that's really catc [...]

SHOW MORE

Track 4 from Kansas
Length: 00:04:23
Year: 1974
Track Description:
This galloping "boogie-prog" tune has a great deedle-dee-dee riff, courtesy of Steve Walsh, that's really catchy. The instruments in the song interlock really well. The song is the aural equivalent of a car racing down the highway.

SHOW LESS

6
Spooky Tooth : Tobacco Road
This syruppy-slow, bluesy 60s rocker from England features, appropriatly enough, a bluesy wailing organ.

SHOW MORE

Track 7 from It's All About
Length: 00:05:33
Year: 1968
Track Description:
This syruppy-slow, bluesy 60s rocker from England features, appropriatly enough, a bluesy wailing organ.

SHOW LESS

7
Yes : Roundabout
Rick Wakeman is, quite litterally, a keyboard wizrd. His funky-as-hell-for-a-prog-song solo his, in turn, nice [...]

SHOW MORE

Track 1 from Fragile
Length: 00:08:35
Year: 1972
Track Description:
Rick Wakeman is, quite litterally, a keyboard wizrd. His funky-as-hell-for-a-prog-song solo his, in turn, nicely complimented by Steve Howe's guitar acrobatics and Chris Squire's ten-ton bass.

SHOW LESS

8
The Moog Cookbook : Born to be Wild
Steppenwolf performed exclusivlet on vintage Moog synths. It gets it's place on here for the sheer operatic gr [...]

SHOW MORE

Track 1 from Plays Classic Rock Hits: Ye Olde Space Band
Length: 00:04:15
Year: 1997
Track Description:
Steppenwolf performed exclusivlet on vintage Moog synths. It gets it's place on here for the sheer operatic grandeur of the organ part during the chorus.

SHOW LESS

9
Rush : Roll the Bones
The organ here isn't prevalent, but it is used for great effect before each chorus and during Alex Lifeson's s [...]

SHOW MORE

Track 3 from Roll The Bones
Length: 00:05:30
Year: 1991
Track Description:
The organ here isn't prevalent, but it is used for great effect before each chorus and during Alex Lifeson's solo. Please ignore Geddy Lee's embarassing baritone rap.

SHOW LESS

10
Neil Young : The Loner
Has a great acoustic-guitar-and-Hammond intro. Plus, it's Neil Young.

SHOW MORE

Track 2 from neil young
Length: 00:03:55
Year: 1969
Track Description:
Has a great acoustic-guitar-and-Hammond intro. Plus, it's Neil Young.

SHOW LESS

11
Bob Dylan : Like A Rolling Stone
Another classic organ part, this time played by Blood, Sweat and Tears alum Al Kooper.

SHOW MORE

Track 1 from Highway 61 Revisited
Length: 00:06:09
Year: 1965
Track Description:
Another classic organ part, this time played by Blood, Sweat and Tears alum Al Kooper.

SHOW LESS

12
Yo La Tengo : Autum Sweater
The drony organ line has a hypnotic quality to it. The leisurlym if slow, pace enhances that effect tenfold.

SHOW MORE

Track 8 from I Can Hear the Heart Beating as One
Length: 00:05:31
Year: 1997
Track Description:
The drony organ line has a hypnotic quality to it. The leisurlym if slow, pace enhances that effect tenfold.

SHOW LESS
Tag Board
You must log in to leave a tag
Stuff
Quick Jump
Capn_Derk's other mixes
Related mixes
recent visitors
show all