[?]
Not a member? Sign-up now, it's free!
Login
[?]
These are links to some of the major sections in the mixtape collective.
Lists: Browse various lists that are generated by the loads of data we have collected.
Contests: Check out the latest contests, see previous winners, and find out how you can be a part
Music: Check out our ever-growing database of musical knowledge! Use it to find any artist, album, or track that has been entered since the birth of the site and rate and find detailed usage statistics.
Main
[?]
Tired of looking at the same old pages? Try checking out a random one, you never know what you might find...
Random!
Comic Book's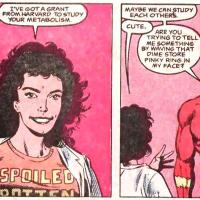 Comic Book's
Created by:
Azuken
Tracks:
10
Length:
00:43:51
Keywords
1. Comics
2. Rap
3. Chill
Created on
9/03/06 09:20pm
Level
5
Points
2074
Total visitors
83
Unique visitors
46
description:
This is what I listen to while reading comics. Everything from the flash, to Batman, To spiderman, To the Justice Leauge.


I feel like a total nerd right now.
tracklist
1
Gym Class Heroes : Band Aids
Some chill rap to set the mood. Gotta relax when you read otherwise you wont enjoy what your reading.

SHOW MORE

Track 0 from The Papercut Chronicles
Length: 00:05:18
Year: 0000
Track Description:
Some chill rap to set the mood. Gotta relax when you read otherwise you wont enjoy what your reading.

SHOW LESS

2
Jurassic 5 : Concrete Schoolyard
One of my favorite songs by them. lyrics flow so you dont really have to pay attention. Upbeat. AMAZING!

SHOW MORE

Track 5 from EP
Length: 00:05:23
Year: 1997
Track Description:
One of my favorite songs by them. lyrics flow so you dont really have to pay attention. Upbeat. AMAZING!

SHOW LESS

3
Johnny Cash : Folsom Prison Blues
Great song. Reminds me of villans. Damn you doctor doom. *NERD OUT*

SHOW MORE

Track 1 from At Folsom Prison and San Quentin
Length: 00:02:42
Year: 0000
Track Description:
Great song. Reminds me of villans. Damn you doctor doom. *NERD OUT*

SHOW LESS

4
B.B. King : The Thrill is Gone
I first decided to give ol' BB a listen when I was reading "Room Full of Mirrors" and he was mentioned. The ti [...]

SHOW MORE

Track 7 from Greatest Hits
Length: 00:05:24
Year: 1998
Track Description:
I first decided to give ol' BB a listen when I was reading "Room Full of Mirrors" and he was mentioned. The title reminds me of the current "Civil War" arc. Thrill is gone.

SHOW LESS

5
Jimi Hendrix : Purple Haze
Had to do a report on this song, listened to it alot while reading flash. Good stuff.

SHOW MORE

Track 1 from Experience Hendrix
Length: 00:03:03
Year: 1998
Track Description:
Had to do a report on this song, listened to it alot while reading flash. Good stuff.

SHOW LESS

6
Iron and Wine/Calexico : Burn That Broken Bed
My favorite song by Iron and Wine. My friend turned me on to them.

SHOW MORE

Track 6 from In The Reins
Length: 00:05:06
Year: 2005
Track Description:
My favorite song by Iron and Wine. My friend turned me on to them.

SHOW LESS

7
Ray Charles : Georgia on My Mind
When I first heard this song it was by a cover band, I imidiatly ran home and downloaded it. After work of cou [...]

SHOW MORE

Track 8 from The Very Best of Ray Charles
Length: 00:03:39
Year: 2000
Track Description:
When I first heard this song it was by a cover band, I imidiatly ran home and downloaded it. After work of course. Nice relaxing song.

SHOW LESS

8
Kanye West : Breathe In Breathe Out (feat. Ludacris)
Was reading Flash 230 when this song popped on.

SHOW MORE

Track 13 from College Dropout
Length: 00:04:06
Year: 2004
Track Description:
Was reading Flash 230 when this song popped on.

SHOW LESS

9
Kanye West : Breathe In Breathe Out (feat. Ludacris)
Was reading Flash 230 when this song popped on. Not my favorite but decent flow and funny lyrics.

SHOW MORE

Track 13 from College Dropout
Length: 00:04:06
Year: 2004
Track Description:
Was reading Flash 230 when this song popped on. Not my favorite but decent flow and funny lyrics.

SHOW LESS

10
Outkast : Bombs Over Baghdad (B.O.B.)
Fastest outkast song i believe. Probably not but fast and in your face.

SHOW MORE

Track 11 from Stankonia
Length: 00:05:04
Year: 2000
Track Description:
Fastest outkast song i believe. Probably not but fast and in your face.

SHOW LESS
Tag Board
You must log in to leave a tag
Stuff
Quick Jump
Azuken's other mixes
Related mixes
recent visitors
show all