[?]
Not a member? Sign-up now, it's free!
Login
[?]
These are links to some of the major sections in the mixtape collective.
Lists: Browse various lists that are generated by the loads of data we have collected.
Contests: Check out the latest contests, see previous winners, and find out how you can be a part
Music: Check out our ever-growing database of musical knowledge! Use it to find any artist, album, or track that has been entered since the birth of the site and rate and find detailed usage statistics.
Main
[?]
Tired of looking at the same old pages? Try checking out a random one, you never know what you might find...
Random!
Killer Cover Man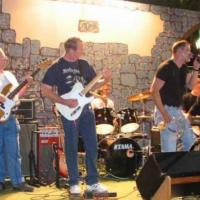 Killer Cover Man
Created by:
cst003
Tracks:
14
Length:
01:07:54
Keywords
1. killer cover man
2. covers
3. brilliant reproductions
Created on
9/29/06 11:59am
Level
5
Points
2276
Total visitors
80
Unique visitors
42
description:
im a big fan of covers, if theyre done right. there has to be a special something about the new version's vocals, instrumentation or arrangement that makes me stand up and take notice. sometimes, a cover can even supercede the original in sheer greatness. this doesnt often happen, and its a gem when you find one of these. i consider a few of these to be gems, but most are just rocking covers that almost always redefine the original on their terms.



I LEFT OUT APC'S DIARY OF A LOVESONG ON PURPOSE! OVERUSED AND NOT-AS-GREAT AS MY SELECTION, I FEEL. kthx!
tracklist
1
A Perfect Circle : When The Levee Breaks
a cover of a cover and the first Led Zeppelin one to show up. harmonics are what make this song for me, call & [...]

SHOW MORE

Track 11 from emotive
Length: 00:05:55
Year: 0000
Track Description:
a cover of a cover and the first Led Zeppelin one to show up. harmonics are what make this song for me, call & echo verse. can definitly tell the time and through that went into rethinking this great cover. the lightness of the music is a great dichotomy from the heaviness of the meaning. i consider this lightyears ahead of what zep envisioned.

SHOW LESS

2
Cat Power : Moonshiner
i truly believe cat power and bob dylan would have made beautiful music together. if this cover is any indicat [...]

SHOW MORE

Track 7 from Moon Pix
Length: 00:04:50
Year: 1998
Track Description:
i truly believe cat power and bob dylan would have made beautiful music together. if this cover is any indication, i feel this woman knew the soul of our greatest poet.

SHOW LESS

3
Tori Amos : Somewhere Over the Rainbow (live)
hey voice, holy shit her voice. ive never liked this song, but found myself transfixed when going through my b [...]

SHOW MORE

Track 5 from Hey Jupiter
Length: 00:04:31
Year: 1996
Track Description:
hey voice, holy shit her voice. ive never liked this song, but found myself transfixed when going through my b-sides and singles i had off her eps and found this gem. the dips and breathey quality she pulls off astound me. and, as always, she's killer on her piano.

SHOW LESS

4
Deftones : No Ordinary Love
this makes me laugh. not only is this is a badass cover, you've got two extreme of vocalisation going on here [...]

SHOW MORE

Track 6 from B-Sides and Rarities
Length: 00:05:34
Year: 2005
Track Description:
this makes me laugh. not only is this is a badass cover, you've got two extreme of vocalisation going on here and it fucking works. chino was made to cover sade. his whine takes the lyrics to new heights and in new directions i hadnt thought of before.

SHOW LESS

5
Fiona Apple : ACROSS THE UNIVERSE
do i even need to explain why this woman's voice and sound sensebility make this one the best covers of this s [...]

SHOW MORE

Track 1 from PLEASANTVILLE
Length: 00:05:07
Year: 1998
Track Description:
do i even need to explain why this woman's voice and sound sensebility make this one the best covers of this song. ever. period? i hope not. im sorry but she surpassed the beatles in this regard.

SHOW LESS

6
Aphex Twin : At the Heart of It All [Nine Inch Nails]
ok, so this is in no way a cover. this one is special. this is aphex twin covering nine inch nails musically. [...]

SHOW MORE

Track 7 from Further Down the Spiral
Length: 00:07:14
Year: 1995
Track Description:
ok, so this is in no way a cover. this one is special. this is aphex twin covering nine inch nails musically. one of the best NiN tracks and its not even composed by trent reznor. i rememeber hearing this song on the Further Down the Spiral EP and wishing the motherfucker would make more songs like this that werent remixes. this song completely captures the sense of NiN at that era and still manages to send tingles down my spine.

SHOW LESS

7
Annie Lennox : Don't Let It Bring You Down
i struggled between this and 'a whiter shade of pale' for this woman's incredible vocal work, but this one won [...]

SHOW MORE

Track 4 from Medusa
Length: 00:00:00
Year: 1995
Track Description:
i struggled between this and 'a whiter shade of pale' for this woman's incredible vocal work, but this one won out. nothing all too lifechanging in the music, but in the way she sings. especially @ 2:25, this makes me smile.

SHOW LESS

8
Smashing Pumpkins : Landslide
everyone learning to play the guitar learn this and motherfucking sublime. it takes a LOT to gain recognition. [...]

SHOW MORE

Track 9 from Pisces Iscariot
Length: 00:03:10
Year: 1994
Track Description:
everyone learning to play the guitar learn this and motherfucking sublime. it takes a LOT to gain recognition. billys voice is something beyond amazing. he infuses so much emotion into his words, its hard not to like this song again.

SHOW LESS

9
Kyuss : Into The Void
the other side of rock-supremecy rocking on old black sabbath. their guitar solo would make my vagina wet if i [...]

SHOW MORE

Track 1 from Kyuss/Queens of the Stone Age
Length: 00:08:00
Year: 1997
Track Description:
the other side of rock-supremecy rocking on old black sabbath. their guitar solo would make my vagina wet if i had one. it's that good.

SHOW LESS

10
Primus : Have a Cigar
not only does Les Claypool manage to transcribe pink floyd into even bassier terms, he has a fucking great tim [...]

SHOW MORE

Track 5 from Miscellaneous Debris
Length: 00:05:27
Year: 0000
Track Description:
not only does Les Claypool manage to transcribe pink floyd into even bassier terms, he has a fucking great time on lyrics. i love his sneer.

SHOW LESS

11
Stone Temple Pilots : Dancing Days
the main reason i wanted to do this mix. i remember the first time i heard led zeppelin's version and honestly [...]

SHOW MORE

Track 0 from
Length: 00:00:00
Year:
Track Description:
the main reason i wanted to do this mix. i remember the first time i heard led zeppelin's version and honestly wondered how a band covered STP 30 years before. i was of course high at the time. doesnt matter. GREAT GREAT COVER.

SHOW LESS

12
Cibo Matto : The Candy Man
this is one of those songs that far surpass the original in greatness. i'll be honest, i hated the original ch [...]

SHOW MORE

Track 8 from Viva! La Woman
Length: 00:03:11
Year: 1996
Track Description:
this is one of those songs that far surpass the original in greatness. i'll be honest, i hated the original charlie and the chocolate factory. gene whatshisface creeps me out, but this song was always catchy and i could listen to it. but fucking cibo matto go insane on an insane song and make your ears melt. her off-kilter pronunciation takes the cake.

that bass line from the beginning is an evil bugger.

SHOW LESS

13
Queens of the Stone Age : You're So Vague (Carly Simon)
great cover on two fronts; 1 - took an old 70's almost-dance floor hit and rocked the fuck out of it, 2 - comp [...]

SHOW MORE

Track 0 from
Length: 00:03:43
Year:
Track Description:
great cover on two fronts; 1 - took an old 70's almost-dance floor hit and rocked the fuck out of it, 2 - completely reimagine the lyrics. this is in no way your mother's you're so vain.

SHOW LESS

14
tool : No Quarter
the last of the Led Zeppelin covers, and artfully redone. i liked this era of TOOL, this is as heavy and as th [...]

SHOW MORE

Track 7 from Salival
Length: 00:11:12
Year: 2001
Track Description:
the last of the Led Zeppelin covers, and artfully redone. i liked this era of TOOL, this is as heavy and as thick as they come. 10 minutes of sheer progressive mind-meltage. speaker-box quality on maynard's voice is another excellent addition to the song, espeically when he releases it and finally fucking screams. good night, there's no room for you here.

SHOW LESS
Tag Board
You must log in to leave a tag
Stuff
Quick Jump
cst003's other mixes
Related mixes
recent visitors
show all