[?]
Not a member? Sign-up now, it's free!
Login
[?]
These are links to some of the major sections in the mixtape collective.
Lists: Browse various lists that are generated by the loads of data we have collected.
Contests: Check out the latest contests, see previous winners, and find out how you can be a part
Music: Check out our ever-growing database of musical knowledge! Use it to find any artist, album, or track that has been entered since the birth of the site and rate and find detailed usage statistics.
Main
[?]
Tired of looking at the same old pages? Try checking out a random one, you never know what you might find...
Random!
I Got Honey on Me!: A Drug Orgy Mixtape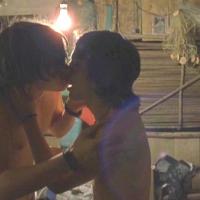 I Got Honey on Me!: A Drug Orgy Mixtape
Created by:
sledgbrainerd
Tracks:
15
Length:
01:18:59
Keywords
1. Druggy
2. Trackmarks
3. Oral
Created on
5/31/06 03:18pm
Level
7
Points
3064
Total visitors
153
Unique visitors
79
description:
This is for when you invite your "drug friends" over, you guys shoot/snort/smoke it up, and get it on right there on the stained floor while public access plays on the TV.
tracklist
1
The Murder City Devils : Press Gang (Latch Brothers Remix)
The Latch Brothers are Mike D from the Beasties and some other dude. This shit has a sort of Creepy/Funky vib [...]

SHOW MORE

Track 8 from Buddyhead Suicide
Length: 00:03:57
Year: 1994
Track Description:
The Latch Brothers are Mike D from the Beasties and some other dude. This shit has a sort of Creepy/Funky vibe. Kinda like a pirate ship, I guess.

SHOW LESS

2
Dose One : Axejaw
This is "hardcore" Dose.

SHOW MORE

Track 5 from Ha
Length: 00:03:39
Year: 2005
Track Description:
This is "hardcore" Dose.

SHOW LESS

3
Aceyalone : Deep and Wide
I think the song title says it all. This smooth jam is probably the only good Aceyalone song that isn't on BO [...]

SHOW MORE

Track 3 from All Balls Don't Bounce
Length: 00:02:32
Year: 1995
Track Description:
I think the song title says it all. This smooth jam is probably the only good Aceyalone song that isn't on BOOK OF HUMAN LANGUAGE.

SHOW LESS

4
Dälek : Swollen Tongue Burns
This guys are money, and I dont mean no funny money.

SHOW MORE

Track 1 from Negro Necro Nekros
Length: 00:03:42
Year: 1998
Track Description:
This guys are money, and I dont mean no funny money.

SHOW LESS

5
Radiohead : Paranoid Android
In my opinion, this is still Radiohead's best tune. I feel like it mixes old Radiohead with new Radiohead in [...]

SHOW MORE

Track 2 from OK Computer
Length: 00:06:25
Year: 1997
Track Description:
In my opinion, this is still Radiohead's best tune. I feel like it mixes old Radiohead with new Radiohead in a very balanced way. This is the song that propels the drug party into drug orgy. As everyone starts making out during the segment of song from 4:28 to 5:35. Then its pure raw drugg infested dirty-ness.

SHOW LESS

6
Rocket from the Crypt : The Paste That You Love
The sweaty distorted sounds from the love paste. This song is epic in its own way, as are the drug-fueled moa [...]

SHOW MORE

Track 14 from All Systems Go
Length: 00:05:02
Year: 0000
Track Description:
The sweaty distorted sounds from the love paste. This song is epic in its own way, as are the drug-fueled moans from the many junkies packed into a small room, playing penetration twister.

SHOW LESS

7
Ataxia : Another
This band features John Frusciante from Red Hot Chili Peppers on Guit/Vox, Josh Klinghoffer from Bicycle Theif [...]

SHOW MORE

Track 2 from Automatic Writing
Length: 00:06:22
Year: 2004
Track Description:
This band features John Frusciante from Red Hot Chili Peppers on Guit/Vox, Josh Klinghoffer from Bicycle Theif on Drum/Vox, and Joe Lally from Fugazi on Bass. Perfect music to listen to while you are sleep deprived and stuck on a layover at the Phoenix airport and none of the stores are open so you cant get coffee. Then your girlfriend is being a jerk cuz shes tired and you have a really bad hangover from drinking polish beer for a week straight. This album is Perfect for that.

SHOW LESS

8
Odd Nosdam : 11th Ave. Freakout Pt. 2
This track has vocals by Mike Patton, who probably has been involved in a few of these situations.

SHOW MORE

Track 7 from Burner
Length: 00:04:06
Year: 2005
Track Description:
This track has vocals by Mike Patton, who probably has been involved in a few of these situations.

SHOW LESS

9
The OXES : Track #1
This shit rocks, which in turn speeds up the blood going through your veins. Everyone gets higher. It's been [...]

SHOW MORE

Track 1 from Oxes EP
Length: 00:07:08
Year: 2005
Track Description:
This shit rocks, which in turn speeds up the blood going through your veins. Everyone gets higher. It's been proven that rocknroll makes people higher. Trust me.

SHOW LESS

10
Mastodon : Seabeast
Not my favorite on this album but it fits the kind of druggy vibe I'm goin for. I've seen this turn up the in [...]

SHOW MORE

Track 3 from Leviathan
Length: 00:04:15
Year: 2004
Track Description:
Not my favorite on this album but it fits the kind of druggy vibe I'm goin for. I've seen this turn up the intensity during orgies. I know from experiance, man.


Okay, not me, but this guy I know.

SHOW LESS

11
Pink Floyd : Dogs
This is my favorite Floyd song. If you are wondering why a Pink Floyd song would show up on mix like this, yo [...]

SHOW MORE

Track 2 from Animals
Length: 00:17:08
Year: 1977
Track Description:
This is my favorite Floyd song. If you are wondering why a Pink Floyd song would show up on mix like this, you should just go ahead and buy this album. Hopefully you would figure it out after that.

SHOW LESS

12
Air : Cherry Blossom Girl
This song makes me feel dirty. It seems like this should only come on when something fucked up is happening.

SHOW MORE

Track 2 from Talkie Walkie
Length: 00:03:41
Year: 2004
Track Description:
This song makes me feel dirty. It seems like this should only come on when something fucked up is happening.

SHOW LESS

13
Radio Vago : Sophmore
This is one of the best all girl bands I can think of off the top of my head, and it is one of the best "we ma [...]

SHOW MORE

Track 3 from Black & White Photo Enterprise
Length: 00:02:47
Year: 2002
Track Description:
This is one of the best all girl bands I can think of off the top of my head, and it is one of the best "we make 80's indie music" rock bands. This should provide just enough variety to the mix to keep someone from passing out mid-coitus.

SHOW LESS

14
Aphex Twin : Nannou
This makes the whole scene a lot cuter.

SHOW MORE

Track 3 from Window Licker
Length: 00:04:13
Year: 1999
Track Description:
This makes the whole scene a lot cuter.

SHOW LESS

15
Mugison : I'm On Fire
This plays as everyone slowly passes out. Spit, semen, blood, and fartz all over everyone. Mugison carries t [...]

SHOW MORE

Track 4 from Lonely Mountain
Length: 00:04:02
Year: 0000
Track Description:
This plays as everyone slowly passes out. Spit, semen, blood, and fartz all over everyone. Mugison carries them into their much needed slumber.

SHOW LESS
Tag Board
You must log in to leave a tag
Stuff
Quick Jump
sledgbrainerd's other mixes
Related mixes
recent visitors
show all