[?]
Not a member? Sign-up now, it's free!
Login
[?]
These are links to some of the major sections in the mixtape collective.
Lists: Browse various lists that are generated by the loads of data we have collected.
Contests: Check out the latest contests, see previous winners, and find out how you can be a part
Music: Check out our ever-growing database of musical knowledge! Use it to find any artist, album, or track that has been entered since the birth of the site and rate and find detailed usage statistics.
Main
[?]
Tired of looking at the same old pages? Try checking out a random one, you never know what you might find...
Random!
The Throne Funk EP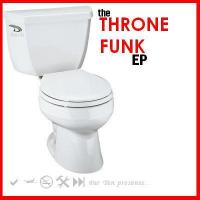 The Throne Funk EP
Created by:
ParYen
Tracks:
7
Length:
00:29:23
Keywords
1. bathroom break
2. special interest
3. fresh air
Created on
8/19/06 02:55am
Level
8
Points
3702
Total visitors
216
Unique visitors
92
description:
Don't be fooled by the word 'funk' in the title! This is not a funk music mixtape. It's something better. Or a lot worse! It's something to pass the time and supplement gameboy tetris when nature calls. A fun time can be had by all. Just use your imagination.

Sure, these songs can be enjoyed individually by a variety of different people... and they're A-okay. BUTT, and this is a big butt, when heard in this context, they take on new meaning and can be much funnier. ESPECIALLY the choruses and/or hooks!

Still don't get it? Too bad for you. Catch it in round two. Maybe the album cover can give you a clue! Think about it the next time you make a trip to "the office."
tracklist
1
Juvenile : Back That Thing Up (Edited)
I don't like the regular explicit version for this mix. You gotta either go with the alternate lyrics version [...]

SHOW MORE

Track 13 from 400 Degreez
Length: 00:04:25
Year: 1998
Track Description:
I don't like the regular explicit version for this mix. You gotta either go with the alternate lyrics version of "Back That Thing Up" (like you hear it on TV), OR for even more hilariousness, you can opt for the "Back That Azz Up" (Edited Version) complete with sound effect scratches in place of the swear words. The latter version gets out of hand with the scratches, I'll tell you what! Me personally, I can't stop laughing when I hear this mess! But in all seriousness, even though I'm not a big fan of this particular artist, I have to give it up for the energy of this beat and this song. To me, it's a fun way to start your time on the throne... and you can pretend that your toilet is rapping the hook to you: "back that thing up" (translates to, "why don't you have a seat").

As with all the songs in this mix, abandon what you know of them, and as you listen, pretend they're refering to the magical bodily function of something we like to call Number Two (#2)!

SHOW LESS

2
Salt-N-Pepa : Push It (Remix)
In a way, if you really think about it, this is a motivational song, and great one to start out on a high note [...]

SHOW MORE

Track 1 from Hot, Cool & Vicious
Length: 00:04:32
Year: 1986
Track Description:
In a way, if you really think about it, this is a motivational song, and great one to start out on a high note. Talk about encouraging words from Ms. Salt and Ms. Pepa! Hey, like I always say, strive for excellence in everything you do... "push it real good!"

SHOW LESS

3
Snoop Dogg : Drop It Like It's Hot
More encouraging words from the artist formerly known as Snoop Doggy Dog. And a fun song to get down to. Thi [...]

SHOW MORE

Track 3 from R&G (Rhythm & Gangsta): The Masterpiece
Length: 00:04:26
Year: 2004
Track Description:
More encouraging words from the artist formerly known as Snoop Doggy Dog. And a fun song to get down to. This song finds itself kind of mid-mix because who knows, you might doing what he's saying right now!

SHOW LESS

4
Enya : On Your Shore
Sometimes you just can't have all that hootin' and hollerin' when you're in the office. Maybe it's an extra t [...]

SHOW MORE

Track 3 from Watermark
Length: 00:04:00
Year: 1988
Track Description:
Sometimes you just can't have all that hootin' and hollerin' when you're in the office. Maybe it's an extra tough day. Just skip ahead to this song and release all the tension-- and anything else you've been holding in. (Did I just actually write that?!?!?) There's nothing like a little Enya to make things a little easier. Plus, you can't beat the fact that it's from an album titled 'Watermark'.

SHOW LESS

5
The Gap Band : You Dropped A Bomb On Me
So this song finds us about 20 minutes into the mix. Who knows where you're at, but like most people, you're [...]

SHOW MORE

Track 6 from IV
Length: 00:05:12
Year: 1982
Track Description:
So this song finds us about 20 minutes into the mix. Who knows where you're at, but like most people, you're probably done with your office business, or maybe just finishing up. Maybe finishing a few more lines of Tetris? While the other "hot tracks" were focused more in the present-- commands even ("PUSH IT real good"; "DROP IT like it's hot"; etc)-- this song is fitting because it's PAST tense-- "you DROPPED a bomb..." Such a great theme song for your job well done! (Again, did I just actually write that?!?!?!?)

SHOW LESS

6
James Brown : I Got You (I Feel Good)
So listen up. You have a few options now that you're done in the office. Option A: Keep the mix here because [...]

SHOW MORE

Track 1 from I Got You (I Feel Good)
Length: 00:02:48
Year: 1966
Track Description:
So listen up. You have a few options now that you're done in the office. Option A: Keep the mix here because, yes, you DO feel good... like you knew that you would! And what a great song to end your whole adventure on.

Or Option B: (go to next track)

SHOW LESS

7
Outkast : So Fresh, So Clean
...Option B: Yes, you ARE so fresh... and you ARE so clean (your large intestine and rectum sure are, and hope [...]

SHOW MORE

Track 4 from Stankonia
Length: 00:04:00
Year: 2000
Track Description:
...Option B: Yes, you ARE so fresh... and you ARE so clean (your large intestine and rectum sure are, and hopefully you washed your hands thoroughly). I almost can't think of a better song to strut out of the office to than this.

Option C: Play BOTH of these last tracks because you know you want to.

And here we are, under 30 minutes. Plenty of time for you to have taken care of the business you needed to take care of, play some Tetris, and listen to a fresh mix.

SHOW LESS
Tag Board
You must log in to leave a tag
Stuff
Quick Jump
ParYen's other mixes
Related mixes
recent visitors
show all