[?]
Not a member? Sign-up now, it's free!
Login
[?]
These are links to some of the major sections in the mixtape collective.
Lists: Browse various lists that are generated by the loads of data we have collected.
Contests: Check out the latest contests, see previous winners, and find out how you can be a part
Music: Check out our ever-growing database of musical knowledge! Use it to find any artist, album, or track that has been entered since the birth of the site and rate and find detailed usage statistics.
Main
[?]
Tired of looking at the same old pages? Try checking out a random one, you never know what you might find...
Random!
Gotta Get Up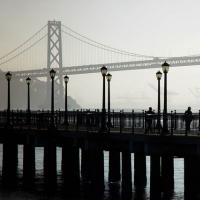 Gotta Get Up
Created by:
Eraserhead
Tracks:
23
Length:
01:14:41
Keywords
1. Mix Contest 8
2. Mix Contest 8
3. Mix Contest 8
Created on
1/27/07 10:07pm
Level
6
Points
2720
Total visitors
92
Unique visitors
45
This mix was ranked #8 out of 18 entries for this contest
description:
Ok, so my school starts at 7:30 in the morning. Because public transportation is notoriously shitty, I have to wake up at 6:00 so as to catch an early, definite train. Not only that, but I'm surrounded by bloody yuppies yacking away on their Blackberrys for the whole ride (Why do I always have to feel like I'm living out American Psycho?!). I'm not really as bitter about the whole thing as I sound (even though I have to be outta the house before the sun is even up), it's just not the ideal situation.

This mix is for those days, when I'm racing around the house in the dark, getting my bearings together, only to have the train screw me over, just so I can rush over to a school that isn't even that fun.

Tracks 1 - 7: Getting ready to leave the house.
Tracks 8 - 16: Walking to the train-stop / riding the train.
Tracks 17 - 23: Getting off the train and walking the final stretch to my first class.

Sorry for the rant, and enjoy!
tracklist
1
Harry Nilsson : Gotta Get Up
The mix's namesake, and a damn fine track. I used to oversleep all the time in middle school, so my mom strte [...]

SHOW MORE

Track 1 from Nilsson Schmilsson
Length: 00:02:23
Year: 1973
Track Description:
The mix's namesake, and a damn fine track. I used to oversleep all the time in middle school, so my mom strted to wake me up by sneaking into my room with a boombox and blasting this next to my bed. Hell, I gotta get up!

SHOW LESS

2
Frank Zappa : Hungry Freaks, Daddy
"Mr. America, walk on by your schools that do not teach." Amen.

SHOW MORE

Track 1 from Freak Out!
Length: 00:03:29
Year: 1965
Track Description:
"Mr. America, walk on by your schools that do not teach." Amen.

SHOW LESS

3
Moby Grape : Omaha
A good song to keep the energy up.

SHOW MORE

Track 6 from Moby Grape
Length: 00:02:25
Year: 1967
Track Description:
A good song to keep the energy up.

SHOW LESS

4
Captain Beefheart and His Magic Band : Zig Zag Wanderer
Another song that motivates me. Great, driving beat.

SHOW MORE

Track 2 from Safe As Milk
Length: 00:02:40
Year: 1967
Track Description:
Another song that motivates me. Great, driving beat.

SHOW LESS

5
The Yardbirds : Stroll On
This song makes me feel great! First heard it in Blow-Up, now I gotta hear it every morning.

SHOW MORE

Track 22 from Over, Under, Sideways, Down
Length: 00:02:38
Year: 0000
Track Description:
This song makes me feel great! First heard it in Blow-Up, now I gotta hear it every morning.

SHOW LESS

6
The Velvet Underground : Run Run Run
A good dirge to keep me moving while packing my backpack.

SHOW MORE

Track 5 from The Velvet Underground & Nico
Length: 00:04:24
Year: 1967
Track Description:
A good dirge to keep me moving while packing my backpack.

SHOW LESS

7
David Bowie : Queen Bitch
Aw yeah, I'm probably leaving the house at this point! I feel so good when I hear this song, I'm almost looki [...]

SHOW MORE

Track 10 from Hunky Dory
Length: 00:03:19
Year: 1971
Track Description:
Aw yeah, I'm probably leaving the house at this point! I feel so good when I hear this song, I'm almost looking forward to school.

SHOW LESS

8
The Thermals : Here's Your Future
The first part of the mix was just to get me going. When I'm walking / train-riding I need pretty aggressive, [...]

SHOW MORE

Track 1 from The Body, The Blood, The Machine
Length: 00:02:28
Year: 2006
Track Description:
The first part of the mix was just to get me going. When I'm walking / train-riding I need pretty aggressive, or at least hard-driving, music. This is a great starter for that.

SHOW LESS

9
Gogol Bordello : I Would Never Wanna Be Young Again
Gypsy punk punctuated by female screams! That's one badass fiddle they got playing!

SHOW MORE

Track 2 from Gypsy Punks - Underdog World Strike
Length: 00:03:46
Year: 2005
Track Description:
Gypsy punk punctuated by female screams! That's one badass fiddle they got playing!

SHOW LESS

10
Pidgeon : Strelnikov
Holy shit, this is menacing. "We will kill you!" A song about Pasha Andropov and how war makes people into d [...]

SHOW MORE

Track 2 from From Gutter w/ Love
Length: 00:03:34
Year: 0000
Track Description:
Holy shit, this is menacing. "We will kill you!" A song about Pasha Andropov and how war makes people into disgusting assholes. Keeps me going, at least.

SHOW LESS

11
Operation Ivy : Knowledge
At some point in my trek I think about school and realize I'M NOT LEARNING SHIT.

SHOW MORE

Track 1 from Energy
Length: 00:01:44
Year: 1991
Track Description:
At some point in my trek I think about school and realize I'M NOT LEARNING SHIT.

SHOW LESS

12
Boris : Woman on the Screen
One of Boris' more outwardly "punk" songs. I love this.

SHOW MORE

Track 3 from Pink
Length: 00:02:38
Year: 2005
Track Description:
One of Boris' more outwardly "punk" songs. I love this.

SHOW LESS

13
Converge : Hellbound
A short interlude to wake me up a bit more.

SHOW MORE

Track 2 from No Heroes
Length: 00:01:07
Year: 2006
Track Description:
A short interlude to wake me up a bit more.

SHOW LESS

14
black flag : Rise Above
Yuppies suck.

SHOW MORE

Track 1 from damaged
Length: 00:02:26
Year: 1981
Track Description:
Yuppies suck.

SHOW LESS

15
Comets on Fire : Graverobbers
Hella good psych-metal. I love walking to this.

SHOW MORE

Track 2 from Comets on Fire
Length: 00:04:40
Year: 2001
Track Description:
Hella good psych-metal. I love walking to this.

SHOW LESS

16
The Jesus and Mary Chain : The Living End
Continues in the same vein as the other songs. Sounds so bad-ass.

SHOW MORE

Track 2 from Psychocandy
Length: 00:02:16
Year: 1985
Track Description:
Continues in the same vein as the other songs. Sounds so bad-ass.

SHOW LESS

17
Yo La Tengo : Sugarcube
I'm finally let out at my stop. These final songs turn down the volume, but leave the energy. Shit, I still [...]

SHOW MORE

Track 3 from I Can Hear the Heart Beating as One
Length: 00:03:21
Year: 1997
Track Description:
I'm finally let out at my stop. These final songs turn down the volume, but leave the energy. Shit, I still have walking to do. This-here is a sweet little ditty about love.

SHOW LESS

18
Animal Collective : Grass
A nice, ethereal pop song. Good for the walk.

SHOW MORE

Track 2 from Feels
Length: 00:03:01
Year: 2005
Track Description:
A nice, ethereal pop song. Good for the walk.

SHOW LESS

19
Sunset Rubdown : They Took a Vote and Said No
This is a great marching song.

SHOW MORE

Track 2 from Shut Up I Am Dreaming
Length: 00:03:43
Year: 2006
Track Description:
This is a great marching song.

SHOW LESS

20
Nick Cave And The Bad Seeds : Red Right Hand
My high school is right next door to my old elementary school, and as I come walking down the street, all the [...]

SHOW MORE

Track 5 from Let Love In
Length: 00:06:10
Year: 1994
Track Description:
My high school is right next door to my old elementary school, and as I come walking down the street, all the little kids go running away in terror!

SHOW LESS

21
TV On The Radio : Staring at the Sun
I dunno why, but this song makes me get all emotional and feel ready for anything At this point I'm pretty cl [...]

SHOW MORE

Track 2 from Desperate Youth, Blood Thirsty Babes
Length: 00:03:27
Year: 2004
Track Description:
I dunno why, but this song makes me get all emotional and feel ready for anything At this point I'm pretty close to school, so I need the boost.

SHOW LESS

22
Man Man : Van Helsing Boombox
Another one that makes me go all gooey. So wistful, a good song to hear right before I enter school.

SHOW MORE

Track 10 from Six Demon Bag
Length: 00:03:44
Year: 2006
Track Description:
Another one that makes me go all gooey. So wistful, a good song to hear right before I enter school.

SHOW LESS

23
Hot Chip : Boy From School
My theme song for walking down the halls. As I hear this, I can't help but wish that the trip to school laste [...]

SHOW MORE

Track 1 from Boy From School- EP
Length: 00:05:18
Year: 2006
Track Description:
My theme song for walking down the halls. As I hear this, I can't help but wish that the trip to school lasted a bit longer.

SHOW LESS
Tag Board
You must log in to leave a tag
Stuff
Quick Jump
Eraserhead's other mixes
Related mixes
recent visitors
show all