[?]
Not a member? Sign-up now, it's free!
Login
[?]
These are links to some of the major sections in the mixtape collective.
Lists: Browse various lists that are generated by the loads of data we have collected.
Contests: Check out the latest contests, see previous winners, and find out how you can be a part
Music: Check out our ever-growing database of musical knowledge! Use it to find any artist, album, or track that has been entered since the birth of the site and rate and find detailed usage statistics.
Main
[?]
Tired of looking at the same old pages? Try checking out a random one, you never know what you might find...
Random!
"That's how much fuck fish."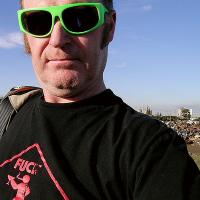 "That's how much fuck fish."
Created by:
lord_bearded
Tracks:
20
Length:
01:17:24
Keywords
1. Mix Contest 12 - T07
2. Mix Contest 12 - T07
3. Mix Contest 12 - T07
Created on
5/28/07 07:05pm
Level
6
Points
2625
Total visitors
96
Unique visitors
42
This mix was ranked #3 out of 9 entries for this contest
description:
Look, I'll tell you a story, all right? I once feel deeply, profoundly in love with tropical fish. Had 60 goddamn fish tanks in my house. I skin dived to find just the right ones. Then one day I say fuck fish. I renounce fish. I vow never to set foot in that ocean again.
tracklist
1
The Murder City Devils : My Little Red Book
A Manfred Mann song. Ian and I heard it being played before we saw WeeN I think. We didn't know who it was. M [...]

SHOW MORE

Track 13 from In Name And Blood (canadian release)
Length: 00:02:42
Year: 2000
Track Description:
A Manfred Mann song. Ian and I heard it being played before we saw WeeN I think. We didn't know who it was. MCD released it in 2000.

SHOW LESS

2
The Thrones : The Anguish of Bears
Recorded in the year 2000. sounds like 20,000,000,...

SHOW MORE

Track 7 from Sperm Whale
Length: 00:04:11
Year: 2004
Track Description:
Recorded in the year 2000. sounds like 20,000,000,...

SHOW LESS

3
Fantomas : Der Golem
(2001) Immagining Beanie shaking and hiding. Jolting and ghasping. High as hell, Jerry brought it over. I hadn [...]

SHOW MORE

Track 2 from Directors Cut
Length: 00:02:38
Year: 2001
Track Description:
(2001) Immagining Beanie shaking and hiding. Jolting and ghasping. High as hell, Jerry brought it over. I hadn't heard Patton since i was a sophomore and my friend Ethan Hutter showed the first Mr. Bungle to me.
My mind Was Blown as usual.

SHOW LESS

4
Tom Waits : God's Away on Business
(2002) Sliped and fell hard for the newest/oldest/newest again sound in the world.

SHOW MORE

Track 5 from Blood Money
Length: 00:02:59
Year: 0000
Track Description:
(2002) Sliped and fell hard for the newest/oldest/newest again sound in the world.

SHOW LESS

5
Themselves : Paging Dr. Moon or Gun
(2002) The First song off the album that jumed on me and then proceeded to rape the shit out of my hairy brown [...]

SHOW MORE

Track 7 from The No Music
Length: 00:03:42
Year: 2002
Track Description:
(2002) The First song off the album that jumed on me and then proceeded to rape the shit out of my hairy brown asshole.

SHOW LESS

6
The Dillinger Escape Plan w/ Mike Patton : When Good Dogs Do Bad Things
(2002) "I'm the best you'll ever have
You're the best I'll never have

Pain...
Gone.
[...]

SHOW MORE

Track 3 from Irony is a Dead Scene
Length: 00:06:00
Year: 2002
Track Description:
(2002) "I'm the best you'll ever have
You're the best I'll never have

Pain...
Gone.
Rain...
Stop.
Sun...
Shine.
You're...
Mine.

Here kitty kitty kitty

MOMMY MOMMY MOMMY MOMMY MOMMY

Listen:
listen through the walls
the sound of quick footsteps sneaking down the hall
whispers
the pages turning
the leaky roof
the toilet flushing
numbers on the license plate

I'm nothing more than
The best you'll never have
A speck on your bedroom wall
A blood red waterfall

THE BEST YOU WILL EVER HAVE

Your dead things are locked up inside
Blow smoke rings straight back in time
Roses floating out with the tide
Dance and sing under gunfire
Open wings slowly take flight...

Around these parts a fly can live---
A fly can live a thousand years
but a man cannot die soon enough, true enough

A smiling drunk nursing a glass of milk
A girl with a face like prison bread
Over the kitchen noise I hear them howl at me

A scabby ketchup bottle and a two-dollar bill
I guess its time to pay the bill, but you know I never will
I'm hungry still...

RUN AWAY RUN AWAY RUN AWAY RUN AWAY

Mercy killing on the way
Never thought I'd hear you say
Falling to your knees and pray now...

In this crowded place I could swing a cat
And not even hit a soul...
It's just the lonely vacuum of human black holes

And I'm as dry as these thirsty trees
with big city thoughts in the dirty breeze...
promising to set me free
"waiter, check please..."

I'M THE BEST YOU WILL EVER HAVE

SHOW LESS

7
The Locust : Practiced Hatred
(2003) i love Gabe and Joey!

SHOW MORE

Track 14 from Plague Soundscapes
Length: 00:00:34
Year: 2003
Track Description:
(2003) i love Gabe and Joey!

SHOW LESS

8
Pelican : Mammoth
(2003) found while walking with J.Davis's ipod#1.

SHOW MORE

Track 2 from Pelican
Length: 00:04:57
Year: 2003
Track Description:
(2003) found while walking with J.Davis's ipod#1.

SHOW LESS

9
Isis : So Did We
(2004) Sadly thier last good album in my opinion.

SHOW MORE

Track 1 from Panopticon
Length: 00:07:30
Year: 2004
Track Description:
(2004) Sadly thier last good album in my opinion.

SHOW LESS

10
Smoke and Smoke : Into the Smoke and Smoke
(2004) A triumphant return of the always amazing Spencer after a sad first/last album with DLT. But this one w [...]

SHOW MORE

Track 2 from Love Suffers Long
Length: 00:02:50
Year: 2005
Track Description:
(2004) A triumphant return of the always amazing Spencer after a sad first/last album with DLT. But this one would prove to be yet another sad first/last go for Moody. but the rock does not and i mean does NOT stop on this record. Get it if you need it. and I say you NEED it/.

SHOW LESS

11
John Frusciante : Dissolve
(2004) A very cool thing that happened. The first I bought of the series. then I purchased Inside of Emptyness [...]

SHOW MORE

Track 1 from DC EP
Length: 00:04:27
Year: 2004
Track Description:
(2004) A very cool thing that happened. The first I bought of the series. then I purchased Inside of Emptyness and i forgot to buy Ataxia. and i hate the Mars Volta.

SHOW LESS

12
Jello Biafra w/ The Melvins : Plethysmograph
(2004) Amazing first track from this orgasm finding porno satire. love you!

SHOW MORE

Track 1 from Never Breath What You Can't See
Length: 00:04:49
Year: 2004
Track Description:
(2004) Amazing first track from this orgasm finding porno satire. love you!

SHOW LESS

13
Moistboyz : Uncle Sam and Me
(2005) Moist and fuck.

SHOW MORE

Track 2 from IV
Length: 00:02:37
Year: 2005
Track Description:
(2005) Moist and fuck.

SHOW LESS

14
Boris : 2nd track
(2006) From an out of pring vinyl release. Saw BORIS and SunnO))) with the Thrones the day before halloween '0 [...]

SHOW MORE

Track 2 from Vien
Length: 00:02:15
Year: 2006
Track Description:
(2006) From an out of pring vinyl release. Saw BORIS and SunnO))) with the Thrones the day before halloween '05. wowee was it good.

SHOW LESS

15
The Residents : Ingrid's Oily Tongue
(2005) a sweet little instrumental by the sweetheads.

SHOW MORE

Track 9 from Animal Lover
Length: 00:01:55
Year: 2005
Track Description:
(2005) a sweet little instrumental by the sweetheads.

SHOW LESS

16
Sunn O))) & BORIS : N.L.T.
(2006) i reeeeeeeeeeally like this album sledge! watchout!

SHOW MORE

Track 2 from Altar
Length: 00:03:50
Year: 2006
Track Description:
(2006) i reeeeeeeeeeally like this album sledge! watchout!

SHOW LESS

17
The Melvins : The Mechanical Bride
(2006) From my favorite rock band to my other favorite rock band i love you all so much. my my my. How much of [...]

SHOW MORE

Track 9 from (a) Senile Animal
Length: 00:06:25
Year: 2006
Track Description:
(2006) From my favorite rock band to my other favorite rock band i love you all so much. my my my. How much of a miricle this album was. a miricle. thats how much fuck '90-'97.

SHOW LESS

18
Earth : Coda Meastro in F (flat) Minor
(2007) Also remixed by Autecre in 2006. so fuck you. and buy this package it's really neat.

SHOW MORE

Track 2 from Hibernaculum
Length: 00:06:52
Year: 2007
Track Description:
(2007) Also remixed by Autecre in 2006. so fuck you. and buy this package it's really neat.

SHOW LESS

19
Big Business : Shields
(2007)what a great gift the biz is to us. and to the Melvs. thank you lord. thank you lord.

SHOW MORE

Track 3 from Here Come the Waterworks
Length: 00:03:07
Year: 2007
Track Description:
(2007)what a great gift the biz is to us. and to the Melvs. thank you lord. thank you lord.

SHOW LESS

20
Tomahawk : Totem
(2007) future time bitches!

SHOW MORE

Track 11 from Anonymous
Length: 00:03:04
Year: 2007
Track Description:
(2007) future time bitches!

SHOW LESS
Tag Board
You must log in to leave a tag
Stuff
Quick Jump
lord_bearded's other mixes
Related mixes
recent visitors
show all