[?]
Not a member? Sign-up now, it's free!
Login
[?]
These are links to some of the major sections in the mixtape collective.
Lists: Browse various lists that are generated by the loads of data we have collected.
Contests: Check out the latest contests, see previous winners, and find out how you can be a part
Music: Check out our ever-growing database of musical knowledge! Use it to find any artist, album, or track that has been entered since the birth of the site and rate and find detailed usage statistics.
Main
[?]
Tired of looking at the same old pages? Try checking out a random one, you never know what you might find...
Random!
EVIL vs. GOOD (volume 2)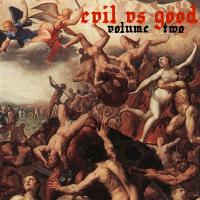 EVIL vs. GOOD (volume 2)
Created by:
Alice
Tracks:
12
Length:
00:58:54
Keywords
1. evil
2. good
3. epic battle
Created on
9/29/06 12:14pm
Level
5
Points
2308
Total visitors
81
Unique visitors
45
description:
Side A - GOOD
Side B - EVIL

I'm a Buddhist. I was born and raised as one, and basically remain one, although I don't practice. This tape is not a relgious declaration, merely a collection of songs about the most epic war ever waged -- GOOD VERSUS EVIL.

Both are as close to 30 minutes as I can make them. This tape has physically been made and will go out to anyone who requests a trade. Just send me a message!
tracklist
1
City Of Caterpillar : And You're Wondering How A Top Floor Could Replace Heaven
This mix obviously has to start with us here on earth contemplating heaven

SHOW MORE

Track 1 from The City Of Caterpillar
Length: 00:08:32
Year: 2003
Track Description:
This mix obviously has to start with us here on earth contemplating heaven

SHOW LESS

2
Page 99 : My Application To Heaven
... and then applying to go there (also CoC into pg99 is rad)

SHOW MORE

Track 4 from Document #5
Length: 00:03:03
Year: 2000
Track Description:
... and then applying to go there (also CoC into pg99 is rad)

SHOW LESS

3
Darkest Hour : Paradise
And here we have an epic metal song about heaven

SHOW MORE

Track 10 from Undoing Ruin
Length: 00:03:44
Year: 2005
Track Description:
And here we have an epic metal song about heaven

SHOW LESS

4
Candlemass : The Edge Of Heaven
... And another...

SHOW MORE

Track 7 from Tales Of Creation
Length: 00:06:24
Year: 1989
Track Description:
... And another...

SHOW LESS

5
Dragonforce : My Spirit Will Go On
And dragonforce bringing up the rear with an epic ballad about everlasting life.

SHOW MORE

Track 1 from Sonic Firestorm
Length: 00:07:54
Year: 2004
Track Description:
And dragonforce bringing up the rear with an epic ballad about everlasting life.

SHOW LESS

6
Cradle Of Filth : Heaven Torn Asunder
First track. Side B. Heaven is ripped to shreds.

SHOW MORE

Track 2 from Dusk And Her Embrace
Length: 00:06:04
Year: 1996
Track Description:
First track. Side B. Heaven is ripped to shreds.

SHOW LESS

7
Cryptopsy : Crown Of Horns
Cryptopsy shredding it up for the dark side.

SHOW MORE

Track 1 from None So Vile
Length: 00:03:57
Year: 1996
Track Description:
Cryptopsy shredding it up for the dark side.

SHOW LESS

8
3 Inches Of Blood : Deadly Sinners
CRUSHING THE LIGHT!
STALKING THE NIGHT!
DEADLY SINNERS ALWAYS WIN!
(enemies of metal-- your [...]

SHOW MORE

Track 2 from Advance And Vanquish
Length: 00:04:32
Year: 2004
Track Description:
CRUSHING THE LIGHT!
STALKING THE NIGHT!
DEADLY SINNERS ALWAYS WIN!
(enemies of metal-- your death is our reward!)

SHOW LESS

9
Nine Inch Nails : Heresy
your god is dead and no one cares
if there is a hell I will see you there

SHOW MORE

Track 3 from The Downward Spiral
Length: 00:03:54
Year: 1994
Track Description:
your god is dead and no one cares
if there is a hell I will see you there

SHOW LESS

10
Hammerfall : Run With The Devil
RUN WITH THE DEVIL! ahh this song rules.

SHOW MORE

Track 11 from Renegade
Length: 00:03:34
Year: 0000
Track Description:
RUN WITH THE DEVIL! ahh this song rules.

SHOW LESS

11
Death : Evil Dead
they're dead! and evil! and dead! obviously in hell.

SHOW MORE

Track 9 from Scream Bloody Gore
Length: 00:02:59
Year: 1987
Track Description:
they're dead! and evil! and dead! obviously in hell.

SHOW LESS

12
Grim Reaper : See You In Hell
And the best possible way to end this mix is with "hellllllllllllllllllllllllll"

SHOW MORE

Track 1 from See You In Hell
Length: 00:04:17
Year: 0000
Track Description:
And the best possible way to end this mix is with "hellllllllllllllllllllllllll"

SHOW LESS
Tag Board
You must log in to leave a tag
Stuff
Quick Jump
Alice's other mixes
Related mixes
recent visitors
show all