[?]
Not a member? Sign-up now, it's free!
Login
[?]
These are links to some of the major sections in the mixtape collective.
Lists: Browse various lists that are generated by the loads of data we have collected.
Contests: Check out the latest contests, see previous winners, and find out how you can be a part
Music: Check out our ever-growing database of musical knowledge! Use it to find any artist, album, or track that has been entered since the birth of the site and rate and find detailed usage statistics.
Main
[?]
Tired of looking at the same old pages? Try checking out a random one, you never know what you might find...
Random!
Pleased to Meet You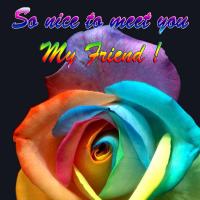 Pleased to Meet You
Created by:
blossomworld
Tracks:
22
Length:
01:17:05
Keywords
1. songs
2. for a
3. stranger
Created on
7/20/08 02:59am
Level
3
Points
1545
Total visitors
29
Unique visitors
19
description:
So, the college where I'm starting in the fall has this mixtape exchange group on facebook, and I've been assigned to send a mix to a girl I've never met. This is the mix I came up with and sent to her today. It doesn't have a theme, but I tried to keep it mostly full of cheery songs because apparently not everybody likes to be depressed. Also, there are a lot of songs on it that I've used on other mixes, just because I wanted to give this gal a real idea of what kind of music I like.

tracklist
1
Be Your Own PET : Wildcat!
This rousing mix-starter was chosen because its title is also the mascot of our school. I know that's way too [...]

SHOW MORE

Track 4 from Be Your Own Pet
Length: 00:01:24
Year: 2006
Track Description:
This rousing mix-starter was chosen because its title is also the mascot of our school. I know that's way too cute. But it's also totally b'dass: "I am a wildcat!/You are a worm!"

SHOW LESS

2
The Bens : xfire
This is a fun little number by the Bens (Ben Lee, Ben Folds, and Ben Kweller's group). It's dancey and it sta [...]

SHOW MORE

Track 2 from The Bens EP
Length: 00:04:00
Year: 2004
Track Description:
This is a fun little number by the Bens (Ben Lee, Ben Folds, and Ben Kweller's group). It's dancey and it starts with the lines "We're famous/Contagious/We make outrageous claims," which is a pretty great way to start a song. I like all the faux-bravado Lee and Folds and even little Kweller throw around on this one.

SHOW LESS

3
The Apples in Stereo : The Bird That You Can't See
I hope June Choi likes to dance, because she's not going to be able to help it while listening to this mix. T [...]

SHOW MORE

Track 10 from The Discovery of a World Inside the Moone
Length: 00:03:56
Year: 2000
Track Description:
I hope June Choi likes to dance, because she's not going to be able to help it while listening to this mix. This AiS number is surprisingly and delightfully funky.

SHOW LESS

4
Electric Six : Danger! High Voltage
I've put this on other mixes. But it's just so much fun!

SHOW MORE

Track 4 from Fire
Length: 00:03:49
Year: 2003
Track Description:
I've put this on other mixes. But it's just so much fun!

SHOW LESS

5
The Raveonettes : My Boyfriend's Back
Fun cover.

SHOW MORE

Track 6 from Pretty in Black
Length: 00:02:39
Year: 2005
Track Description:
Fun cover.

SHOW LESS

6
Destroyer : The Sublimation Hour
Another song with a great opening line: "So you had the best legs in a business built for kicks..."

SHOW MORE

Track 4 from Streethawk: A Seduction
Length: 00:04:12
Year: 0000
Track Description:
Another song with a great opening line: "So you had the best legs in a business built for kicks..."

SHOW LESS

7
Arctic Monkeys : You Know I'm Know Good
A silly, light-hearted cover to let the girl know I have a sense of humor.

SHOW MORE

Track 2 from Covers Mixtape
Length: 00:03:41
Year: 2008
Track Description:
A silly, light-hearted cover to let the girl know I have a sense of humor.

SHOW LESS

8
The Flaming Lips : Yoshimi Battle the Pink Robots, Pt. 1
I put this on lots of mixes. Because it is totally boss.

SHOW MORE

Track 3 from Yoshimi Battles the Pink Robots
Length: 00:04:45
Year: 2002
Track Description:
I put this on lots of mixes. Because it is totally boss.

SHOW LESS

9
Blur : Coffee and TV
Just letting her know what I like: coffee, tv, and Damon Albarn.

SHOW MORE

Track 3 from 13
Length: 00:05:58
Year: 1999
Track Description:
Just letting her know what I like: coffee, tv, and Damon Albarn.

SHOW LESS

10
Cat Stevens : Here Comes My Baby
So bright and happy. I put this on here because if you don't like it, you do not have a soul.

SHOW MORE

Track 9 from Rushmore
Length: 00:02:54
Year: 1999
Track Description:
So bright and happy. I put this on here because if you don't like it, you do not have a soul.

SHOW LESS

11
The Snow Fairies : The Love Affairs of a Southern Belle
Such a pretty song! The lead singer has a lovely voice.

SHOW MORE

Track 1 from Voila!
Length: 00:02:22
Year: 2006
Track Description:
Such a pretty song! The lead singer has a lovely voice.

SHOW LESS

12
Pony Up! : Shut Up and Kiss Me
I love how bratty this song is: "i am sorry that you're stupid/i can't be your fucking cupid." a favorite...i [...]

SHOW MORE

Track 1 from Pony Up!
Length: 00:03:41
Year: 2005
Track Description:
I love how bratty this song is: "i am sorry that you're stupid/i can't be your fucking cupid." a favorite...i just hope she's not easily offended.

SHOW LESS

13
The Pipettes : ABC
So much fun! Also, let's her know about my priorities: "He knows all about the movements of the planets/But h [...]

SHOW MORE

Track 13 from we are the pipettes
Length: 00:02:07
Year: 2006
Track Description:
So much fun! Also, let's her know about my priorities: "He knows all about the movements of the planets/But he don't know how to move me/He knows about the sonic spectrum damnit/But he don't know if it's groovy."

SHOW LESS

14
Jens Lekman : A Postcard to Nina
I love this song so much. Jens Lekman's story-song about pretending to be the boyfriend of his lesbian friend [...]

SHOW MORE

Track 4 from Night Falls Over Koredala
Length: 00:05:00
Year: 2007
Track Description:
I love this song so much. Jens Lekman's story-song about pretending to be the boyfriend of his lesbian friend Nina at a dinner with her family. Jens is so adorable. I love the way he pronounces the word "father."

SHOW LESS

15
The Boy Least Likely To : Hugging My Grudge
Tells her a little bit about me: "I've always been chasing rainbows/staring out of classroom windows/I don't t [...]

SHOW MORE

Track 10 from The Best Party Ever
Length: 00:04:04
Year: 2005
Track Description:
Tells her a little bit about me: "I've always been chasing rainbows/staring out of classroom windows/I don't think I'll ever be/happy unless I'm unhappy and hugging my grudge."

SHOW LESS

16
Brendan Benson : What I'm Looking For
A perfect pop song.

SHOW MORE

Track 11 from Alternative to Love
Length: 00:03:31
Year: 2005
Track Description:
A perfect pop song.

SHOW LESS

17
Sondre Lerche : My Hands Are Shaking
I've been kind of obsessed with this song for the last few weeks.

SHOW MORE

Track 5 from Dan in Real Life
Length: 00:03:00
Year: 2007
Track Description:
I've been kind of obsessed with this song for the last few weeks.

SHOW LESS

18
David Bowie : Kooks
If the girl doesn't like this song, we just can't be friends. Plus, it's a very good "pleased to meet you" ki [...]

SHOW MORE

Track 5 from Hunky Dory
Length: 00:02:53
Year: 1971
Track Description:
If the girl doesn't like this song, we just can't be friends. Plus, it's a very good "pleased to meet you" kind of song: "Will you stay in our Lovers' Story/If you stay you won't be sorry/'Cause we believe in you/Soon you'll grow so take a chance/With a couple of Kooks/Hung up on romancing," although I'm only one kook not a couple. Plus, I firmly believe in the line that says: "And if the homework brings you down/Then we'll throw it on the fire/And take the car downtown!"

SHOW LESS

19
The Zombies : Care of Cell 44
One of the strangest happy songs I know. Who writes a song this cheerful about their lover being in prison? [...]

SHOW MORE

Track 1 from Odessey and Oracle
Length: 00:03:56
Year: 0000
Track Description:
One of the strangest happy songs I know. Who writes a song this cheerful about their lover being in prison? The Zombies, I guess.

SHOW LESS

20
The Kinks : Picture Book
Fun nostalgic song.

SHOW MORE

Track 3 from The Kinks Are The Village Green Preservation Society
Length: 00:02:39
Year: 1968
Track Description:
Fun nostalgic song.

SHOW LESS

21
islands : don't call me whitney, bobby
The happiest song ever written about anorexia.

SHOW MORE

Track 2 from return to the sea
Length: 00:02:31
Year: 0000
Track Description:
The happiest song ever written about anorexia.

SHOW LESS

22
Weezer : El Scorcho
ay caraaaaamba!

SHOW MORE

Track 7 from Pinkerton
Length: 00:04:03
Year: 1996
Track Description:
ay caraaaaamba!

SHOW LESS
Tag Board
You must log in to leave a tag
Stuff
Quick Jump
blossomworld's other mixes
Related mixes
recent visitors
show all