[?]
Not a member? Sign-up now, it's free!
Login
[?]
These are links to some of the major sections in the mixtape collective.
Lists: Browse various lists that are generated by the loads of data we have collected.
Contests: Check out the latest contests, see previous winners, and find out how you can be a part
Music: Check out our ever-growing database of musical knowledge! Use it to find any artist, album, or track that has been entered since the birth of the site and rate and find detailed usage statistics.
Main
[?]
Tired of looking at the same old pages? Try checking out a random one, you never know what you might find...
Random!
Get Your Swahili On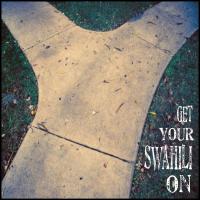 Get Your Swahili On
Created by:
osborne
Tracks:
12
Length:
01:17:40
Keywords
1. Mix Contest 6
2. Mix Contest 6
3. Mix Contest 6
Created on
11/16/06 04:59pm
Level
4
Points
1986
Total visitors
221
Unique visitors
49
This mix was ranked #18 out of 20 entries for this contest
description:
The title was inspired by a phrase I coined several months ago.
Music fit for a night of promiscuity, with the help of alcohol.
Hell, you'd need alcohol just to make it through the first track.

Three-Way Sidewalk ©2006 Brandon Stone.
tracklist
1
Kevin Federline : Popozão
Did not Jesus save the best wine for last? In many ways I am like Jesus. I humbly serve you the worst of it [...]

SHOW MORE

Track 1 from Popozão - EP
Length: 00:03:18
Year: 2006
Track Description:
Did not Jesus save the best wine for last? In many ways I am like Jesus. I humbly serve you the worst of its kind: a sour pressing from the grapes of wrath. Order a carafe or three.

SHOW LESS

2
Prince : Erotic City
We told you not to drink the mead. Now you're in for it. Thankfully, you won't remember this song. Continui [...]

SHOW MORE

Track 0 from The Hits/The B-Sides (Disc 3)
Length: 00:07:26
Year: 0000
Track Description:
We told you not to drink the mead. Now you're in for it. Thankfully, you won't remember this song. Continuing in the same vein as aforementioned song, but, in a way, bearable.

SHOW LESS

3
The Zombies : Time of the Season
This song has been long contested as sexiest song ever written. And rightfully so. Do you dare to challenge [...]

SHOW MORE

Track 9 from Sony Music 100 Years: Pop Music - The Golden Era 1951-1975
Length: 00:03:31
Year: 1999
Track Description:
This song has been long contested as sexiest song ever written. And rightfully so. Do you dare to challenge the opinions of others? I thought not. Drink some more alcohol.

SHOW LESS

4
The Doors : When the Music's Over
The previous song's suffixed organ solo fades wonderfully into the prefixed organ solo in this track. Slow do [...]

SHOW MORE

Track 10 from Strange Days
Length: 00:10:56
Year: 1967
Track Description:
The previous song's suffixed organ solo fades wonderfully into the prefixed organ solo in this track. Slow down that alcohol intake, you'll be buzzed soon enough. Or drunk.

SHOW LESS

5
Sufjan Stevens : Flint (For the Unemployed and Underpaid)
Sentimentality comes natural at this point in time. Just for fun, attempt to say "Sultry Sufjan Stevens sings [...]

SHOW MORE

Track 1 from Greetings from Michigan, The Great Lake State
Length: 00:03:43
Year: 2003
Track Description:
Sentimentality comes natural at this point in time. Just for fun, attempt to say "Sultry Sufjan Stevens sings sentiments softly." Now is the time to find yourself another alcoholic.

SHOW LESS

6
Radiohead : Where I End and You Begin.
Piano resonance and synth warbling sound harmonious when faded together. One of the few legitimate sexual son [...]

SHOW MORE

Track 6 from Hail To The Thief
Length: 00:04:33
Year: 2003
Track Description:
Piano resonance and synth warbling sound harmonious when faded together. One of the few legitimate sexual songs to contain the word "dinosaurs." Music like that takes talent.

SHOW LESS

7
The Extraordinaires : Andrea
In case you haven't noticed, there is a steady progression going on from degrading to sentimental. This song [...]

SHOW MORE

Track 11 from Short Stories
Length: 00:03:03
Year: 2006
Track Description:
In case you haven't noticed, there is a steady progression going on from degrading to sentimental. This song is about the singer's sister, but hopefully you can overlook that.

SHOW LESS

8
The Raconteurs : Call It a Day
Wherever you are, you will want to go home at about this time. Car keys? Check. Promiscuous fellow alcoholi [...]

SHOW MORE

Track 9 from Broken Boy Soldiers
Length: 00:03:38
Year: 2006
Track Description:
Wherever you are, you will want to go home at about this time. Car keys? Check. Promiscuous fellow alcoholic? Check. You are ready to depart towards your humble abode.

SHOW LESS

9
The Beatles : Sexy Sadie
Radio stations rarely play the Beatles where I live, but let's pretend they do. They'd probably play this on [...]

SHOW MORE

Track 22 from The Beatles (White Album)
Length: 00:03:11
Year: 1968
Track Description:
Radio stations rarely play the Beatles where I live, but let's pretend they do. They'd probably play this on the ride home. Bonus points if your companion's name is really Sadie.

SHOW LESS

10
John Lee Hooker : I'm in the Mood
It is time to make your move. Tell her you're in the mood for love. Although, technically, it would not qual [...]

SHOW MORE

Track 19 from Blues Before Sunrise
Length: 00:02:41
Year: 0000
Track Description:
It is time to make your move. Tell her you're in the mood for love. Although, technically, it would not qualify as "love." More like dry humping in the back seat. At least she agrees.

SHOW LESS

11
The Kills : Wait
Something isn't quite right here. They're not into it at all. You adjust the proverbial beer goggles, and it [...]

SHOW MORE

Track 3 from Black Rooster EP
Length: 00:04:48
Year: 0000
Track Description:
Something isn't quite right here. They're not into it at all. You adjust the proverbial beer goggles, and it's a lamp you're serenading. It must have been the Kevin Federline song.

SHOW LESS

12
Led Zeppelin : Dazed and Confused
You're feeling pretty dazed and confused yourself. Why does it sound like people are cheering? You try to ge [...]

SHOW MORE

Track 5 from The Song Remains the Same
Length: 00:26:52
Year: 0000
Track Description:
You're feeling pretty dazed and confused yourself. Why does it sound like people are cheering? You try to get in the mood, but the whole lamp incident threw you off. Oh well.

SHOW LESS
Tag Board
You must log in to leave a tag
Stuff
Quick Jump
osborne's other mixes
Related mixes
recent visitors
show all