[?]
Not a member? Sign-up now, it's free!
Login
[?]
These are links to some of the major sections in the mixtape collective.
Lists: Browse various lists that are generated by the loads of data we have collected.
Contests: Check out the latest contests, see previous winners, and find out how you can be a part
Music: Check out our ever-growing database of musical knowledge! Use it to find any artist, album, or track that has been entered since the birth of the site and rate and find detailed usage statistics.
Main
[?]
Tired of looking at the same old pages? Try checking out a random one, you never know what you might find...
Random!
Never Give Up On A Good Thing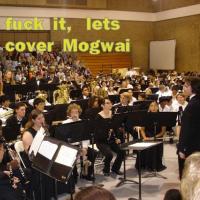 Never Give Up On A Good Thing
Created by:
johnny_luddite
Tracks:
12
Length:
00:52:50
Keywords
1. Mix Contest 12 - T07
2. Mix Contest 12 - T07
3. Mix Contest 12 - T07
Created on
6/03/07 10:27pm
Level
6
Points
2607
Total visitors
92
Unique visitors
43
This mix was ranked #2 out of 9 entries for this contest
description:
Strictly speaking, I like to pick music from all over the shop, but for the purpose of this contest I had to make a choice. The early 1990's were without a doubt the hardest time of my life. From 94 way past 97 I was ill, and for the only time in my life, without music. There were exceptions, Portishead for instance, but I missed out on most of the best and worst of the era because in so many different ways, I wasn't really there.

10 years on, and here I am in a different country, inexplicably working back to being a full time musician once more, with music again a vital component of my life. I listen to new stuff by artists new to me, new stuff by old bastards I admire, and so I have no choice. It has to be 2000 - 2007 for me.
tracklist
1
The White Stripes : Icky Thump
This is the perfect example of the kind of thing I love to listen to right now. This could not have been made [...]

SHOW MORE

Track 1 from Icky Thump
Length: 00:04:17
Year: 2007
Track Description:
This is the perfect example of the kind of thing I love to listen to right now. This could not have been made if Led Zeppelin had not existed, yet this is not a copy. Jack and Meg take blues and classic rock influences and make them their own. Music for all times. (Great oddball solos as well!)

SHOW LESS

2
Modest Mouse : Dashboard
Wonderful before, Modest Mouse now have the Godlike Johnny Marr in the band, and his choppy rhythm guitar is a [...]

SHOW MORE

Track 2 from We Were Dead Before the Ship Even Sank
Length: 00:04:08
Year: 2007
Track Description:
Wonderful before, Modest Mouse now have the Godlike Johnny Marr in the band, and his choppy rhythm guitar is all over this like a rash you want to catch! It is inspiring to me when musicians I admire from back in the day still have something to say now!

SHOW LESS

3
Arctic Monkeys : Mardy Bum
Britain has always been good at producing bands who play songs about working class life. Sham 69 live on, exce [...]

SHOW MORE

Track 9 from What ever people say I am that's what I'm not
Length: 00:02:55
Year: 2006
Track Description:
Britain has always been good at producing bands who play songs about working class life. Sham 69 live on, except it is the Arctics, not ham, it is not the summer of punk, and they come from Sheffield, not London. Even so...

SHOW LESS

4
Snow Patrol : Chasing Cars
I have mentioned this before, but old people like to regurgitate stories. I saw Snow Patrol supporting Echo an [...]

SHOW MORE

Track 3 from Eyes Open
Length: 00:04:28
Year: 2006
Track Description:
I have mentioned this before, but old people like to regurgitate stories. I saw Snow Patrol supporting Echo and Ther Bunnymen in London about four years ago. I had never heard of them before that show, but they just seemed to have the commercial potential over integrity equation just about right.

SHOW LESS

5
Mogwai : Friend of the Night
Philip Glass and Syd Barrett had a baby and that baby's name is Mogwai. This is so magnificent that it reduces [...]

SHOW MORE

Track 6 from Mr. Beast
Length: 00:05:30
Year: 2006
Track Description:
Philip Glass and Syd Barrett had a baby and that baby's name is Mogwai. This is so magnificent that it reduces me to tears.

SHOW LESS

6
Tortoise : Firefly
This reminds me of so many things, Floyd, Mogwai, Amon Duul, Faust to mention four, but like everything here, [...]

SHOW MORE

Track 4 from Standards
Length: 00:03:56
Year: 2000
Track Description:
This reminds me of so many things, Floyd, Mogwai, Amon Duul, Faust to mention four, but like everything here, it has it's own identity.

SHOW LESS

7
John Frusciante : Murderers
Frusciante in similar waters to Mogwai. He makes bright melodic guitar figures sound so sad. That is part of h [...]

SHOW MORE

Track 10 from To Record Only Water For 10 Days
Length: 00:02:41
Year: 2001
Track Description:
Frusciante in similar waters to Mogwai. He makes bright melodic guitar figures sound so sad. That is part of his genius I think.

SHOW LESS

8
Jarvis Cocker : I Will Kill Again
One of the best songs I have heard this decade, from the wonderful very belated first solo album by Jarvis. Pu [...]

SHOW MORE

Track 5 from Jarvis
Length: 00:03:45
Year: 2006
Track Description:
One of the best songs I have heard this decade, from the wonderful very belated first solo album by Jarvis. Pulp were one of the few bands of the 90s that registered with me on any level. The king of innocent sounding creepiness.

SHOW LESS

9
Johnny Cash : Hurt
The best cover version I have ever heard in my life. Chilling and a work of genius.

SHOW MORE

Track 2 from American IV: The Man Comes Around
Length: 00:03:40
Year: 2002
Track Description:
The best cover version I have ever heard in my life. Chilling and a work of genius.

SHOW LESS

10
Lambchop : The Rise and Fall of the Letter P
Lambchop make intimate music, however many musicians play on any given track. In an ugly age, there is still b [...]

SHOW MORE

Track 3 from Damaged
Length: 00:03:36
Year: 2006
Track Description:
Lambchop make intimate music, however many musicians play on any given track. In an ugly age, there is still beauty in some music and that has to be a good thing.

SHOW LESS

11
Bob Dylan : Nettie Moore
And here is a voice for every generation. So many iconic writer4s and musicians from the 60s and 70s are dead, [...]

SHOW MORE

Track 8 from Modern Times
Length: 00:06:52
Year: 2006
Track Description:
And here is a voice for every generation. So many iconic writer4s and musicians from the 60s and 70s are dead, recycling former glories, or are somewhere between the two. Then there are the truly great ones who can still deliver, such as his Bobness.

SHOW LESS

12
The Decemberists : The Bagman's Gambit
Folk music for this decade. They could catch me now because I move pretty slow!

SHOW MORE

Track 5 from Picaresque
Length: 00:07:02
Year: 2005
Track Description:
Folk music for this decade. They could catch me now because I move pretty slow!

SHOW LESS
Tag Board
You must log in to leave a tag
Stuff
Quick Jump
johnny_luddite's other mixes
Related mixes
recent visitors
show all