[?]
Not a member? Sign-up now, it's free!
Login
[?]
These are links to some of the major sections in the mixtape collective.
Lists: Browse various lists that are generated by the loads of data we have collected.
Contests: Check out the latest contests, see previous winners, and find out how you can be a part
Music: Check out our ever-growing database of musical knowledge! Use it to find any artist, album, or track that has been entered since the birth of the site and rate and find detailed usage statistics.
Main
[?]
Tired of looking at the same old pages? Try checking out a random one, you never know what you might find...
Random!
Winter a la San Francisco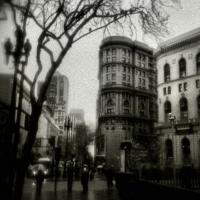 Winter a la San Francisco
Created by:
Eraserhead
Tracks:
10
Length:
01:13:41
Keywords
1. Mix Contest 16
2. Mix Contest 16
3. Mix Contest 16
Created on
9/30/07 03:31pm
Level
5
Points
2249
Total visitors
86
Unique visitors
47
This mix was ranked #4 out of 14 entries for this contest
description:
San Francisco can be kind of a depressing place, but I mean that in the best way possible. It's always foggy, except for when it rains (in the winter) and the few days that the sun shines (in spring and a small part of fall). In fact, the sun doesn't even suit the city. To me, SF feels disingenuous when the weather is nice, like it's trying to be something it isn't. It's only when the city is gray (and wet) that it really feels like home. In this way it is able to create the most beautiful kind of depression possible.

This mix was inspired by the walks that I like to take around town on winter days when the rain is falling and I can just wallow in self-pity and enjoy the city. Yay!
tracklist
1
Clint Mansell w/ the Kronos Quartet : Summer Overture
I first watched Requiem For A Dream on a day when I was particularly depressed, and it made me want to kill my [...]

SHOW MORE

Track 0 from Requiem For a Dream Soundtrack
Length: 00:02:35
Year: 2000
Track Description:
I first watched Requiem For A Dream on a day when I was particularly depressed, and it made me want to kill myself. Since then, this song has been stuck in my brain as the epitome of hopelessness. Don't let the name fool you; it's all winter.

SHOW LESS

2
Jesu : Friends Are Evil
Bleak, crushing and ethereal.

SHOW MORE

Track 2 from Jesu
Length: 00:09:43
Year: 2004
Track Description:
Bleak, crushing and ethereal.

SHOW LESS

3
Godspeed You! Black Emperor : East Hastings
The sound of a storm picking up speed.

SHOW MORE

Track 2 from F# A# oo
Length: 00:17:58
Year: 1998
Track Description:
The sound of a storm picking up speed.

SHOW LESS

4
Burzum : Erblicket die Töchter des Firmaments
Harsh and grating. This song reminds me of rain hitting a window.

SHOW MORE

Track 3 from Filosofem
Length: 00:07:55
Year: 1996
Track Description:
Harsh and grating. This song reminds me of rain hitting a window.

SHOW LESS

5
Converge : Grim Heart/Black Rose
Sadness of epic proportions. It fits walking through the Financial District scarily well.

SHOW MORE

Track 8 from No Heroes
Length: 00:09:34
Year: 2006
Track Description:
Sadness of epic proportions. It fits walking through the Financial District scarily well.

SHOW LESS

6
Isis : Carry
Did you know that if you drink DayQuil and NyQuil mixed together your head will explode? This song is perfect [...]

SHOW MORE

Track 4 from Oceanic
Length: 00:06:46
Year: 2002
Track Description:
Did you know that if you drink DayQuil and NyQuil mixed together your head will explode? This song is perfect for walking along the beach on a rainy day.

SHOW LESS

7
Nine Inch Nails : Hurt
By now, this song is pretty cliché-ridden. But that doesn't mean it isn't still effective.

SHOW MORE

Track 14 from The Downward Spiral
Length: 00:06:14
Year: 1994
Track Description:
By now, this song is pretty cliché-ridden. But that doesn't mean it isn't still effective.

SHOW LESS

8
Radiohead : Exit Music (For A Film)
This song used to scare me, back in 7th grade.

SHOW MORE

Track 4 from OK Computer
Length: 00:04:24
Year: 1997
Track Description:
This song used to scare me, back in 7th grade.

SHOW LESS

9
The Blood Brothers : Crimes
Teen angst. Made for the final, cathartic moments of the day.

SHOW MORE

Track 7 from Crimes
Length: 00:04:01
Year: 2004
Track Description:
Teen angst. Made for the final, cathartic moments of the day.

SHOW LESS

10
Pidgeon : Goner
Complete submission to despair. Kind of like the bus ride back home as the day draws to a close.

SHOW MORE

Track 0 from From Gutter w/ Love
Length: 00:04:31
Year: 0000
Track Description:
Complete submission to despair. Kind of like the bus ride back home as the day draws to a close.

SHOW LESS
Tag Board
You must log in to leave a tag
Stuff
Quick Jump
Eraserhead's other mixes
Related mixes
recent visitors
show all