[?]
Not a member? Sign-up now, it's free!
Login
[?]
These are links to some of the major sections in the mixtape collective.
Lists: Browse various lists that are generated by the loads of data we have collected.
Contests: Check out the latest contests, see previous winners, and find out how you can be a part
Music: Check out our ever-growing database of musical knowledge! Use it to find any artist, album, or track that has been entered since the birth of the site and rate and find detailed usage statistics.
Main
[?]
Tired of looking at the same old pages? Try checking out a random one, you never know what you might find...
Random!
Mall Goth Loves Jewel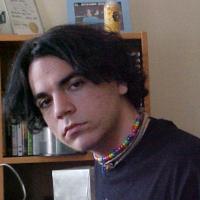 Mall Goth Loves Jewel
Created by:
JShay
Tracks:
16
Length:
01:00:38
Keywords
1. Mix Contest 19
2. Mix Contest 19
3. Mix Contest 19
Created on
1/28/08 12:39am
Level
5
Points
2141
Total visitors
61
Unique visitors
35
This mix was ranked #7 out of 14 entries for this contest
description:
Middle school was rough for me.

That picture to your left is from my last year trying to goth-out.

As this mix demonstrates, I was really, really bad at being a goth. After growing my hair down to my shoulderblades, I cut it all of and stopped wearing my bondage pants almost entirely. Sometimes I still use them for costumes.
tracklist
1
Bjork : Army of Me
This song was covered by metal bands across the world, okay? Anger was a key element to this phase of my life [...]

SHOW MORE

Track 1 from Post
Length: 00:03:54
Year: 1995
Track Description:
This song was covered by metal bands across the world, okay? Anger was a key element to this phase of my life.

SHOW LESS

2
Nine Inch Nails : The Perfect Drug
I was way into NIN as a mall goth.
I am still sort of into NIN. Guilty pleasure, or maybe I shouldn't fe [...]

SHOW MORE

Track 6 from The Perfect Drug
Length: 00:05:16
Year: 1997
Track Description:
I was way into NIN as a mall goth.
I am still sort of into NIN. Guilty pleasure, or maybe I shouldn't feel bad?

SHOW LESS

3
Alanis Morissette : Uninvited
You know, just some intense whiny vocals. Nothing out of the question for mall goth.

SHOW MORE

Track 2 from City of Angels Soundtrack
Length: 00:04:38
Year: 1998
Track Description:
You know, just some intense whiny vocals. Nothing out of the question for mall goth.

SHOW LESS

4
Tegan and Sara : Frozen
Just so you know, "Mall" is the operative word in "Mall Goth." What do you see at the mall? Variety!

SHOW MORE

Track 3 from This Business of Art
Length: 00:02:44
Year: 2000
Track Description:
Just so you know, "Mall" is the operative word in "Mall Goth." What do you see at the mall? Variety!

SHOW LESS

5
A Perfect Circle : Magdalena
Essential jukebox song of me and my mall goth brethren.

SHOW MORE

Track 2 from Mer De Noms
Length: 00:04:08
Year: 2003
Track Description:
Essential jukebox song of me and my mall goth brethren.

SHOW LESS

6
Tori Amos : Mr. Zebra
This song was so un-goth that it WAS goth.
Y'see, mall goth is all about irony.

SHOW MORE

Track 5 from Boys For Pele
Length: 00:01:07
Year: 1996
Track Description:
This song was so un-goth that it WAS goth.
Y'see, mall goth is all about irony.

SHOW LESS

7
Kittie : Brackish
Thank God I didn't have to add this song to the database.
But seriously, I thought Kittie was the shit.SHOW MORE
Track 5 from Spit
Length: 00:03:08
Year: 0000
Track Description:
Thank God I didn't have to add this song to the database.
But seriously, I thought Kittie was the shit.
Gay people love female musicians.

SHOW LESS

8
Dimmu Borgir : Satan My Master
I used to love the shit out of Dimmu Borgir.

SHOW MORE

Track 12 from Death Cult Armageddon
Length: 00:02:14
Year: 2003
Track Description:
I used to love the shit out of Dimmu Borgir.

SHOW LESS

9
Utada Hikaru : Simple and Clean
J-Pop is so goth.

SHOW MORE

Track 2 from COLORS
Length: 00:05:03
Year: 2003
Track Description:
J-Pop is so goth.

SHOW LESS

10
jack off jill : Everything's Brown
Jack off Jill were pretty much my heroes when I was 13.

SHOW MORE

Track 13 from Sexless Demons and Scars
Length: 00:03:44
Year: 1997
Track Description:
Jack off Jill were pretty much my heroes when I was 13.

SHOW LESS

11
Ani DiFranco : Pixie
Things that appealed to me:
-Pixies are totally goth
-Ani is totally like angsty or whatever
I [...]

SHOW MORE

Track 8 from Little Plastic Castle
Length: 00:04:25
Year: 1998
Track Description:
Things that appealed to me:
-Pixies are totally goth
-Ani is totally like angsty or whatever
I didn't know any other Ani songs until about three years later.

SHOW LESS

12
Garbage : Only Happy When It Rains
I fancied this my theme song in the seventh grade.

SHOW MORE

Track 3 from Garbage
Length: 00:03:56
Year: 1995
Track Description:
I fancied this my theme song in the seventh grade.

SHOW LESS

13
Rasputina : Gingerbread Coffin
Obviously, right?

SHOW MORE

Track 3 from Cabin Fever!
Length: 00:03:43
Year: 2002
Track Description:
Obviously, right?

SHOW LESS

14
Otep : Filthee
Things that appealed to me:
-Jihad means war, which is something angry
-Female lead vocals
-Two [...]

SHOW MORE

Track 4 from Jihad EP
Length: 00:03:30
Year: 2001
Track Description:
Things that appealed to me:
-Jihad means war, which is something angry
-Female lead vocals
-Two 'e's instead of a 'y'? EDGY.

SHOW LESS

15
Jewel : I'm Sensitive
Mall goths love Jewel. No doubt.

SHOW MORE

Track 9 from Pieces of You
Length: 00:02:56
Year: 1995
Track Description:
Mall goths love Jewel. No doubt.

SHOW LESS

16
Madonna : Frozen
The variety is really the most embarrassing part about looking back on my goth days. I couldn't ever commit t [...]

SHOW MORE

Track 9 from Ray Of Light
Length: 00:06:12
Year: 1998
Track Description:
The variety is really the most embarrassing part about looking back on my goth days. I couldn't ever commit to anything, especially liking metal too much.

SHOW LESS
Tag Board
You must log in to leave a tag
Stuff
Quick Jump
JShay's other mixes
Related mixes
recent visitors
show all