[?]
Not a member? Sign-up now, it's free!
Login
[?]
These are links to some of the major sections in the mixtape collective.
Lists: Browse various lists that are generated by the loads of data we have collected.
Contests: Check out the latest contests, see previous winners, and find out how you can be a part
Music: Check out our ever-growing database of musical knowledge! Use it to find any artist, album, or track that has been entered since the birth of the site and rate and find detailed usage statistics.
Main
[?]
Tired of looking at the same old pages? Try checking out a random one, you never know what you might find...
Random!
78rpm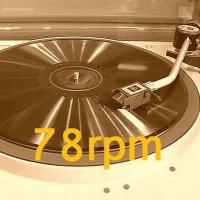 78rpm
Created by:
johnny_luddite
Tracks:
15
Length:
00:40:34
Keywords
1. seventy eights
2. blues
3. r&b
Created on
9/02/08 12:36am
Level
4
Points
1881
Total visitors
55
Unique visitors
17
description:
About a month ago I was bored and so I did what I have been doing these last twelve years or so whenever boredom strikes. I did a little random web surfing. I found a web site where some guy had decided to share his extensive collection of 78 records. He was about halfway through the massive task of converting what he had to mp3 and making them available for free download. He hadn't done anything to clean up the audio, just transferred each song as was to the new medium. A lot of the stuff there didn't really interest me, but as I went through what he had I found some wonderful stuff, mostly blues and R&B from the fifties along with a few earlier things and even a few examples of rare 78 pressings from the 60's. I downloaded all I could, planning to go back in a few days and contact the brilliant person doing all this, and to get more musical swag.

Well, the days turned into weeks, and I finally got back to the site the other day only to find that the downloads were gone. It seems that when you have a server account with 'limitless' bandwidth, there is a limit to what 'limitless' actually means. So many people were downloading his entire collection at once that his server demanded he take them all down. The guy was looking at alternatives, but in the meantime, I thought I would pay forward his amazing gesture just a little by making a mixtape of some of the gems I downloaded. Some of this stuff is available on pristine CDs, but I am positive a fair bit isn't, so I will sendspace this mix for anyone who wants to hear it, scratches and all.
tracklist
1
Ann Cole : Easy Easy Baby
One of the great things about this stash of music I found was the discovery of really good artists I didn't kn [...]

SHOW MORE

Track 1 from (78rpm single)
Length: 00:02:31
Year: 0000
Track Description:
One of the great things about this stash of music I found was the discovery of really good artists I didn't know about. This is a mildly naughty bluesy song with a great delivery.

SHOW LESS

2
Blues Boy King : Bye Bye Baby
BB was still Blues Boy when this was released. Great vocal and a rawness to nthe lead guitar which makes me ve [...]

SHOW MORE

Track 1 from (78rpm single)
Length: 00:02:26
Year: 0000
Track Description:
BB was still Blues Boy when this was released. Great vocal and a rawness to nthe lead guitar which makes me very happy

SHOW LESS

3
June Davis : Gin Misery Blues
A sad drunken tale. Sounds a bit like Billie Holiday, feels a bit like an Amy Winehouse track.

SHOW MORE

Track 1 from (78rpm single)
Length: 00:02:33
Year: 0000
Track Description:
A sad drunken tale. Sounds a bit like Billie Holiday, feels a bit like an Amy Winehouse track.

SHOW LESS

4
Howlin' Wolf : Come To Me Baby
Not many people on this mixtape still alive let alone working, but Howlin' Wolf's guitarist Hubert Sumlin, so [...]

SHOW MORE

Track 1 from (78rpm single)
Length: 00:02:33
Year: 0000
Track Description:
Not many people on this mixtape still alive let alone working, but Howlin' Wolf's guitarist Hubert Sumlin, so good here, is still out there doing it.

SHOW LESS

5
Little Willie John : Fever
Airbrushed out of music history, this man could sing.This is the version of this song that should be remembere [...]

SHOW MORE

Track 1 from (78rpm single)
Length: 00:02:35
Year: 0000
Track Description:
Airbrushed out of music history, this man could sing.This is the version of this song that should be remembered.

SHOW LESS

6
Odelle Turner : Alarm Clock Boogie
"Woke up this morning, suprised I was still alive" Go Odelle

SHOW MORE

Track 1 from (78rpm single)
Length: 00:02:33
Year: 0000
Track Description:
"Woke up this morning, suprised I was still alive" Go Odelle

SHOW LESS

7
JoeTurner : Honey Hush
Misogynistic twelve bar blues from Big Joe which turns into a homage to the Lone Rangers horse. They did have [...]

SHOW MORE

Track 1 from (78rpm single)
Length: 00:02:36
Year: 0000
Track Description:
Misogynistic twelve bar blues from Big Joe which turns into a homage to the Lone Rangers horse. They did have drugs in the fifties.

SHOW LESS

8
Willie Mabon : Hey Lucinda
Piano blues with great sax from one of the lesser known Chess label artistes.

SHOW MORE

Track 1 from (78rpm single)
Length: 00:02:34
Year: 0000
Track Description:
Piano blues with great sax from one of the lesser known Chess label artistes.

SHOW LESS

9
Brownie Mghee : Strange Woman
Country blues which drives along. An uncredited Sonny Terry on harmonica wonderment

SHOW MORE

Track 1 from (78rpm single)
Length: 00:02:39
Year: 0000
Track Description:
Country blues which drives along. An uncredited Sonny Terry on harmonica wonderment

SHOW LESS

10
Blues Boy King : When My Heart Beat Like A Hammer
No excuses for more Blues Boy. His genrally accepted peak was in the mid to late sixties, but these early fift [...]

SHOW MORE

Track 1 from (78rpm single)
Length: 00:02:50
Year: 0000
Track Description:
No excuses for more Blues Boy. His genrally accepted peak was in the mid to late sixties, but these early fifties cuts are very very good.

SHOW LESS

11
Lonnie Donegan : Rock Island Line
I was impressed to see the Cd version of this already in the database. Lonnie was a little Jewish English guy [...]

SHOW MORE

Track 1 from (78rpm single)
Length: 00:02:27
Year: 0000
Track Description:
I was impressed to see the Cd version of this already in the database. Lonnie was a little Jewish English guy who was known as the king of skiffle. His hit UK singles were the nearest much of his audience had come to blues, fake american accent and all.

SHOW LESS

12
Benny Goodman Orchestra with Peggy Lee : Why Don't You Do Right
The oldest recording here, 1942 I think, but I love it, it kind of fits with everything else on the mixtape.

SHOW MORE

Track 1 from (78rpm single)
Length: 00:03:11
Year: 0000
Track Description:
The oldest recording here, 1942 I think, but I love it, it kind of fits with everything else on the mixtape.

SHOW LESS

13
Booker T & The MGs : Behave Yourself
And I am guessing that this must be one of the later recordings. In fact I was shocked to find Booker T on 78, [...]

SHOW MORE

Track 1 from (78rpm single)
Length: 00:03:50
Year: 0000
Track Description:
And I am guessing that this must be one of the later recordings. In fact I was shocked to find Booker T on 78, but then there was limited 78 production well into the sixties. This is a nice bluesy instrumental

SHOW LESS

14
Johnny Otis : Hangover Blues
This starts off with a guitar riff that is confused about the decade it was recorded in. Meaty stuff.

SHOW MORE

Track 1 from (78rpm single)
Length: 00:02:48
Year: 0000
Track Description:
This starts off with a guitar riff that is confused about the decade it was recorded in. Meaty stuff.

SHOW LESS

15
BB King : Dark Is The Night
Blues Boy was BB by the time this came out. Again, the voice and the guitar cut through the years. Wonderful

SHOW MORE

Track 1 from (78rpm single)
Length: 00:02:28
Year: 0000
Track Description:
Blues Boy was BB by the time this came out. Again, the voice and the guitar cut through the years. Wonderful

SHOW LESS
Tag Board
You must log in to leave a tag
Stuff
Quick Jump
johnny_luddite's other mixes
Related mixes
recent visitors
show all