[?]
Not a member? Sign-up now, it's free!
Login
[?]
These are links to some of the major sections in the mixtape collective.
Lists: Browse various lists that are generated by the loads of data we have collected.
Contests: Check out the latest contests, see previous winners, and find out how you can be a part
Music: Check out our ever-growing database of musical knowledge! Use it to find any artist, album, or track that has been entered since the birth of the site and rate and find detailed usage statistics.
Main
[?]
Tired of looking at the same old pages? Try checking out a random one, you never know what you might find...
Random!
Name Relation Apocalypse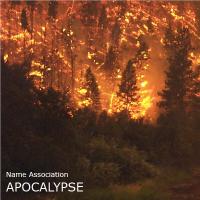 Name Relation Apocalypse
Created by:
coreysprague
Tracks:
7
Length:
00:39:34
Keywords
1. Mix Contest 1
2. Mix Contest 1
3. Mix Contest 1
Created on
8/09/06 08:26pm
Level
5
Points
2495
Total visitors
109
Unique visitors
51
This mix was ranked #13 out of 23 entries for this contest
description:
So, I am barely getting this in before the deadline, but oh well.

I wanted to start with something grand, instead I ended up with this.

"Nightmare Heaven's Damnation's Way Out Is Through Silver In Blood Red Sky"

I feel kind of bad that it is only 7 tracks, but I couldn't keep a coherent phrase with adding any more tracks. I am also unhappy with the 'the' in the nin track, but oh well.
tracklist
1
Arcturus : Nightmare Heaven
Eccentric metal/electronica. Sounds very futuristic/post-apocalyptic and weird.

SHOW MORE

Track 2 from The Sham Mirrors
Length: 00:06:05
Year: 2002
Track Description:
Eccentric metal/electronica. Sounds very futuristic/post-apocalyptic and weird.

SHOW LESS

2
Dissection : Heaven's Damnation
Man, I hadn't listened to these guys in a long time.

This song is so grim it might cause your lead [...]

SHOW MORE

Track 5 from The Somberlain
Length: 00:04:42
Year: 1993
Track Description:
Man, I hadn't listened to these guys in a long time.

This song is so grim it might cause your lead singer to kill someone and maybe set some churches is on fire (it's okay, he's out now).

SHOW LESS

3
Arch Enemy : Damnation's Way
Back when Johan Liiva was the vocalist (I miss those days, Gossow can suck it)

SHOW MORE

Track 6 from Wages of Sin (Bonus Disc: Rare & Unreleased)
Length: 00:03:47
Year: 2004
Track Description:
Back when Johan Liiva was the vocalist (I miss those days, Gossow can suck it)

SHOW LESS

4
Nine Inch Nails : The Way Out Is Through
Great NIN track...doesn't transition well from Arch Enemy, but oh well.

SHOW MORE

Track 1 from The Fragile Disc 2
Length: 00:04:17
Year: 1999
Track Description:
Great NIN track...doesn't transition well from Arch Enemy, but oh well.

SHOW LESS

5
Neurosis : Through Silver In Blood
Crushing Neurosis. I can listen to this song for hours. "When the fallout comes..."

SHOW MORE

Track 1 from Through Silver In Blood
Length: 00:12:11
Year: 1996
Track Description:
Crushing Neurosis. I can listen to this song for hours. "When the fallout comes..."

SHOW LESS

6
Slayer : Blood Red
Slayer!

SHOW MORE

Track 2 from Seasons In The Abyss
Length: 00:02:48
Year: 1990
Track Description:
Slayer!

SHOW LESS

7
Baroness : Red Sky
Baroness kicks ass, dirty rocking metal.

SHOW MORE

Track 1 from Second
Length: 00:05:44
Year: 2005
Track Description:
Baroness kicks ass, dirty rocking metal.

SHOW LESS
Tag Board
You must log in to leave a tag
Stuff
Quick Jump
coreysprague's other mixes
Related mixes
recent visitors
show all