[?]
Not a member? Sign-up now, it's free!
Login
[?]
These are links to some of the major sections in the mixtape collective.
Lists: Browse various lists that are generated by the loads of data we have collected.
Contests: Check out the latest contests, see previous winners, and find out how you can be a part
Music: Check out our ever-growing database of musical knowledge! Use it to find any artist, album, or track that has been entered since the birth of the site and rate and find detailed usage statistics.
Main
[?]
Tired of looking at the same old pages? Try checking out a random one, you never know what you might find...
Random!
A DIVERSION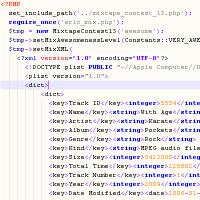 A DIVERSION
Created by:
eric
Tracks:
16
Length:
01:00:00
Keywords
1. Mix Contest 13
2. Mix Contest 13
3. Mix Contest 13
Created on
7/01/07 10:44pm
Level
6
Points
2814
Total visitors
89
Unique visitors
43
This mix was ranked #2 out of 20 entries for this contest
description:
This is my diversion from writing page after page of PHP for 2.0.
tracklist
1
Karate : With Age
A favorite album opener.

I never get sick of a little Karate.

SHOW MORE

Track 1 from Pockets
Length: 00:03:45
Year: 2004
Track Description:
A favorite album opener.

I never get sick of a little Karate.

SHOW LESS

2
Smashing Pumpkins : The End Is The Beginning Is The End
A song from a movie.

Seriously, does anyone remember how fucking terrible this movie was?

SHOW MORE

Track 1 from The End Is The Beginning Is The End
Length: 00:05:10
Year: 1997
Track Description:
A song from a movie.

Seriously, does anyone remember how fucking terrible this movie was?

SHOW LESS

3
Devo : Be Stiff
A song that the Wu Tang Clan would make fun of.

Somehow, I don't think that Inspectah Deck could ja [...]

SHOW MORE

Track 3 from Be Stiff
Length: 00:02:31
Year: 0000
Track Description:
A song that the Wu Tang Clan would make fun of.

Somehow, I don't think that Inspectah Deck could jam to this.

SHOW LESS

4
M83 : Don't Save Us from The Flames
A song used in a TV commercial.

It was a car commercial. I forget which one. I almost cried. I hate [...]

SHOW MORE

Track 2 from Before the Dawn Heals Us
Length: 00:04:16
Year: 2005
Track Description:
A song used in a TV commercial.

It was a car commercial. I forget which one. I almost cried. I hate it when songs I adore are in commercials.

SHOW LESS

5
Mogwai : Glasgow Mega-Snake
A song where the title of the song is not in the lyrics of said song.

Get it? They don't sing! Yar! [...]

SHOW MORE

Track 2 from Mr. Beast
Length: 00:03:35
Year: 2006
Track Description:
A song where the title of the song is not in the lyrics of said song.

Get it? They don't sing! Yar!

SHOW LESS

6
Nirvana : Plateau
A song by a 'grunge' band.

Nothing on top but a bucket and a mop and an illustrated book about bird [...]

SHOW MORE

Track 10 from Unplugged in New York
Length: 00:03:37
Year: 1994
Track Description:
A song by a 'grunge' band.

Nothing on top but a bucket and a mop and an illustrated book about birds.

SHOW LESS

7
The Clash : London Calling
A song by a two-hit wonder: "Train In Vain" and "Rock The Casbah" (Top 40 charts).

SHOW MORE

Track 1 from London Calling
Length: 00:03:20
Year: 1979
Track Description:
A song by a two-hit wonder: "Train In Vain" and "Rock The Casbah" (Top 40 charts).

SHOW LESS

8
Wu-Tang Clan : Bring Da' Ruckus
A song that your parents would probably disapprove of.

Inspectah Deck: "I rip it hardcore, like por [...]

SHOW MORE

Track 1 from Enter the Wu-Tang: 36 Chambers
Length: 00:04:11
Year: 1993
Track Description:
A song that your parents would probably disapprove of.

Inspectah Deck: "I rip it hardcore, like porno-flick bitches"

SHOW LESS

9
MF Doom : Kookies
A song that references the internet / computers.

"One lonely evening alone home /
End up with [...]

SHOW MORE

Track 15 from MM..Food?
Length: 00:04:02
Year: 2004
Track Description:
A song that references the internet / computers.

"One lonely evening alone home /
End up with carpal tunnel syndrome /
Here I am don't forget the heavy back aches /
Grown and living off of little Debbie snack cakes /
Supposed to be checking e-mails /
All I got is messages from ass naked females"

SHOW LESS

10
Pete Yorn : Just Another
* Guilty pleasure wildcard *

When she was away, it always mades me think of her in a mythical fashi [...]

SHOW MORE

Track 3 from Musicforthemorningafter
Length: 00:03:15
Year: 2001
Track Description:
* Guilty pleasure wildcard *

When she was away, it always mades me think of her in a mythical fashion.

SHOW LESS

11
The Beatles : Etcetera
A short song.

SHOW MORE

Track 25 from Let It Be Sessions
Length: 00:01:57
Year: 1969
Track Description:
A short song.

SHOW LESS

12
The Fucking Champs : Earthen Sculpter
A song for listening to while playing the original Zelda.

I B FUCKIN' UP MOBLINS, BLOWIN' UP UR WAL [...]

SHOW MORE

Track 10 from Let It Be Sessions
Length: 00:04:19
Year: 0000
Track Description:
A song for listening to while playing the original Zelda.

I B FUCKIN' UP MOBLINS, BLOWIN' UP UR WALLZ WITH BOMBS AND STEALIN' TRIFORCE LIKE CANDY FRM A BABY.

SHOW LESS

13
Feist : 1234
A theme song for your personal montage.

The long and tedious stretch of I-5 made memorable by a gre [...]

SHOW MORE

Track 9 from The Reminder
Length: 00:03:03
Year: 2007
Track Description:
A theme song for your personal montage.

The long and tedious stretch of I-5 made memorable by a great soundtrack and an even better woman. Smiles abound.

SHOW LESS

14
Metallica : Ride the Lightning
Teenage angst.

My favourite guitar solo. Until it goes all spastic and turns into my least-favourit [...]

SHOW MORE

Track 2 from Ride the Lightning
Length: 00:06:32
Year: 1984
Track Description:
Teenage angst.

My favourite guitar solo. Until it goes all spastic and turns into my least-favourite guitar solo ever. METAL UP YOUR ASS.

SHOW LESS

15
The Go! Team : Grip Like a Vice
My, that's a funky-ass bassline you have there.

Hey ladies. 1980s.

SHOW MORE

Track 1 from Grip Like a Vice
Length: 00:04:03
Year: 2007
Track Description:
My, that's a funky-ass bassline you have there.

Hey ladies. 1980s.

SHOW LESS

16
The Dillinger Escape Plan : Sugar Coated Sour
Fuck this, I'm leaving.

...AND I'M TAKING MY LAMP BACK, YOU BITCH.

SHOW MORE

Track 1 from Calculating Infinity
Length: 00:02:24
Year: 1999
Track Description:
Fuck this, I'm leaving.

...AND I'M TAKING MY LAMP BACK, YOU BITCH.

SHOW LESS
Tag Board
You must log in to leave a tag
Stuff
Quick Jump
eric's other mixes
Related mixes
recent visitors
show all