[?]
Not a member? Sign-up now, it's free!
Login
[?]
These are links to some of the major sections in the mixtape collective.
Lists: Browse various lists that are generated by the loads of data we have collected.
Contests: Check out the latest contests, see previous winners, and find out how you can be a part
Music: Check out our ever-growing database of musical knowledge! Use it to find any artist, album, or track that has been entered since the birth of the site and rate and find detailed usage statistics.
Main
[?]
Tired of looking at the same old pages? Try checking out a random one, you never know what you might find...
Random!
Incense, Magically Crafted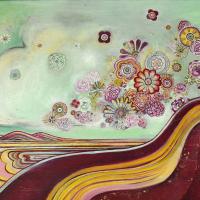 Incense, Magically Crafted
Created by:
whackedtollie
Tracks:
15
Length:
01:00:16
Keywords
1. road trip
2. feelings
3. favorites
Created on
7/15/08 12:47pm
Level
2
Points
1478
Total visitors
32
Unique visitors
16
description:
Some lovely songs to accompany me on a road trip if I ever get around to it. The theme varies a little bit, but it's mostly about other peoples' cities, traveling, and desperation. Also, the songs switch off between old and new. Enjoy.
tracklist
1
Elton John : Mona Lisas and Mad Hatters
"Now I know Spanish Harlem are not just pretty words to sing..." Start the mix off right, Elton! Mmm-hmm.

SHOW MORE

Track 9 from Honky Château
Length: 00:04:59
Year: 1972
Track Description:
"Now I know Spanish Harlem are not just pretty words to sing..." Start the mix off right, Elton! Mmm-hmm.

SHOW LESS

2
The Libertines : Death on the Stairs
"I got matchsticks and cable TV, half of less than 50p... if you really need it, you just won't leave it behin [...]

SHOW MORE

Track 2 from Up the Bracket
Length: 00:03:24
Year: 2002
Track Description:
"I got matchsticks and cable TV, half of less than 50p... if you really need it, you just won't leave it behind."

SHOW LESS

3
Simon & Garfunkel : The Only Living Boy in New York
This song just makes me so, so happy.

SHOW MORE

Track 8 from Bridge Over Troubled Water
Length: 00:03:57
Year: 1970
Track Description:
This song just makes me so, so happy.

SHOW LESS

4
Scarlett Johansson : Fannn' Street
"There's a crooked street in Houston town..." I used this version for several reasons: it's fairly recent (t [...]

SHOW MORE

Track 0 from Anywhere I Lay My Head
Length: 00:05:06
Year: 2008
Track Description:
"There's a crooked street in Houston town..." I used this version for several reasons: it's fairly recent (the theme being old/new/old/new again) and because her voice is sort of creepy in a way that I love on this song.

SHOW LESS

5
The Beatles : Blue Jay Way
Lost in LA, George Harrison style.

SHOW MORE

Track 4 from Magical Mystery Tour
Length: 00:03:56
Year: 1967
Track Description:
Lost in LA, George Harrison style.

SHOW LESS

6
Duffy : Rockferry
Duffy fascinates me. I love her music, especially this song and "Warwick Avenue".

SHOW MORE

Track 1 from Rockferry
Length: 00:04:14
Year: 2008
Track Description:
Duffy fascinates me. I love her music, especially this song and "Warwick Avenue".

SHOW LESS

7
Bob Dylan : Tangled Up in Blue
Bob Dylan, the definitive rambler...

SHOW MORE

Track 1 from Blood on the Tracks
Length: 00:05:44
Year: 0000
Track Description:
Bob Dylan, the definitive rambler...

SHOW LESS

8
The Smashing Pumpkins : Muzzle
It was hard to pick something modern that could follow Bob Dylan... this will do I suppose.

SHOW MORE

Track 12 from Mellon Collie and the Infinite Sadness Disc 1
Length: 00:03:44
Year: 1995
Track Description:
It was hard to pick something modern that could follow Bob Dylan... this will do I suppose.

SHOW LESS

9
Grateful Dead : Casey Jones
And here's this song. One of my favorite songs to listen to while driving. Ever.

SHOW MORE

Track 8 from Workingman's Dead
Length: 00:04:24
Year: 1970
Track Description:
And here's this song. One of my favorite songs to listen to while driving. Ever.

SHOW LESS

10
Razorlight : In The City
You GO Johnny Borrell! This one gets on that list too.

SHOW MORE

Track 10 from Up All Night
Length: 00:04:50
Year: 2004
Track Description:
You GO Johnny Borrell! This one gets on that list too.

SHOW LESS

11
Janis Joplin : Me and Bobby McGee
Bluesy and perfect.

SHOW MORE

Track 7 from Pearl
Length: 00:04:31
Year: 1971
Track Description:
Bluesy and perfect.

SHOW LESS

12
Yeah Yeah Yeahs : Miles Away
Pretty much these 3 songs are the climax of the mix.

SHOW MORE

Track 4 from Yeah Yeah Yeahs EP
Length: 00:02:16
Year: 2001
Track Description:
Pretty much these 3 songs are the climax of the mix.

SHOW LESS

13
Steppenwolf : Magic Carpet Ride
This song just makes me dance.

SHOW MORE

Track 7 from The Second
Length: 00:04:31
Year: 1968
Track Description:
This song just makes me dance.

SHOW LESS

14
Regina Spektor : That Time
... and this one is sad and happy at the same time in a pretty great way.

SHOW MORE

Track 9 from begin to hope
Length: 00:02:39
Year: 2006
Track Description:
... and this one is sad and happy at the same time in a pretty great way.

SHOW LESS

15
The Moon : Got To Be On My Way
I admit I stole this from the "Magical Music Box" mix... sorry, but it was too good!

SHOW MORE

Track 5 from Without Earth & The Moon
Length: 00:02:01
Year: 0000
Track Description:
I admit I stole this from the "Magical Music Box" mix... sorry, but it was too good!

SHOW LESS
Tag Board
You must log in to leave a tag
Stuff
Quick Jump
whackedtollie's other mixes
Related mixes
recent visitors
show all